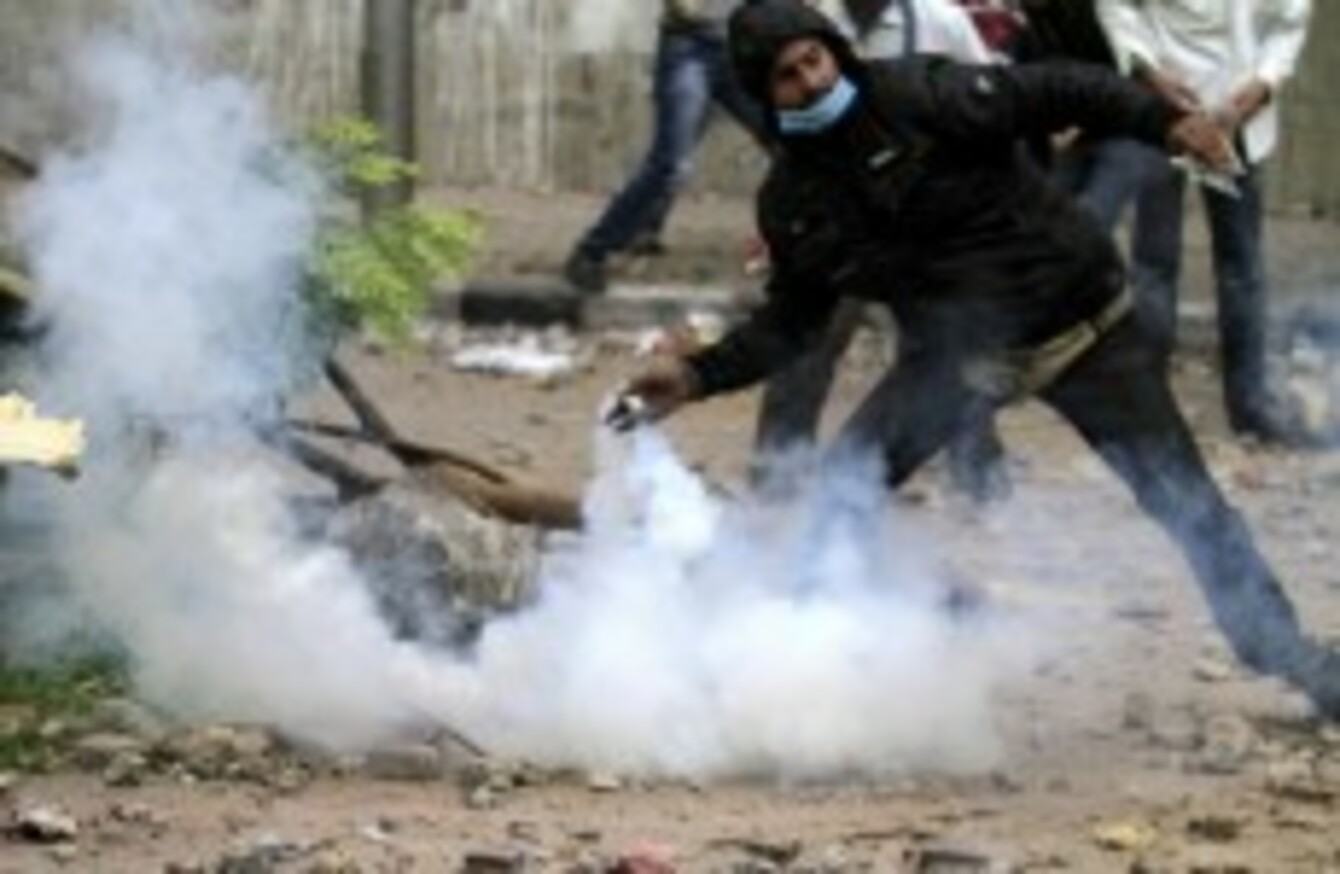 A protester throws a tear gas grenade back at Egyptian riot police in Cairo today.
Image: AP Photo/Khalil Hamra
A protester throws a tear gas grenade back at Egyptian riot police in Cairo today.
Image: AP Photo/Khalil Hamra
EGYPTIAN RIOT POLICE have launched a major push to evict protesters from Tahrir Square in Cairo in a second day of clashes between security forces and demonstrators.
Police have deployed tear gas and rubber bullets in their efforts to force thousands of protesters out of the square.
Yesterday, two people were killed in the violence arising from the Cairo's demonstrations. Several hundred people have reportedly been injured in this weekend's clashes.
The demonstrations were sparked by the military's plans to introduce a constitutionally-protected political role for themselves, according to Al Jazeera. The protesters are calling on Egypt's military rulers to specify a deadline for fully handing over its power to a new and democratically-elected government.
Russia Today has uploaded footage of the unrest:

There are just eight days left until the country is due to go to the polls to elect a new government – the first parliamentary elections in the country since a popular uprising forced ex-president Hosni Mubarak from power in February. The military has been in control since then, saying it would oversee governance and security only until a replacement government was formed.
However, concern has been growing in Egypt over what are seen as delayed or slow-paced reforms promised by the military.
Protester Ahmed Hani told reporters: "We have a single demand: The marshal must step down and be replaced by a civilian council."
Twenty-one-year-old Yahya el-Sawi said he decided to join the demonstrations after seeing police targeting people who were already injured in the clashes: "I did not support the sit-in at the beginning, but when I saw this brutality I had to come back to be with my brothers."
Britain's Foreign Office has issued an alert to its citizens in Egypt to carry identification at all times and to avoid polling stations during the vote on 28 November. It also warned of reports of sexual violence against women in Tahrir Square. The Department of Foreign Affairs is warning all Irish citizens to "exercise caution in all areas of Egypt".
CNN correspondent Ben Wedeman tweeted this image of gas masks being sold on the street in Cairo today, saying "Business is booming":