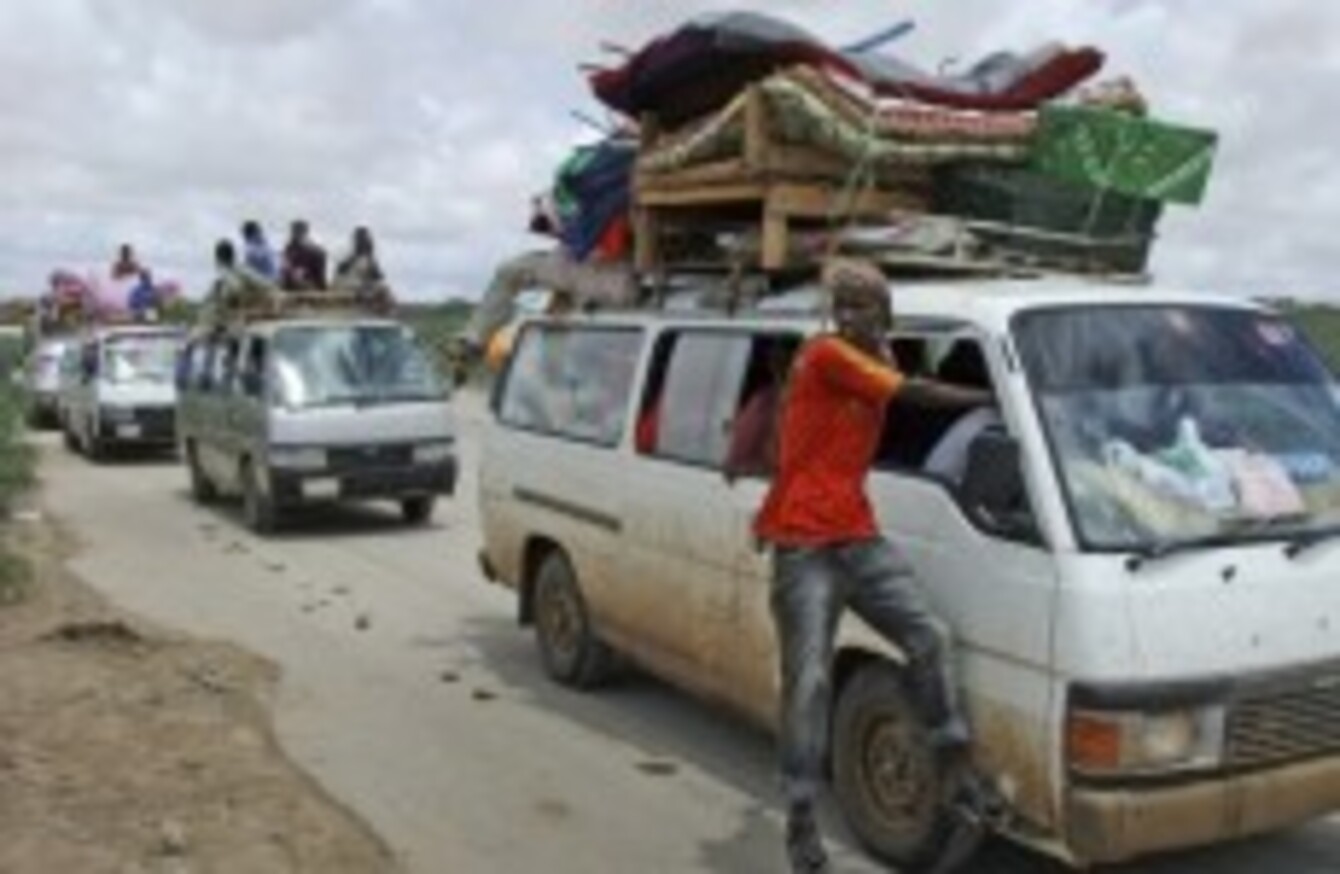 File: Civilians ride on minibuses laden with their belongings as they flee from a district in northern Mogadishu, Somalia, last week
Image: Farah Abdi Warsameh/AP/Press Association Images
File: Civilians ride on minibuses laden with their belongings as they flee from a district in northern Mogadishu, Somalia, last week
Image: Farah Abdi Warsameh/AP/Press Association Images
AT LEAST FOUR people have died, including the bomber, when a suicide car bomb exploded near Somalia's Foreign Ministry today.
Police confirmed the attack outside the ministry in Mogadishu, Somalia's capital, with a spokesperson saying the bomber and at least three others were killed.
Six people were wounded and taken to the hospital.
Eyewitness Tohow Abdi said he saw body parts torn off by the blast.
The blast came the same day that Kenya's ministers of defense and foreign affairs are in Mogadishu to meet with government leaders after Kenya launched military operations on Sunday in southern Somalia against al-Shabab militants.
The blast occurred several kilometres from where those meetings are believed to be taking place.
Earlier this month al-Shabab militants unleashed a suicide bombing in Mogadishu that killed more than 100 people, many of them students gathering to see if they had earned scholarships to study in Turkey.
It was the deadliest bombing in Somalia by al-Shabab.
African Union and Somali troops battling al-Shabab militants have mostly pushed the insurgents out of Mogadishu, but al-Shabab has vowed to carry out attacks in the capital.
The Kenyan military began to move into Somalia at the weekend, following a spate of kidnappings that are being blamed on al-Shabab militants.