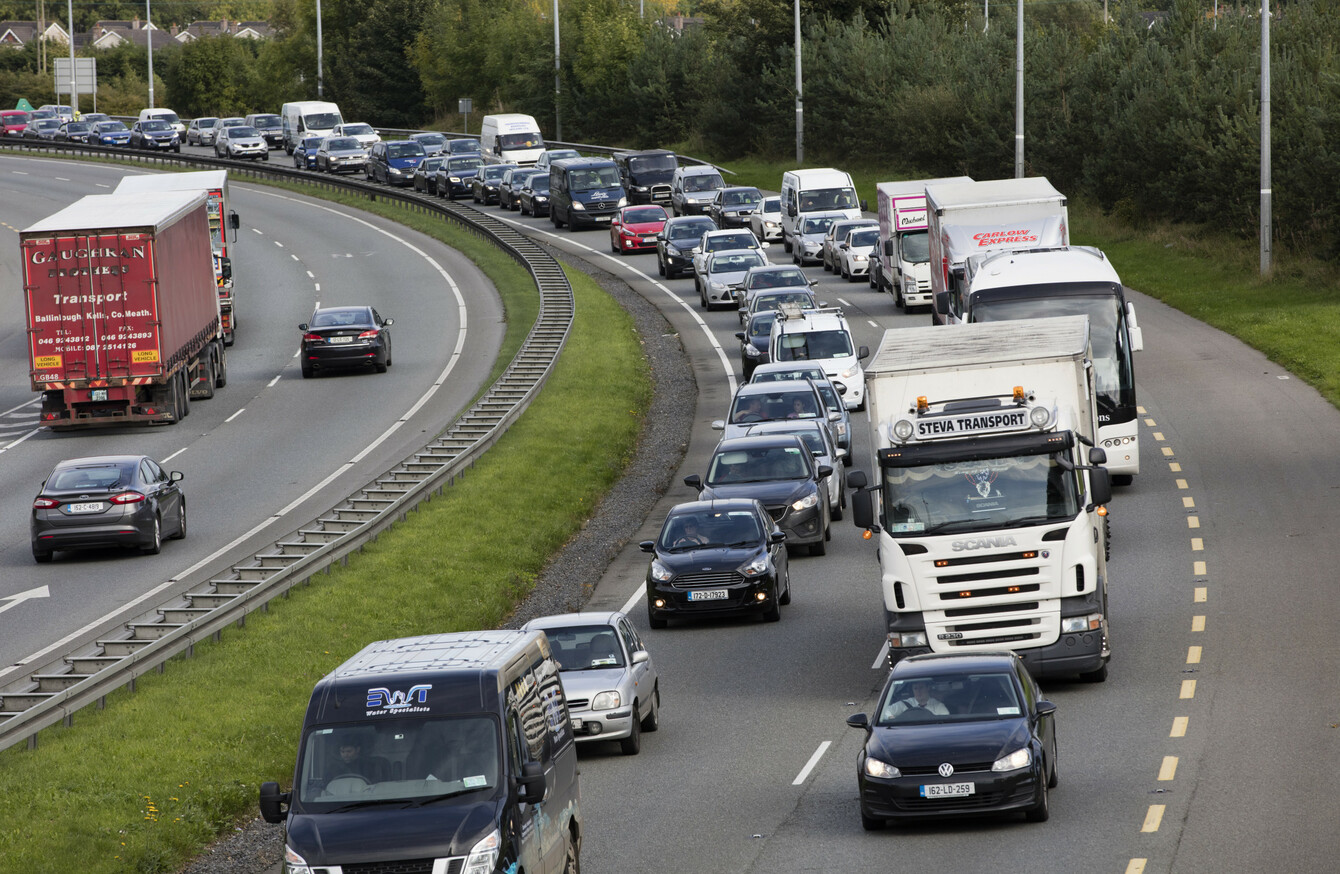 Image: Eamonn Farrell/Rollingnews.ie
Image: Eamonn Farrell/Rollingnews.ie
BETWEEN 2013 AND 2016, the cost of car insurance increased by 70%.
Last year, the government published a report with a number of recommendations on what needed to be done to bring premiums down. The statistics point to a reduction in the last year, but not all drivers are feeling the benefits.
TheJournal.ie spoke to a number of drivers who said their premiums had risen for this year, and in some cases by a large amount.
We're a year on from this report now, so how far are we away from a wholesale drop in the cost of car insurance?
The plans
Then-Minister of the State Eoghan Murphy said at the start of the report that "there is no single policy or legislative 'silver bullet' to immediately stem or reverse premium price rises".
However, Murphy also said that all stakeholders should be able to work together so that "fairer premiums" for consumers could be brought in "without unnecessary delay".
Its "action plan" contained a number of recommendations including:
Insurers had to set out reasons for large increases in premiums to provide transparency to customers.
Establish a national claims database.
Establish a personal injuries commission.
Establish an integrated insurance fraud database to detect patterns of fraud.
This personal injuries commission would seek to establish a "standardised approach" for the examination and reporting of soft-tissue injuries such as whiplash.
By quantifying and clarifying payments made in claims, and developing better detection of fraud, it was envisaged that these savings made by insurance companies could be passed on to the consumer.
Reducing cost for the consumer was, of course, a main objective for this report.
According to the CSO's Consumer Price Index for November 2017, the cost of motor insurance is going down, decreasing by 9.3% on the same period in 2016.
Up to that period, however, premiums shot up. Some customers saw their car insurance costs jump by up to 60% in the two years prior to that, and by a third in 2016 alone.
Still going up
In a statement to TheJournal.ie, a Department of Finance spokesperson pointed to the decreases in the cost of car insurance premiums since the July 2016.
They did add, however, that "while the CSO statistics indicate a greater degree of stability on an overall basis, these figures represent a broad average and therefore there are many people who may still be seeing increases".
One taxi driver that we spoke to said that their premium, due for renewal this March, went up by one third last year, to over €2,000, last year despite not having made any claims in a number of years.
Other drivers we spoke to, in their 20s, 30s and 40s said that their insurance premiums have risen for the most part.
One man in his mid-20s, who's been driving since the age of 18 and has never made a claim, recently got a quote from his insurer for €150 more last November. It was a similar case for a woman in her 40s, whose premium was quoted for €100 higher last October.
However, another woman in her early 30s told us that, while she was quoted a higher premium with her current insurer, she was able to secure a quote paying the same price with a different insurer.
Progress made
Insurance Ireland CEO Kevin Thompson told TheJournal.ie that while much progress has been made in the year, there is still work to be done before wholesale reductions in premiums can be passed on to customers.
He referenced the establishment of the personal injuries commission, which is looking at systems of benchmarking compensation awards to try to bring costs for the companies down which can in turn be passed onto consumers.
"The personal injuries commission has a twofold objective," Thompson said. "It's standardising how they're assessed, and it's the benchmarking of awards."
Insurance companies have given over a lot of data to the Department of Finance on claims paid from 2015, 2016 and 2017.
He said that the increases to premiums in recent years was tied in with the sheer amount of claims being brought forward, particularly those that end up in court.
Furthermore, there was a recommendation for the Personal Injuries Board to be given more powers. While the government has brought the heads of bill forward for legislation that would do this, it may take some time.
"The timeline for us is important," Thompson said. "That's unknown at this stage. The ultimate aim is getting more claims to go through this injuries board, and out of the litigation system."
#Open journalism No news is bad news Support The Journal

Your contributions will help us continue to deliver the stories that are important to you

Support us now
Deirdre Ashe, director of personal lines at Liberty Insurance, said that the company largely supports the personal injuries commission's aims to bring compensation payouts for soft tissue more in line with European norms.
She said: "They have also fuelled our high level of fraudulent claims, with the motorist paying the price through increased insurance premiums. The commission's role to date in tackling this area of reform is positive."
Ashe added that managing the expectations of claimants needs to improve.
While pointing to the 9.3% drop in the cost of insurance in the past year, as per CSO figures, Thompson said that figure was welcome but not indicative of a complete change in the system.
"It's fair to say that we're at a new norm, in terms of the cost of insurance out there," he said. "If we want to tackle it, it's the cost of awards we need to look at.
2018 should be the year of action. The only risk is concerning legislative change, when you look at the current speed that is happening. The longer that takes, the longer it will be until consumers feel the benefits.
Next steps
The Department of Finance spokesperson said that quarterly updates are to provided on the progress being made towards the recommendations in the report.
They said: "The fourth quarterly update is scheduled to be published within a few weeks and will focus on the 14 actions which were due for completion in the final quarter of 2017. It will also contain a summary from each department/agency outlining the key achievements completed during 2017 overall in respect of implementing the report's recommendations.
It is hoped that the ongoing implementation of the Motor Report, in addition to the implementation of the working group's forthcoming report on employer and public liability insurance, will make a difference to the pricing of insurance premiums.
While the subject matter of this second report does not relate to motor insurance directly, recommendation in this second report in relation to liability insurance should have an impact on the cost of insurance as a whole.
Underlying problems
Fianna Fáil's finance spokesperson Michael McGrath, however, accused the government of having "no interest in halting the dramatic hikes in premiums experienced by motorists for the preceding few years".
He said that, a year on from the government's report, greater progress is needed "on the key issues of award levels, insurance fraud and transparency around industry data".
"Younger drivers and drivers with older vehicles continue to be charged huge premiums if they are able to get a quote at all," McGrath said.
According to recent CSO figures, aggregate premiums have come down and this has led some into thinking that the underlying problems are being solved. However, many people are still facing massive insurance hikes and serious problems remain.