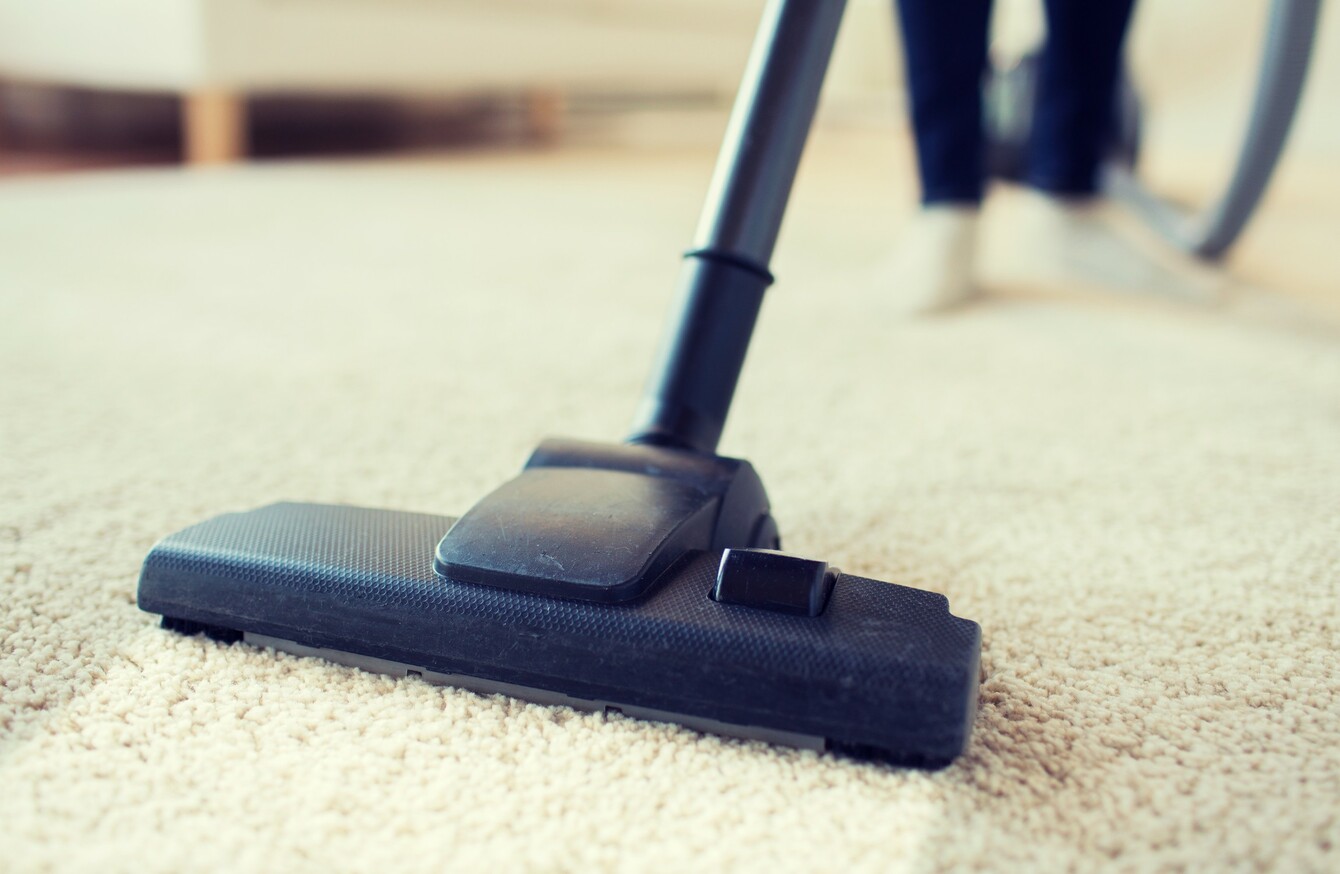 Image: Shutterstock/Syda Productions
Image: Shutterstock/Syda Productions
MAYBE YOU'VE JUST moved into a new home and the carpet is more pre-dumpster than pre-loved. Or maybe you've been meaning to tackle that giant watermark or lingering stain from a spilled cup of tea for ages. Whatever the reason, refreshing an old carpet is a task that can revive your entire room.
Every fortnight, Laura de Barra brings her lifestyle and home maintenance expertise to the Glenveagh Home Magazine on TheJournal.ie – and this week she's sharing her advice for bringing life back to carpets that are tired, stained or just plain grim.
Before we get into stain removal or reviving an old carpet, you should be aware of what can and can't be used on your carpet. Always check that products are safe to use on the type of carpet you have. And in my opinion, follow these rules:
Don't soak a stain out. You should only apply moisture with a damp cloth as it controls the liquid, otherwise it will run through the fibres, diluting the stain and spreading it further through the carpet. This will almost always lead to a water mark.
Don't apply heat! Air dry instead. While it may be tempting to use heat, it can damage the fibres. Always pat with a dry cloth as much as possible before leaving to air dry.
Don't use anything with a bleaching agent. This can cause discolouration.
Only use soft cloths. Anything with a rough texture could end up removing some fibres.
Always dab, never rub. While instinct will be to rub the stain, you may be actually pushing it deeper in to the fibre and damaging the carpet. You want to transfer the stain on to a cloth instead.
1. Reviving an old carpet
If you have just moved in to a property with an old carpet and are renting or not planning on changing it anytime soon, don't worry. There are some easy steps to revive the fabric:
- First, remove all dust and dirt with a deep hoovering session.  This will require a freshly cleaned hoover with good suction and some patience.  (You should be hoovering your carpets regularly, regardless. A good rule of thumb is too each room as many times a week as there are people that use that room. If you have a three people in a house the living area will benefit from being hoovered three times a week, for example. If the old carpet is looking dull and grey its likely that regular hoovering was not happening.) Start in one corner and go top to bottom working left to right, as though you are cutting grass. This will ensure you are not missing any spots.
- Now, start on the other side of the room and make sure you are hoovering the carpet in the opposite direction each top to bottom.
- Lastly hoover the room once more going across from side to side rather than top to bottom. This will ensure that you are picking up all dirt and debris that will be trapped in the pile. Don't forget to empty the hoover between each stage.
- You may notice that some of the pile in your carpet is matted. For these areas, use a fork – yes, a regular fork – to comb the pile back in to place. If pile is repeatedly flattened in the same place it will flatten down over time, and a comb through will raise it back to where it should sit.
- If your carpets have an odour, sprinkle the whole area with bicarbonate of soda, massage it in to the pile a little and leave overnight. Hoover it away the next morning and it should have absorbed any nasty odours. Repeat if necessary.
2. Lighter stains
- The first place to start is to remove all dry dirt. This will not only instantly refresh the carpet, it also stops mud and dry sediment turning back in to a liquid when wet, and spreading further though the fibres of your carpet. If your carpets are looking a little dull with greying patches, it is usually from dirt being walked into the fibres – most often in high traffic areas.
- As above, thoroughly hoover the area. Once you are sure you have removed any dried dirt from the carpet, add a teaspoon of washing up liquid to a basin of water. Soak a clean, white cloth in the mixture (you don't want to use anything that has been dyed here as it will stain the carpet.)
- Now dab the stain with the cloth, working from the outside in. If you go from the inside out, you will risk spreading the stain and causing water marks. You should start to see the dirt loosening and transferring on to the cloth.
- Rinse the cloth often and keep dabbing until the stain is gone. This may take 30 mins or so. Make sure you do not soak the carpet, you just want the washing up liquid to encourage the stain to loosen from the fibres enough to be dabbed away. Adding too much liquid again leads to water stains, and it could encourage mould growth under the carpet if it does not dry quickly.
3. Really deep stains
- Accidents happen but thankfully there are a host of carpet stain removal products out there for deeper stains. Just make sure you are using the correct one for the carpet type and the stain.
- I would recommend a professional clean for lighter carpets every year or two depending on how much use the room is getting. It can ensure your carpet lasts longer and really brightens a space.
- Renting carpet cleaning equipment is now super easy and the process is also very simple to do yourself. You will always be guided by the rental company in how to use the machinery and the best approach to take when cleaning. 
4. Water stains or tidemarks
- A mix of 30/70 vinegar and water can be sprayed lightly on to a water stain and then dabbed out with a clean, white cloth. Vinegar's PH can loosen the water stain, especially at the edges which tend to be the most visible. Apply and then pat until the mix is removed, taking the water stain with it.
- Make sure you do not leave any moisture to sit on the carpet afterward, as this is what will have caused the original stain. Dab over with a dry cloth to remove any excess moisture and allow to air dry.
- Repeat if the stain has lightened but not lifted entirely.
Laura de Barra's book, Gaff Goddess, will be published in February 2020 by Transworld Ireland. Pre-order it here – and follow her on Instagram for even more cleaning and lifestyle tips.