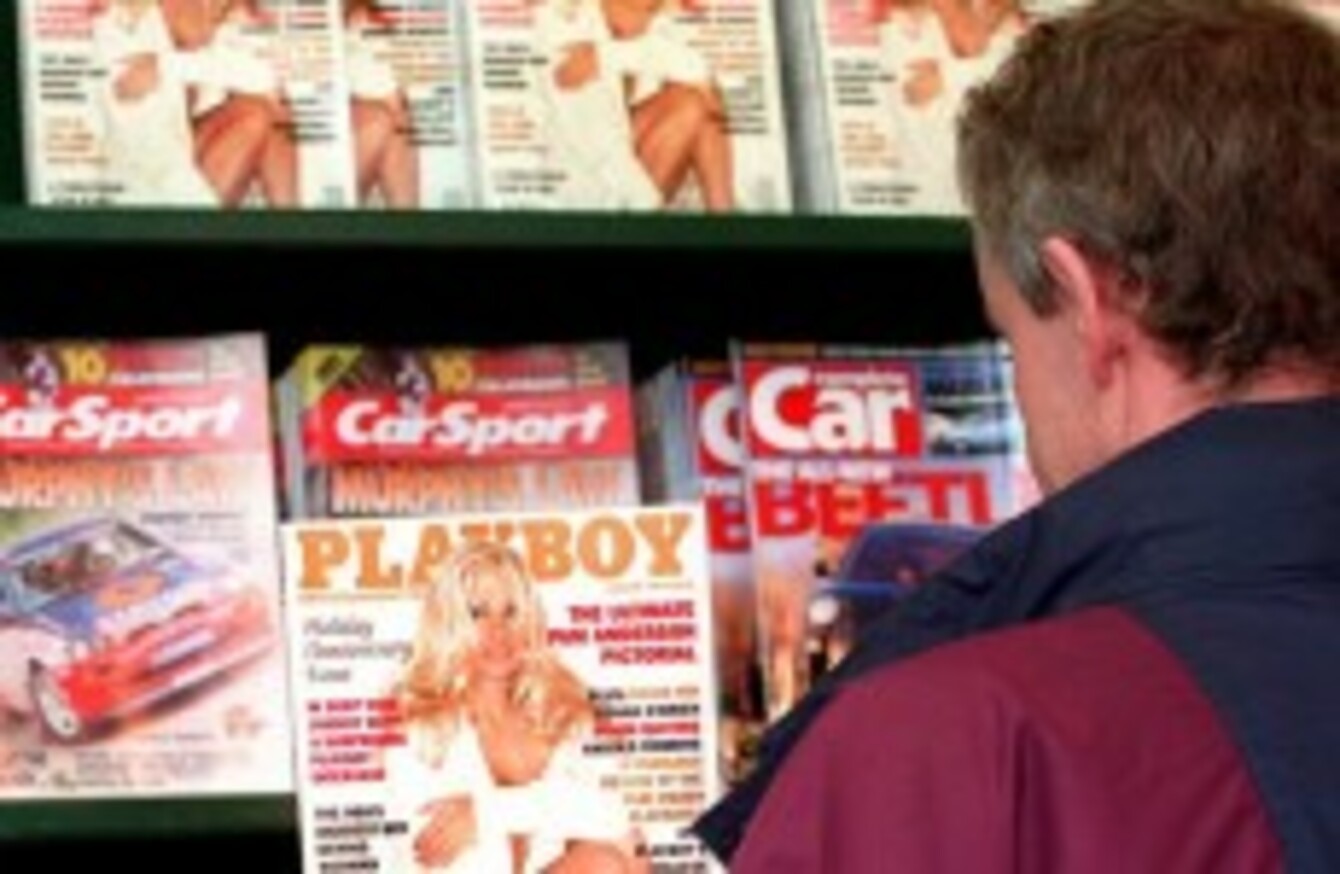 A Dublin man checks out the newly-uncensored Playboy magazine in 1995
Image: PA/PA Archive/Press Association Images
A Dublin man checks out the newly-uncensored Playboy magazine in 1995
Image: PA/PA Archive/Press Association Images
IRELAND HAS NEVER had a great track record when it comes to censorship.
From Monty Python's Life of Brian to Baise-moi, from A Clockwork Orange to Natural Born Killers, many of Ireland's film and book censors – especially in the first four decades after independence – used their role to enforce strict and at times draconian morals on the public.
The role has changed a lot in the past decade: the film censor has been rebranded as the film classification office and focuses more on what rating to give films than whether they should be banned, while the book and magazine censorship board now receives a tiny number of complaints from the public and rarely – if ever – bans anything.
But the legacy of the harsh censorship regime remains in the list of books and magazines that are still banned in Ireland. There are 274 books and magazines banned in Ireland today – but some have been fighting back.
What books are banned in Ireland now?
(Photo:Graham Hughes/Photocall Ireland)
Books can be banned for two different reasons in Ireland:
For being indecent or obscene
For advocating the procurement of abortion or miscarriage, or the use of any method, treatment or appliance for the purpose of procuring an abortion
The Censorship of Publications Board, made up of five people appointed by the Minister for Justice, is in charge of deciding whether a book can be banned or not, but it can't act on its own accord – it has to receive a complaint before it can assess whether a book should be added to the list of prohibited publications.
Right now, there's a grand total of zero books banned for being indecent or obscene. Books about abortion, on the other hand, are a different matter.
Eight books are currently banned in Ireland for providing information on how to procure abortion. Three of the books are explicitly about abortion: Abortion Internationally (banned since 1983), Abortion: Our Struggle for Control (also banned in 1983) and Abortion: Right or Wrong (banned seventy years ago in 1942).
Unexpectedly, four of the other five are sex guides. How to Drive Your Man Wild in Bed has been banned in Ireland since 1985, while The Complete Guide to Sex has been banned since 1990 because they appear to contain information about the procurement of abortion. Make it Happy: What Sex is All About, The Book of Love, and the slightly more medical The Love Diseases have all been banned since the early 1980s.
The books banned under the abortion rule have fallen foul of a strange loophole.  All eight of the books were banned before the 1992 referendum which made it legal for information about abortion in other countries to be made available in Ireland (through books, pamphlets, etc), so technically they should be permissible. However while most books are unbanned 12 years after they were first banned, the legislation governing censoring books brought in a different rule for abortion books which means the 12 year rule doesn't apply. Because of this, all eight of the books will remain banned indefinitely until someone appeals the banning.
Despite much talk to the contrary, Ulysses by James Joyce was never actually banned by the Censorship of Publications Board. Instead, the government used a customs loophole which prevented it from being allowed into Ireland.
What magazines and periodicals are banned in Ireland?
(Photo: Dave Thompson/PA Wire)
Far more magazines than books are banned in Ireland, but for much more varied reasons. 266 magazines are currently banned in Ireland; a strange mixture of hardcore pornography, crime magazines from the 1950s and 60s, and ones which inexplicably fell foul of the censor at the time (Broadway and Hollywood Movies, Eye: People and Pictures, and Health and Efficiency magazines are all banned).
Some of the bannings are unexpected: the British edition of the News of the World was technically banned up until it was closed down by Rupert Murdoch last summer. Ireland's Daily Sport, including the Daily Sport, was banned in 1995, as was its weekend version. Hustler magazine has been banned since 1981 and Playgirl has been banned since 1974.
A large number of the banned magazines are about crime, with many of the titles sounding somewhat quaint now.  Amazing Detective Cases was banned in 1958, as was Detective Weekly, while Famous Crime Stories was banned in 1959.  All were banned for having "an unduly large proportion of space for the publication of matter related to crime".
#Open journalism No news is bad news Support The Journal

Your contributions will help us continue to deliver the stories that are important to you

Support us now
Meanwhile Big Ones International  (banned 1997), Man's Conquest (1960), Romp (1981) and Scamp Magazine (1963) remain sadly unavailable on Irish shelves. Some magazines have managed to get around the ban by bringing out different versions: so while magazines like Hustler are banned, spin-off magazines with similar titles can get around the ban.
Others have started to fight back. Late last year, a distributor of porn magazines successfully appealed against the banning of five magazines, which led to them being taken off the list of prohibited publications.One of the magazines, Razzle, had been prohibited in Ireland since 1935 before the ban was overturned.
Unlike with books, where bans last for 12 years before they expire, magazines remain banned indefinitely.
More recent bannings and the introduction of Playboy
(Photo: Photocall Ireland)
Banning publications isn't all in the distant post: In Dublin magazine was banned by the Censorship of Publications Board in 1999 after a complaint about the explicit nature of the advertisements for massage parlours which populated the back pages of the listings magazine. The Board banned the sale and distribution of the magazine for six months for being "unusually or frequently indecent or obscene", in a move that caused huge outcry over censorship and lack of accountability.
The High Court lifted the ban when it came to court and said that the publishers of the magazine should have been given an opportunity to state their case before the Board before the ban was implemented.
At the other end of things, Playboy magazine was unbanned in Ireland in January 1996 (and quickly become the highest-selling men's title in the country).
"Morals have changed," said a spokesperson for the Censorship of Publications Board. "What was considered obscene in the 1940s is very different to what is considered obscene today".