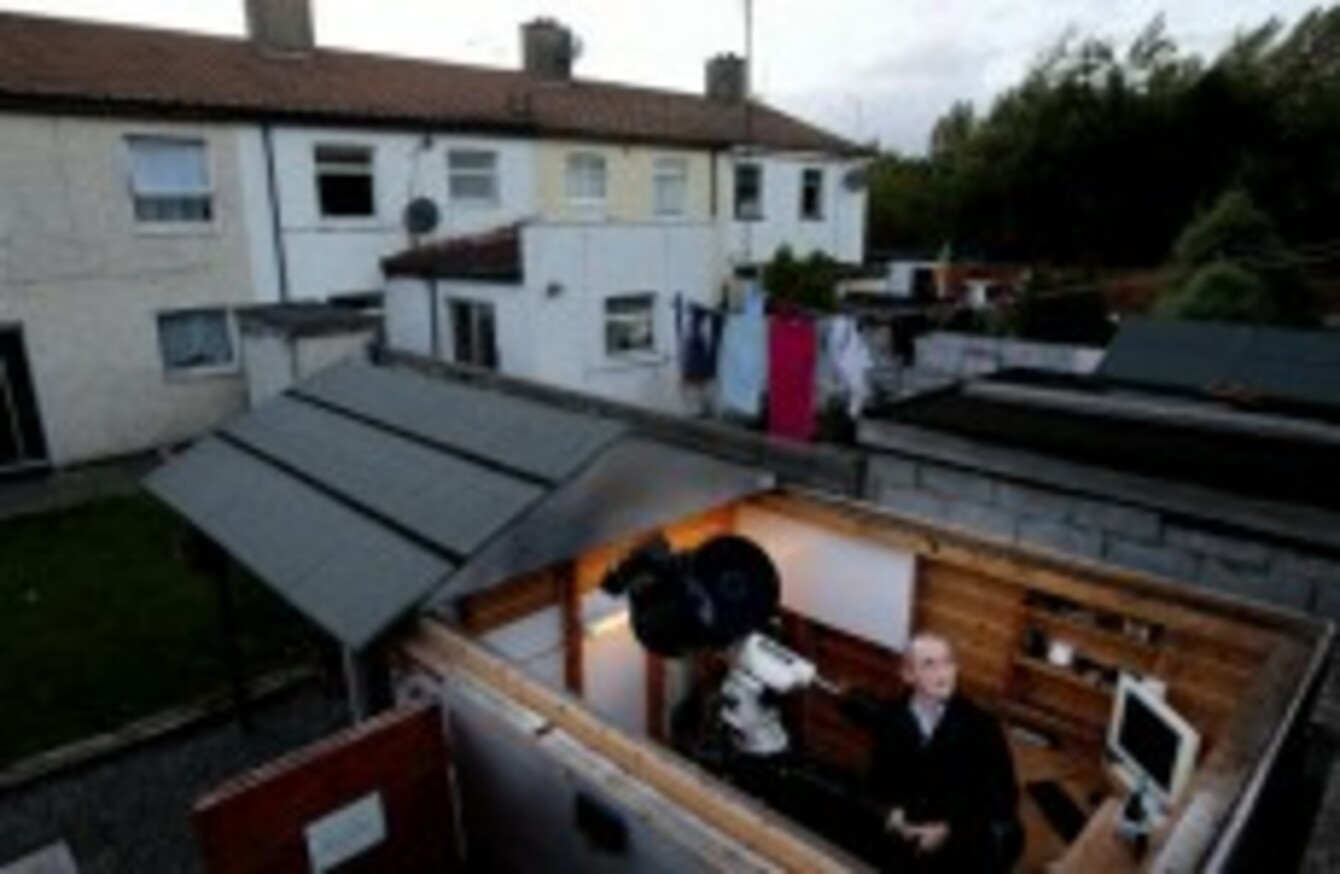 Dave Grennan in his home observatory in Raheny, complete with sliding roof, from where he made the first disovery of a supernova in Irish astronomy
Dave Grennan in his home observatory in Raheny, complete with sliding roof, from where he made the first disovery of a supernova in Irish astronomy
AN IRISH AMATEUR astronomer who discovered the first supernova ever spotted from Ireland has said he's lucky to have a supportive wife who brings him cups of tea when he's stargazing in the back yard.
Dave Grennan from Raheny in Dublin made the biggest discovery in Irish astronomy two weeks ago when he saw a 290-million-year-old star exploding through his home telescope. He had his discovery confirmed by Professor Stephen Smart in Queens University in Belfast. It was taken for analysis to one of Europe's largest telescopes, based in Palma in the Canary Islands, and was confirmed to be a supernova on Monday night.
Speaking to TheJournal.ie this morning, Grennan described the moment he received the news that he had in fact spotted the supernova which has been officially named 2010 1K:
I danced a little jig. It was half eleven on Monday night when the International Astronomical Union issued an electronic telegram to astronomers all over the world announcing the discovery. There was lots of hugs and kisses here. My poor little dog Charlie is still looking at me: we only got him a few weeks ago, he's a rescue dog, and he got lots of hugs too.
Just below, TheJournal.ie has published an exclusive first picture of the photograph Dave took of the supernova 2010 IK:
Supernova 2010 IK

Dave and Carol Grennan

Dave Grennan with wife Carol who has been "very understanding" about his passion for astronomy - and the large observatory he built in their back yard

Tychos Supernova

This image by NASA is of the Tycho supernova. Supernovas are massive stars that explode and are in the process of dying.
And despite reports to the contrary, Dave and wife Carol didn't crack open a bottle of bubbly to celebrate a 'champagne' supernova. He said:
That was a bit of a fabrication. We had a little tipple but there is a Star party at Birr in Offaly on Saturday where the observatory is and I expect there will be a celebration then.

I searched through 2,611 galaxies looking for this.

I had a lot of false starts – it could have been an asteroid in the wrong place at the wrong time and I had to check to make sure it wasn't a flaw on the camera. I double, triple, quadruple checked it before sending the photograph to colleagues in the UK to double check it. Then it was a case of filing the report and getting Professor Smart to confirm it. You can't get too excited until you know for sure because a false report will sully your reputation.
Grennan works as a software developer for CIE which means he can't stay up too late on weeknights to look at the stars. He built a shed, complete with sliding roof, in the back yard of his terraced house to house his equipment. His wife Carol is "very supportive", he says:
She is very understanding. She loves to come out with a cup of tea and ask me, 'How are things going tonight?'. Sometimes she helps me out with little things. She's quite good but the most important thing she does is give me space to do what I do. Without an understanding wife, you'd be getting the whole, 'Come in out of the cold, there's hoovering to be done!'
His interest in astronomy was cultivated from childhood by another supportive woman, his mother.
From the age of about five, six, seven I would sneak out into the garden to look up at the stars and my late mum would come out and bring me a coat and put a hat on me. In 2008, when I was lucky enough to see an asteroid, I named it Catherine Griffin after her.
#Open journalism No news is bad news Support The Journal

Your contributions will help us continue to deliver the stories that are important to you

Support us now
His only worry now is that his neighbour will still be talking to him after photographs of his back-yard observatory in today's Irish Independent and Irish Times included her washing line in the background. He laughed:
I'm dreading talking to my neighbour. She had a famous washing line for the day. I didn't see them out last night otherwise I would have warned her to bring in her clothes before the photographer came!
David Moore of Astronomy Ireland said that Grennan's discovery was "the biggest thing ever discovered in Irish astronomy". Speaking to TheJournal.ie this morning he added that Dave is probably Ireland's top amateur astronomer and that the supernova – the death explosion of a massive star – he discovered lies on the outer edge of the universe, 300 million light years away. He explained:
We live in a galaxy which is like a city of stars, if you will. You only see a star explode once every 100 years so you have to look out into other galaxies to see them exploding there. There are dozens of supernovas discovered every year but these are by professional astronomers in huge observatories in places with clear skies. I knew about Dave's potential discovery two weeks ago and I had been pestering him regularly for an update. It had to go through the official channels but it is wonderful.