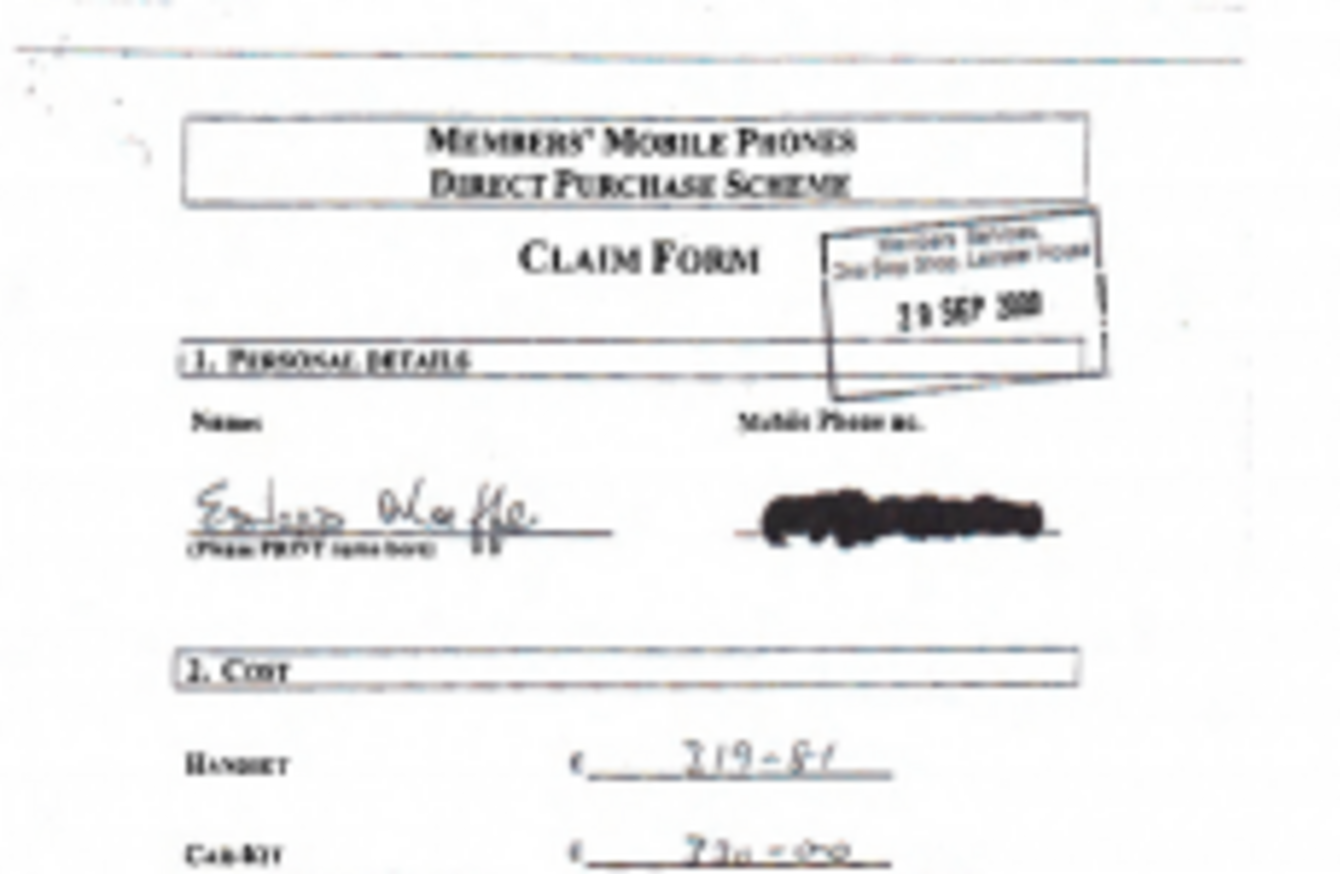 The amended Leinster House expenses regime, adopted in March 2010, means it's now impossible to access a politicians' mobile phone claims.
The amended Leinster House expenses regime, adopted in March 2010, means it's now impossible to access a politicians' mobile phone claims.
Updated, 17:35
THE ARREST OF former Fianna Fáil TD Ned O'Keeffe at his home in Cork today is reported to be in connection with the alleged use of fraudulent receipts to claim mobile phone expenses.
Were this true, it would be the second time in a number of months that a former Fianna Fáil junior minister had been arrested in such circumstances: in January former transport minister Ivor Callely was arrested as part of an investigation into the alleged practice.
In both cases, the original allegations of impropriety emerged from news reporting: the Mail on Sunday's Luke Byrne was the first to report both stories in 2010, with his first report on Callely appearing in August of that year and on O'Keeffe in November.
In the Callely case, Byrne reported that the company whose name appeared on the receipts had long gone out of business, while O'Keeffe's appeared to have been subjected to the wrong VAT rate and included suspicious charges for €300 in 'labour' for the labour-free installation of a Bluetooth kit.
In both cases, the receipts were received by Byrne following Freedom of Information requests, under which the Houses of the Oireachtas released copies of the receipts submitted by individual members – documents which were later released to TheStory.ie.
Without this ability, it is possible that the fraudulence of any receipts could have gone unnoticed, with expenses being processed by Leinster House staff simply as a matter of routine.
The chances of such reportage being repeated in the future, however, are reduced by the changes in the Oireachtas expenses system – which make it more difficult to access records on a TD's spending.
The expenses regime was overhauled in March 2010 in response to public outcry at the claims run up by TDs previously – replaced by a new system under which members are given a fixed monthly allowance.
Under that system – the Public Representation Allowance (PRA) – members are paid a flat fee, varying depending on their commuting distance to Leinster House, and which is slightly higher if they opt to vouch their expenses.
The flat fee, paid in advance each month unless a member specifically directs otherwise (such as in the case of Eamon Maloney), is forwarded on the basis that it covers a certain list of set costs, and that members return any unused allowances.
The Members' Mobile Phones Direct Purchase Scheme – the system under which members can be reimbursed for the cost of buying a new phone, of up to €750 every 18 months – was not included in this overhaul.
The PRA system does, however, cover costs like a member's mobile phone bill – and, as we outlined two weeks ago, is resistant to Freedom of Information requests.
Even members 'vouching' for their expenses do not have their expenses subject to FOI requests – because only one-in-ten of those who do claim the higher vouched expenses are asked to present receipts during an annual audit.
In the case of members who are audited, the receipts are then returned at the completion of the audit, and are not available for public scrutiny.
The change means that public access to politicians' expenses records is greatly hampered – having a significant impact on the possibility that similar exposés could occur in the future.
Note: This story was amended to correct an earlier inaccuracy regarding the adoption of the current allowances system in March 2010. We are happy to correct this and apologise for any confusion.