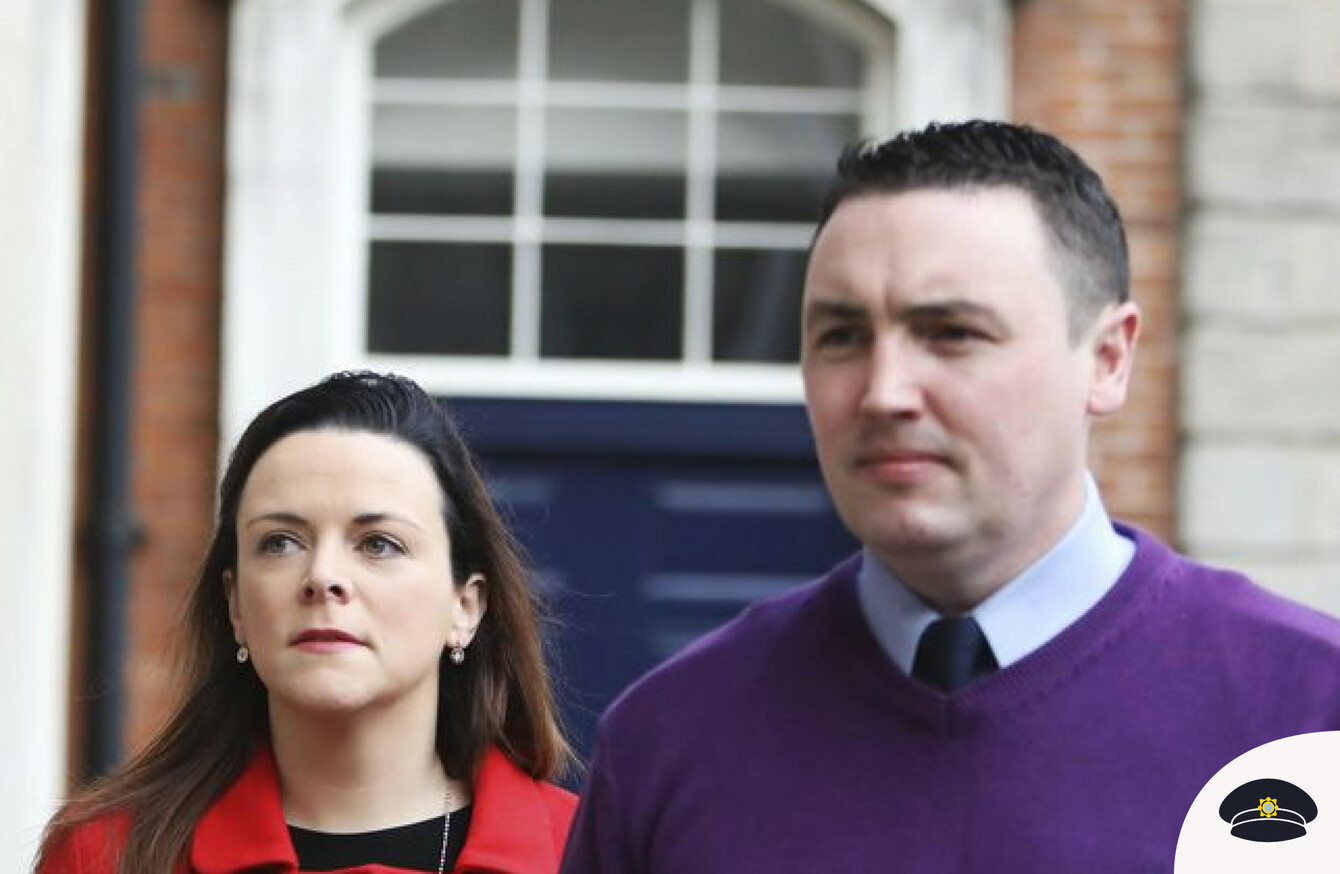 Garda Keith Harrison and his partner Marisa Simms arriving at the Disclosures Tribunal in Dublin Castle today
Image: Leah Farrell/RollingNews.ie
Garda Keith Harrison and his partner Marisa Simms arriving at the Disclosures Tribunal in Dublin Castle today
Image: Leah Farrell/RollingNews.ie
LAWYERS FOR TUSLA and garda officers have told the Disclosures Tribunal that their clients have no case to answer in relation to complaints by whistleblower Garda Keith Harrison.
The lawyers were making their submissions at the end of the current module which is looking at contacts between gardaí and the HSE/Tusla relating to Garda Harrison.
Paul Anthony McDermott SC, on behalf of Tusla, said that a letter sent to the Minister for Children, Katherine Zappone, in February 2017 was intended to "attack and undermine the credibility reputation and good standing" of his clients.
McDermott said that when Harrison's partner, Marisa Simms, came to give evidence to the tribunal under oath she did not stand over the central allegation in the letter, that Tusla social workers were investigating her family because of pressure being applied by gardaí.
"This module of the tribunal was set up on the basis of an allegation that not only isn't true but wasn't stood over by the witness," McDermott said.
Referring to an Italian play, Six Characters in Search of an Author, McDermott said the module could be described as "six legal teams in search of a focus". He said the Tribunal's terms of reference for the module were set up on the basis of a very specific allegation that wasn't true, and there was no evidence Tusla acted in anything other than a proper manner.
Mícheal P O'Higgins SC, on behalf of the Garda Commissioner, said that garda officers acted properly and that there was no "campaign" against Garda Harrison.
The barrister said that if there had been malicious intent, there would have been an enthusiasm to discipline Garda Harrison, but that many things were let pass.
O'Higgins said that any troubles in Harrison's domestic life were of his own making, and his relationship with Simms was complicated and difficult in 2013.
Desmond Dockery SC said that Inspector Goretti Sheridan and Sergeant Brigid McGowan's actions were "fair, reasonable and proportionate" in seeking a statement from Simms about Garda Harrison, in light of the seriousness of the allegations reported to them.
Dockery said that the statement was recorded accurately and faithfully, and the interview was conducted in a fair and humane manner.
Dockery said there was no conspiracy or solo run by any of his clients to cajole or coerce a statement from Ms Simms.
Mark Harty SC, on behalf of Garda Harrison, said that the search for documents by gardaí had been too limited in the search terms used, and asked the tribunal to conduct a "broader" search of all documents relating to Garda Harrison during the period August 2013 to March 2014.
Harty also requested a search for documents relating to any contacts between Tusla social workers Bridgeen Smith and Donna McTeague with Sergeant McGowan.
Harty said that he did not accept that retired assistant commissioner Kieran Kenny could say "from the other side of the world" that he did not recall a meeting in which a briefing on Garda Harrison was given, and that a proper statement of evidence from Kenny should be heard.
The tribunal chairman, Mr Justice Peter Charleton said the inquiry had examined 2,837 documents, and described it as a "mammoth undertaking". He said he believed that all the relevant information had been aired by tribunal counsel.
Conor Power SC, on behalf of Chief Supt Terry McGinn, said there was no evidence to support the assertion made by Garda Harrison that the chief superintendent had acted in malice against him.
Power said that Chief Supt McGinn had acted in accordance with her duties as she was required to in good faith.
In closing submissions, Harty asked if gardaí believed that Harrison had made real threats against Simms as outlined in an October 2013 statement, then why were those threats not investigated immediately. Instead, Harty said, nothing was done until the end of January 2014.
Harty said that the proof that there was malice against Garda Harrison was in two letters written by Chief Supt McGinn, the first seeking to suspend Harrison from duty, and the second requesting a disciplinary inquiry against him.
Death threat
Earlier, the Tribunal heard details of threats made against the life of garda whistleblower Garda Keith Harrison in October 2013.
In a statement to the tribunal, Donegal division Chief Superintendent Terry McGinn outlined how information about threats made against Garda Harrison had been received from two anonymous 999 calls on 4 October and 5 October 2013.
The first call gave details of an overheard conversation involving four men in a bar in Strabane, Co Tyrone.
The following day, the same male caller gave further information, saying the threat came from a relation of Martin McDermott – who was serving a prison sentence in Portlaoise following a manslaughter conviction for the death of Garda Gary McLoughlin.
McDermott is the brother of Harrison's partner, Marisa Simms.
The number used to make the anonymous calls could not be identified by gardaí because the calls were made from a phone which had no SIM card in it, the tribunal heard.
As a result of the calls, the threat was rated "substantial". Harrison's home security was assessed and he was advised to exercise caution in his movements.
Harrison informed prison authorities he believed McDermott had access to a mobile phone. A search located a mobile phone, as a result of which McDermott's release date was put back. When Harrison returned to duty on 13 October, he was put on indoor duties.
Briefing 
The threats and subsequent investigations were part of a briefing which McGinn gave at a regional management meeting of senior gardaí held in Dundalk on 5 November 2013. The briefing also included allegations of verbal abuse, harassment and threats made by Harrison against Simms during their relationship.
Retired Chief Superintendent James Sheridan told the tribunal he had no memory of the briefing on Harrison at the meeting, which was attended by senior officers from the Northern Region headed by assistant commissioner Kieran Kenny.
Minutes of the meeting, which run to six pages, included a single line that. "Chief Supt McGinn gave an overview in relation to the Garda Keith Harrison investigation."
Sheridan said, as the chief superintendent in charge of the Cavan/Monaghan division at the time, he had no management role in Donegal, and he had no recollection of the briefing.
Tribunal barrister Pat Marrinan SC said the tribunal had also received a statement from Edward McGooey, a civilian crime analyst who was at the meeting, who said he had no recollection of Harrison being mentioned at the meeting and had not recorded anything about him in his notes.
Referral
Superintendent Eugene McGovern told the tribunal he attended a divisional management meeting in Letterkenny on 29 November 2013 at which Tusla (then HSE) manager Gerry Hone was present.
"No individual case was discussed, and it wouldn't be at this type of meeting. It wouldn't have been prudent at this kind of meeting," McGovern said.
Minutes from subsequent district management meetings in Buncrana, where McGovern was stationed at the time, referred to the need to provide full information to the HSE/Tusla when referring child welfare cases to the agency.
McGovern said a referral made following a garda statement from Simms and her children was not identified at these meetings as a case where there had been insufficient information provided to the HSE.
In a letter to gardaí on 24 October 2013, Hone wrote that no further action would be taken on the Simms referral "as there is no evidence of abuse detailed no further action will be taken from this service until we receive more information".
Comments are closed due to ongoing legal proceedings.