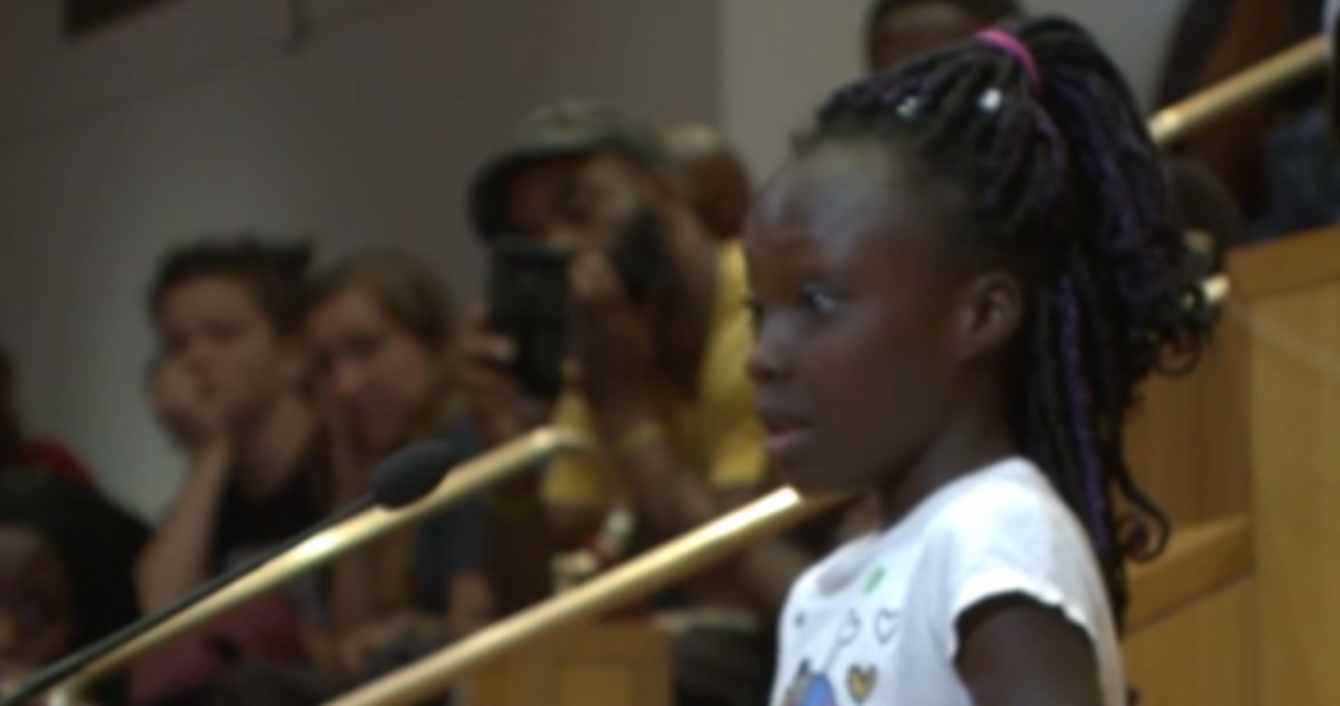 Nine-year-old Zianna Oliphant.
Nine-year-old Zianna Oliphant.
ANGRY CHARLOTTE RESIDENTS verbally attacked City Council members for hours, complaining about what they called unaccountable police officers and civilian leaders who have failed to force change as the city marked a week of protests since a police officer fatally shot a black man.
At its Monday night meeting, the council opened the floor to dozens of residents who voiced their opinions about the 20 September shooting of Keith Lamont Scott by Charlotte-Mecklenburg police.
Many called on Mayor Jennifer Roberts, Police Chief Kerr Putney and other council members to resign on the seventh day of protests since the shooting.
"It's going to be rough in these streets until you give justice to our people," said the Rev. Milton Williams, the final speaker in a three-hour string.
Our city's in an uproar, and you did not respond.
Many of the speakers carried signs expressing their anger.
One man's sign called for the repeal of legislation taking effect 1 October that blocks the release of police video without a court order.
Video footage
Many speakers demanded that police release all video footage of the confrontation.
Scott's family and advocacy groups complain that the department divulged only about three minutes of footage from two cameras.
They have urged the police department to release all other video footage it has, as well as audio recordings of communications that could clarify how the situation unfolded. A media coalition is also requesting more footage.
"We have no reason to trust you, and you're giving us even less," Khasha Harris told City Council members.
Some speakers brought their children, not only to share in the moment but, in several instances, to address the council.
Many in the crowd were brought to tears by the comments of Zianna Oliphant, a child who needed a stool to be seen over the lectern.
Source: USA TODAY/YouTube
Graveyard
"It's a shame that our fathers and brothers are killed and we can't see them anymore," Oliphaunt said.
It's a shame that we have to go through that graveyard and bury him. We need our fathers and brothers to be by our side.
"Just because of our colour doesn't mean anything to me. We are black people and we shouldn't have to feel like this. We shouldn't have to protest because you are all treating us wrong.
We do this because we need to and have rights.
Council member Kenny Smith said the council should be listening and taking action to answer the concerns.
"The unrest here has been decades in the making," council member Al Alston said.
Tuesday was the boiling point, and it's getting hotter.
The footage released so far of Scott's shooting left questions in many people's minds — including whether he was holding a gun, as police have stated.
Scott's family said he didn't have a weapon.
The footage includes body camera video from one officer, but not the black officer who fatally wounded Scott, who was 43.
#Open journalism No news is bad news Support The Journal

Your contributions will help us continue to deliver the stories that are important to you

Support us now
The gun recovered at the scene of Scott's shooting had been stolen and later sold to Scott, a Charlotte-Mecklenburg police source told The Associated Press on Monday.
The source insisted on speaking anonymously because the State Bureau of Investigation continues to look into the case. SBI Agent Erik Hooks declined comment when asked whether the gun had been stolen.
Rally
At a rally at a downtown church, North Carolina NAACP President Rev. William Barber said federal authorities should investigate the city's police department.
Police officers who fail to operate their body cameras during an encounter should be prosecuted, Barber said.
Six people were fatally shot since body cameras were given to all patrol officers about a year ago.
But the officers who fired the fatal shots in five of those cases — including Scott's — weren't using the cameras.
Charlotte police didn't respond on Monday to requests for information about those cases.