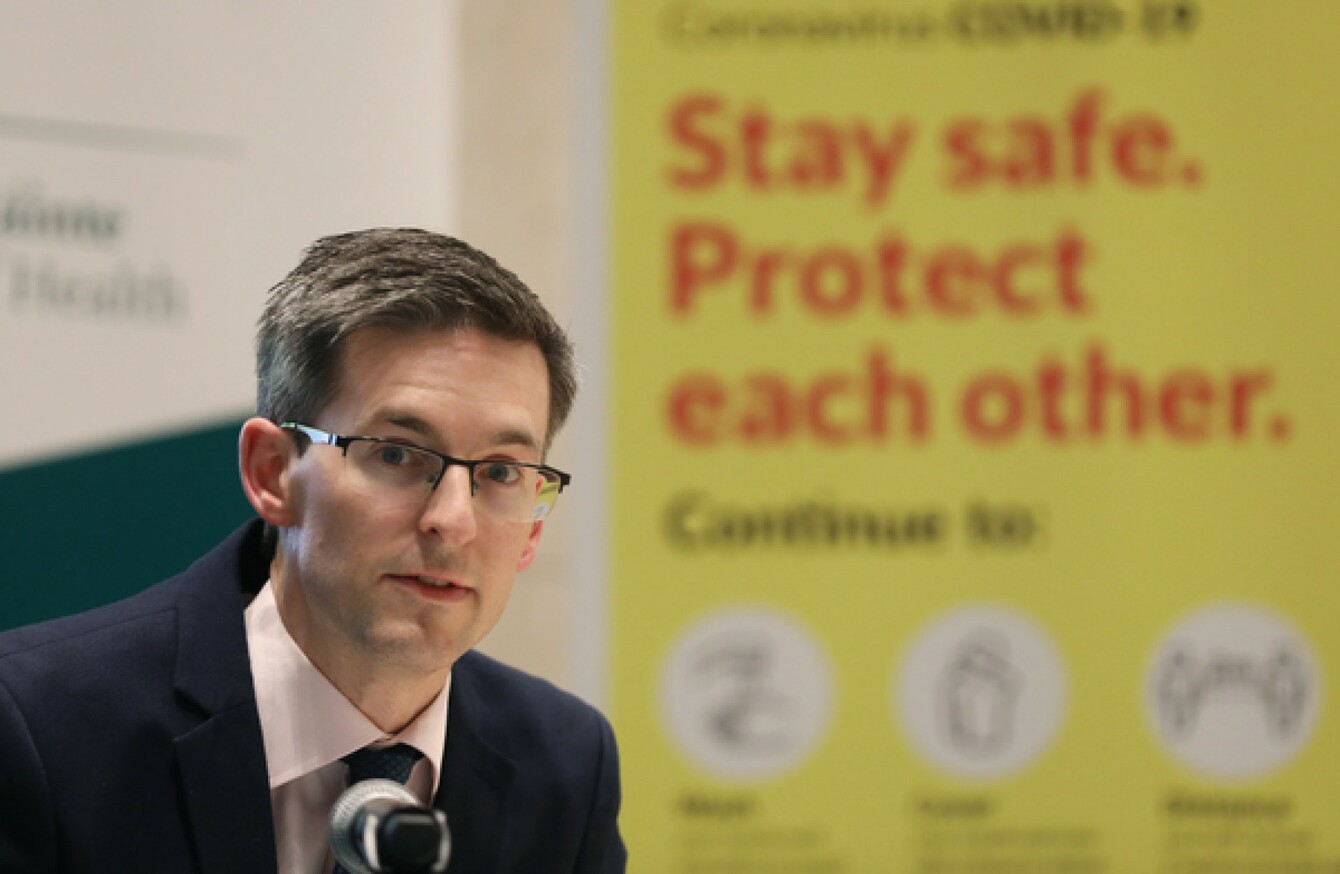 Ronan Glynn (file photo)
Image: Leah Farrell/RollingNews.ie
Ronan Glynn (file photo)
Image: Leah Farrell/RollingNews.ie
Updated Jan 18th 2021, 8:49 PM
THE DEPUTY CHIEF Medical Officer has re-iterated that the closure of schools should be a last resort only after teachers expressed concerns about a potential re-opening of educational facilities for some students later this week.
Talks are continuing with unions about the reopening of schools for students with special educational needs, after the union representing Special Needs Assistants (SNAs) said an agreement on the issue has not been finalised.
The Department of Education published interim arrangements about a return to school for students with special needs last week, in which it stated that an agreement on reopening for these students had been reached with unions.
However, unions say that no such agreement has been reached and it remains unclear whether the re-opening will happen.
In a statement this evening, the Irish National Teachers' Organisation (INTO) said that teachers' "grave safety concerns" had not been adequately addressed by public health officials today.
The union called on the Department of Education to reconsider plans to re-open schools for special education this week, but said it would continue to engage with the government and health officials.
Speaking at a press briefing by the National Public Health Emergency Team (NPHET) earlier, Dr Ronan Glynn said that although there were no "zero-risk" environments, the re-opening of schools was in the best interests of children.
He explained that NPHET's advice for people to stay at home was partly intended to allow limited sections of society to continue, and that health officials recognised that some people could not stay at home because their work would not allow them to do so.
He also acknowledged that although there have been clusters and outbreaks in educational settings, that these had occurred in a small number of locations only.
"By and large, the experience [in recent months] was a very positive one and a very successful one," the Deputy CMO said.
"That said, we have always been clear that if we were to experience very widespread community transmission [of Covid-19], that would have an impact on the ability of schools to operate."
Glynn clarified that NPHET wrote to the minister earlier this month and advised that, rather than expressing concerns about schools themselves, officials worried about the spread of Covid-19 due to one million people travelling to and from schools daily.
He further explained that part of NPHET's advice was to give special consideration should to keeping schools open for vulnerable children and those with special needs.
"There is no zero-risk environment. We're sitting here this evening and we cannot say that this is a zero-risk environment," Glynn said.
"There are people working in shops all across the country: that's not a zero-risk environment.
"To the individual person: I can't sit here and say that any environment is zero-risk. Once you leave your house, once you come into contact with someone else, there is a risk involved.
"That's why we're so keen that as many people as possible would stay at home. But behind all that, we have to balance risks and benefits."
The Deputy CMO added that advice from both the European Centre for Disease Prevention and Control and the World Health Organisation said that the closure of schools should be a "last resort" and that the protection of education should be a priority.
Deputy CMO Dr @ronan_glynn says there are no zero-risk environments when it comes to #Covid19, and it is about balancing risks. He says it is clear that closure of schools should be a last resort | https://t.co/0nmIyzdRVd pic.twitter.com/uCWBjBrEHN

— RTÉ News (@rtenews) January 18, 2021
Glynn's comments come after he attended a webinar with thousands of special needs assistants, many of whom criticised the Deputy CMO in a live chat feature beside the video as he spoke.
The INTO said this evening that teachers still had "serious concerns" following the webinar.
"Teachers are understandably and justifiably anxious about their own safety and that of their pupils whilst community infection levels remain very high," a statement from the union said.
#Open journalism No news is bad news Support The Journal

Your contributions will help us continue to deliver the stories that are important to you

Support us now
The group later added that its Central Executive Committee would meet again tomorrow to discuss the matter further, and that it would continue to engage with the department in an effort to work towards a safe, phased reopening of schools.
Earlier, Minister for Further and Higher Education Simon Harris called on unions and teachers to "dig deep" to enable schools to return later this week.
He also accepted that the government did not properly deal with looking after children with special needs during the first lockdown. 
Speaking to reporters at Government Buildings, Harris insisted that this could not be repeated.
"I was Minister for Health during the first lockdown of this country and it broke my heart that we didn't address this properly the first time," he said.
"I can argue that perhaps we couldn't have because we were dealing with things coming at us very fast for the first time.
"But it is not acceptable to me, it is not acceptable to government, and I don't think it is acceptable to people in this country, that we leave them behind again – we just can't. They don't get this time back." 
Leading advocacy organisations representing students with additional needs, Down Syndrome Ireland, Inclusion Ireland and AsIAm, welcomed the news that work was being done to get the children back into the classroom, but have said the mixed messages about whether this can happen are "cruel".
Harris said there have been warnings from such groups and the Children's Ombudsman about the negative impact the lockdown is having on children with special needs. 
"I think we can make progress," he said, urging all involved in the talks to "dig deep to make this happen".
With reporting from Christina Finn.