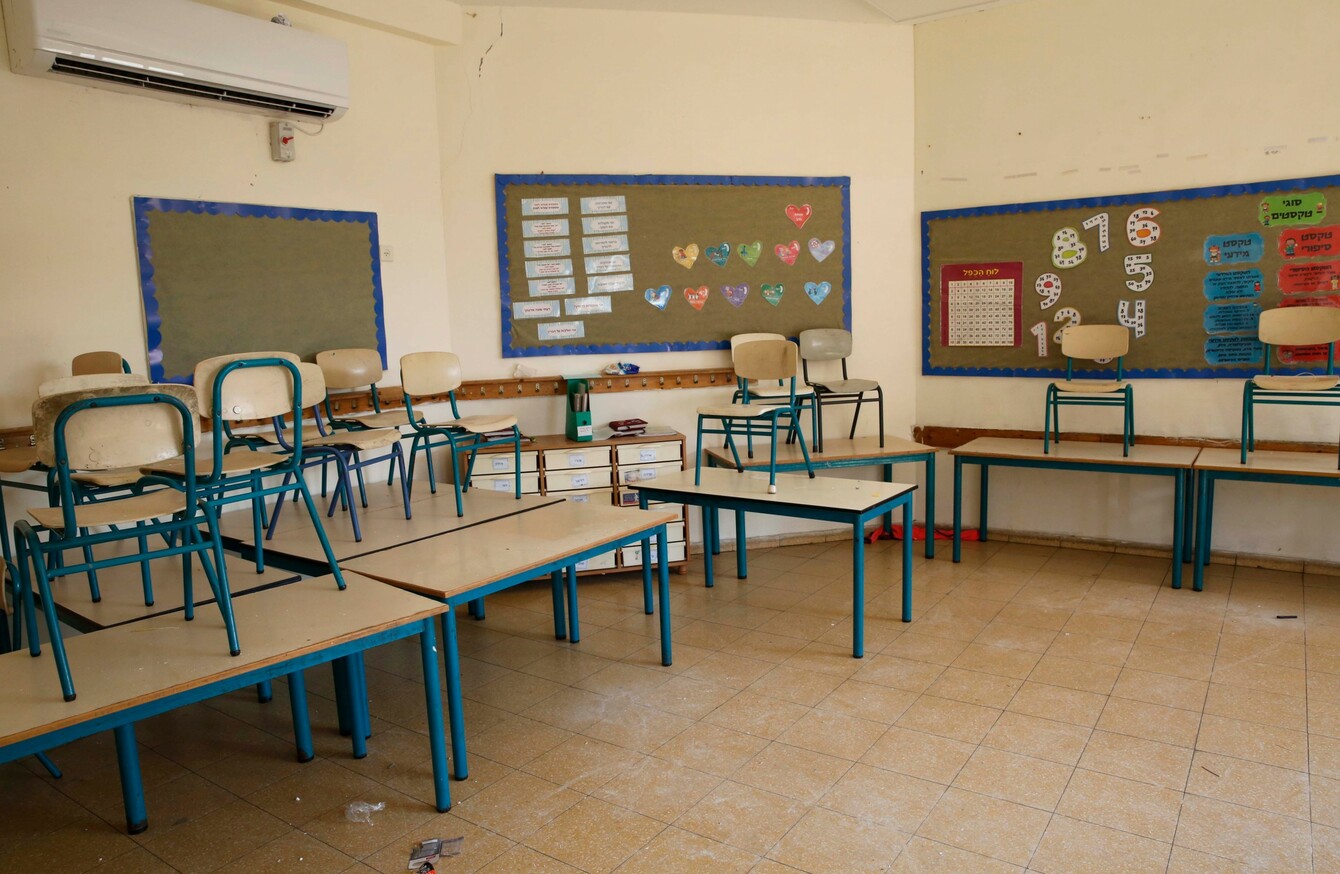 Image: Shutterstock/Gil Cohen Magen
Image: Shutterstock/Gil Cohen Magen
Updated Jan 5th 2021, 2:00 PM
TAOISEACH MICHEÁL MARTIN has strongly indicated that schools are to remain closed for January. 
The Taoiseach said he is in agreement with the Chief Medical Officer Tony Holohan that there is an issue with more than one million people being "on the go" travelling to schools, given the rapidity of the spread of coronavirus.
The government will review school closures on 30 January, he said.
Speaking on RTÉ's News at One, the Taoiseach said the Cabinet sub-committee on Covid-19 will also discuss the possible closure of construction and manufacturing. 
The current 5km distance to which people can travel is to stay in place, and is not on the agenda today, he confirmed. 
He said suppressing the virus will mean a significant reduction in the mobility of people back to the levels that we had in March.
"In other words, we really have to say to people you've got to stay at home over the next number of weeks are essential purposes," he said.
"Opening schools means that a million people are out there in the community. And given the rapidity and the spread of the disease, and given what we're witnessing elsewhere in other jurisdictions, in terms of that rapidity, and that growth, one has to really measure the advisability of doing that.
"That's why it is on the agenda today that we would extend out the closure of schools to the end of the month," the Taoiseach said.
While he maintained that schools remain safe environments, he said: "I think we have to, we have to err on the side of caution."
Members of the Cabinet sub-committee on Covid-19 are set to meet today at 2.30pm.
A full Cabinet meeting will be held tomorrow morning.
Today's sub-Cabinet committee will also discuss the issue of special education.
"We will have further engagements with the sector to see what measures we can do to help families with children with special needs, in particular, because we're talking about much lower numbers.
"We do know from the first lockdown that many families and many children with special needs regressed significantly, were under considerable strain through the closure of special needs education.
"So we will look at that, and those are the kind of issues that we want to give a greater level of detail consideration to at the meeting this afternoon."
The Taoiseach acknowledged the closure of schools will also impact frontline workers and their ability to attend work. He said it was an issue in the first lockdown last March, and "is something we're going to have to work through… that's complex. That's not as simple as we found in the first phase of this".
"The overall principle that will inform the discussions today is reducing mobility as much as we possibly can out there. And the essential necessity of everybody, everybody, to adhere to the guidelines, to the guidance that has been laid down, because that is the way that we suppress this virus. That is the way we protect our hospitals. That is the way we protect the most vulnerable in our society," the Taoiseach said.
On the issue of closing down construction sites, the Taoiseach said it would be discussed today. 
"This isn't about one sector, and how one sector is performing. It's about an overall societal response to a very rapid spread… that's the context. That's the principle that will govern decisions today. It's not a reflection on any individual sector," he said.
Speaking this afternoon, Finance Minister Paschal Donohoe stressed the importance of the construction sector to the economy. 
"From an employment point of view alone, I do believe that keeping construction open will be a very important part of how we can help our economy recover as we move through the year. But we'll have to hear from NPHET in terms of what could be the consequences of doing that."
Children
The Children's Ombudsman Niall Muldoon appealed to government today to avoid a blanket closure of schools due to the disproportionately negative affect it will have on children with disabilities and children from disadvantaged backgrounds.
Speaking in advance of today's meeting of the Cabinet sub-committee on Covid -19, Dr Niall Muldoon, said:
"I would urge members of the Cabinet sub-committee and NPHET, to consider a wide range of options around the education of children. The simple, blanket closure of all schools, as happened in March last year, is not a viable option because of the massive impact it will have on our children and their families."
While the mooted date for the return schools is after 31 January, senior sources state that it is only an indicative date.
Any service, including schools, that is closed now could remain shut until the vulnerable are vaccinated and the case numbers, and hospitalisation numbers fall to low numbers again.
A number of ministers believe that given the huge surge in the number of Covid-19 cases in Ireland, schools should remain closed for at least another week.
"Without a doubt children with disabilities and children from disadvantaged backgrounds will once more be disproportionately affected by Covid -19 school closures, therefore any long-term measures to reduce transmission in society must consider the substantial negative impact on these groups," said Muldoon.
Nuance approach needed
"Education is about more than learning, it is about developing personalities, talents, and abilities of children to reach their greatest potential while also facilitating mental health, play and recreation. I would urge all of these decision makers to look to how they might generate a nuanced response and facilitate our vulnerable children to attend school as well as how to properly support those who engage in home learning," he added. 
The Ombudsman has written to the Government on a number of occasions seeking the development of more nuanced options around the closing and opening of schools during Covid-19 restrictions.
Nuala Ward, Director of Investigations at the Ombudsman's Office said there are children and families for whom remote learning is either non-existent or a non-runner.
"For those with special needs the safety, routine and discipline of school is about more than education, it offers a pathway for them to grow and learn socially which is vital if they were to reach their full potential. It is vital that the Government are reminded of the massive negative impact the last lockdown had on this cohort of children and their families. Regression on many fronts is guaranteed if their education is shut down again," said Ward.
She said for children who live in poverty and those that are at a socio-economic disadvantage such as Traveller and Roma children as well as for those in Direct Provision and many homeless children in family hubs and emergency accommodation, the long term school closures means the inequalities they already face will be increased immeasurably.
"The right to education is a vital one for all children and so many families of children within these groups have witnessed deterioration educationally, socially and behaviourally in their children, as a consequence of the first lockdown. Many are still struggling to recover lost ground. It would be truly unjust and inequitable to have them the face this again.
"What is now required is a concerted effort to ensure that the country's most vulnerable children can attend their schools in a manner that is safe for them, their teachers and carers," she said.
Disability groups have written to the Minister of State for Special Education Josepha Madigan to seek a meeting over the potential closure of schools.
Three organisations representing people with disabilities and children with special educational needs said it would be "intolerable" if disability support services were removed. 
The CEO of Down Syndrome Ireland Barry Sheridan said the government must consider the impact these closures would have on children with additional learning needs. 
"For many young people with additional needs, the supports provided in educational settings such as special school or classes, access to additional teaching time and SNA support are the only tangible resources which they or their family receive from the State," he said.
It is absolutely vital they are retained, if at all possible.
Madigan responded to this on Twitter, saying "it is imperative that special schools & special classes remain open where possible". 
Transmission levels 
Education Minister Norma Foley told a meeting of opposition politicians yesterday that the latest advice received by the government is that schools are by nature a "safe environment".
The government was told that, on average, throughout the first term the detection rate for Covid-19 was 2-2.5% in schools, compared to 10% in the community.
#Open journalism No news is bad news Support The Journal

Your contributions will help us continue to deliver the stories that are important to you

Support us now
Speaking at a media briefing last night, the Chief Medical Officer Dr Tony Holohan said current Covid-19 transmission levels overall are "very, very high".
He said even though transmission rates are lower among school-going children than in the overall population, "the reality is they've changed and increased very, very substantially".
"So we remain concerned now about our ability to assure, if you like, the continuing provision of any of the core public services that we've talked about as being key things we've tried to protect – education is one of those."
The reopening of schools was already been pushed back to 11 January but the worsening situation has seen the government face increased pressure to delay the reopening further.
Schools in the North are set to remain closed with remote learning in place amid soaring Covid-19 cases, First Minister Arlene Foster said last night. 
Yesterday, 6,110 new Covid-19 cases and six deaths were confirmed in Ireland. Latest figures show 744 people with Covid-19 in hospital and 73 in ICU. 
Dr Tony Holohan said NPHET "haven't been as concerned at any point in the whole time as we are now".
Holohan said that anyone who has flu-like symptoms at this point should "pretty much accept that this is likely to be Covid, because we're seeing very little of the other viruses that cause these kinds of symptoms at this time of the year".
GP Illona Duffy said yesterday that cases of entire households testing positive for Covid-19 have been rising in the past couple of weeks as positivity rates increase. 
"We're seeing lots of family groups and everybody is infected in the house, where before we might get one or two of them testing positive or becoming symptomatic after a confirmed case," she said.
At today's meeting, further restrictions which could be brought in to contain the virus, will also be discussed. While some other countries have brought in curfews, senior sources said this is unlikely to be looked at by government today.
- With reporting by Christina Finn.