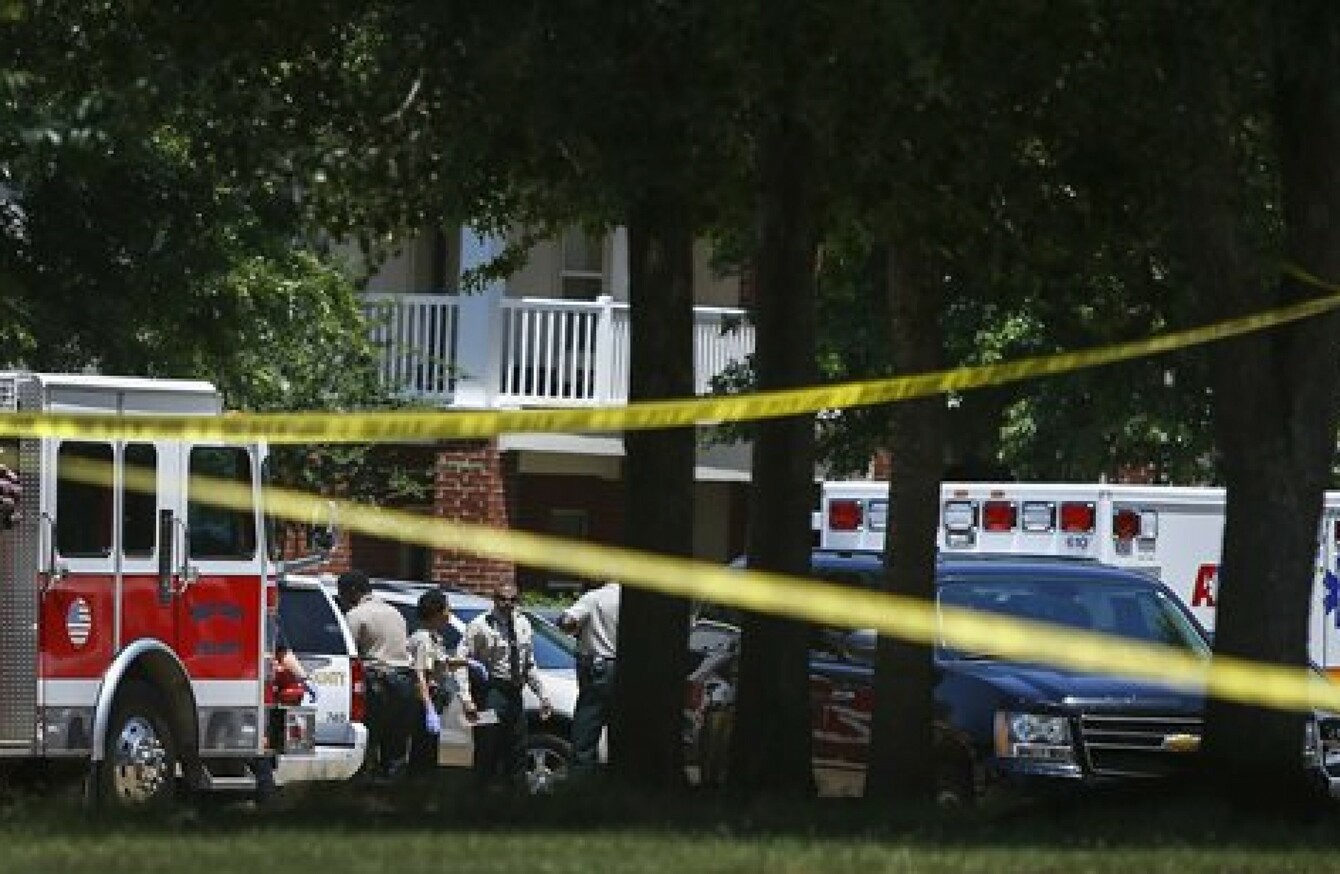 Image: AP
Image: AP
A MOTHER IN Tennessee has been charged with first-degree murder in connection with the stabbing deaths of her four young children.
Shanynthia Gardner of Memphis was charged with four counts of first degree murder while committing aggravated child neglect in the deaths of four of her children — all under the age of five — whose bodies were found after deputies entered her apartment yesterday.
Gardner also faces four counts of aggravated child neglect or endangerment and four counts of aggravated child abuse.
Shelby County Sheriff Bill Oldham said the victims were a four-year-old boy; a three-year-old girl; a two-year-old girl; and a six-month-old girl. Their names have not been released.
A seven-year-old boy escaped the attack, but Oldham said details of how he survived were not being disclosed at this time. All five children were Gardner's.
"This is a terrible act, an egregious act that has shocked, I believe, the community, and has shocked our staff to the core," the sheriff said. He did not release a suspected motive for the attack.
Deputies were called to the complex in Shelby County shortly before 1pm local time (7pm Irish time) yesterday. They took the mother into custody after finding the children's bodies.
Oldham said the district attorney general's special victims' unit has been called in and Shelby County Mayor Mark Luttrell has promised all resources necessary for the investigation.
"One of the most difficult questions in any investigation is always 'Why did this happen?'," the sheriff said.
'A very sad day'
County Commissioner Mark Billingsley also said the county would work to help the family of the children recover.
It's just a very sad day. It's really beyond words, quite frankly.
Neighbour Sean Ahearn said he didn't know the family by name, but that he often saw the children playing in the front garden. They liked to pet his dog when he was taking it for a walk, he said.
"From what I saw, they were very open and friendly kids. You never imagine that this kind of thing could happen."
The apartment where the stabbing occurred is in a gated community with a golf course called The Greens at Irene. On Friday afternoon, deputies were standing at the house questioning motorists as they drove into the neighborhood.
Resident Patricia Johnson spoke with reporters from her car. She said she wasn't allowed to leave for two hours as deputies investigated the scene.
Shocked and saddened
She has a child, and said she burst into tears when she heard about the killings.
"I can't fathom that," she said. "What would babies do to make you do that?"
Johnson said she would be praying for the family, including the mother.
The state Department of Children's Service has offered its assistance to local law enforcement, but has no record of interaction with the slain children, said spokesman Rob Johnson.
"We've done an exhaustive search and we are not aware of any contact with this family," he said.
The news triggered painful memories for Johnson and others in Memphis. In 2008, a man's bloody rampage in the city left six dead, including two children, aged two and four.
Jessie Dotson was convicted of shooting his brother during an argument at a house on Lester Street, then attacking everyone else in the house with a gun, boards and knives in an attempt to eliminate witnesses.
Three other children were stabbed but survived, including a two-month-old girl and nine-year-old boy, who was found in a bathtub with a knife embedded in his skull. The survivors are known as the "miracles of Lester Street".
Dotson was convicted and sentenced to death in 2010.
Comments are closed as the case is before the courts.