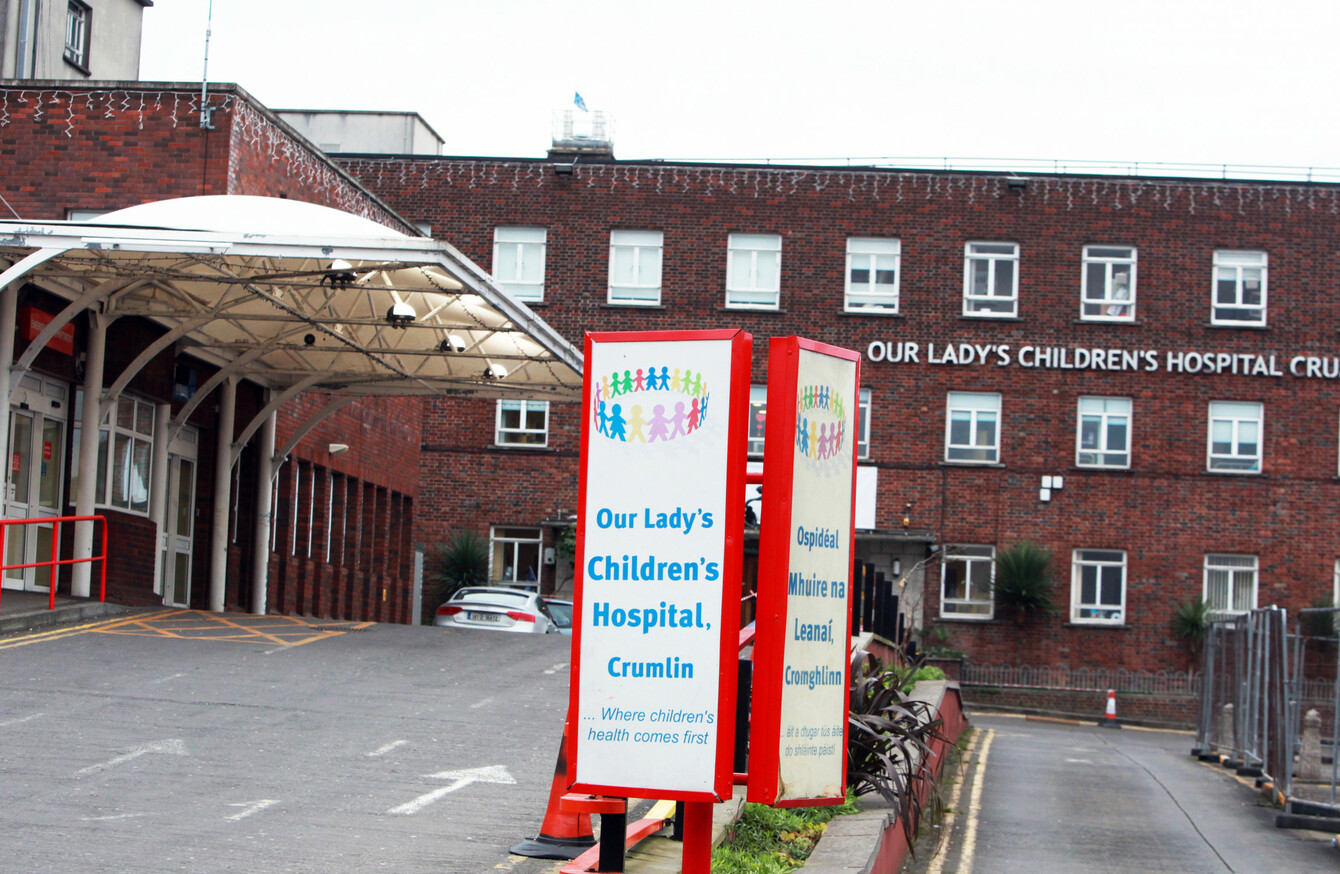 Our Lady's Children's Hospital in Crumlin
Image: Leah Farrell via Rolling News
Our Lady's Children's Hospital in Crumlin
Image: Leah Farrell via Rolling News
A GROUP OF parents with inpatient children in Our Lady's Children's Hospital Crumlin are holding a candlelight vigil on Monday evening to highlight the crisis of waiting times for beds in the hospital.
Hazel Robinson, a parent of 15-year-old Gypsy Robinson, who has Cystic Fibrosis, initiated plans for the vigil after her daughter was recently left waiting over a week to secure a bed in the hospital after she contracted influenza.
Speaking to TheJournal.ie, Robinson explained that she has faced similar situations on numerous occasions through the years with the hospital when Gypsy has needed to be admitted for treatment.
TheJournal.ie contacted Our Lady's Children's Hospital Crumlin for comment regarding Gypsy's case. However, the hospital said in a statement that it does not discuss individual patient cases as it respects patient confidentiality. 

Most recently, on Monday 29 January, Gypsy's condition deteriorated significantly – which they later discovered was as a result of a case of influenza – and they made the decision to travel to Our Lady's Children's Hospital Crumlin to seek treatment.
Upon arrival, the Robinson family were informed that there were no beds immediately available to admit Gypsy for treatment. They were informed that they could either head home and be placed on a waiting list for a bed or attend A&E because they would eventually be admitted there.
However, as Gypsy is a Cystic Fibrosis patient, she contracts illnesses easier than most people, and A&E isn't a safe option, her mother said.
"You don't know what's going to happen in A&E, you're going to be subjected to every sort of flu, the Aussie flu, I'm terrified of her getting that. That can literally kill my child," Robinson told TheJournal.ie. 
Robinson said that in these situations previously, Gypsy has been left waiting up to 10 days for a call to say a bed was available at Crumlin. As her condition was deteriorating, Robinson said that they couldn't risk potentially waiting that long.
They made contact with Cavan General Hospital, where she was admitted. Cavan, however, does not have the specialist facilities to treat a minor with Cystic Fibrosis. Gypsy remained on the waiting list for admission to Crumlin during this time.
Last Friday night, Robinson told TheJournal.ie that Gypsy began coughing up blood.
"We knew this wasn't good and she needed specialised care. On Saturday there was a bit more blood and Sunday… it was just horrible. There was about 300ml of blood. All of us were in an uproar. We were all terrified. She needed to get to Crumlin," Robinson said.
On the Monday morning, Robinson said doctors from Cavan hospital contacted Crumlin to inform its doctors of Gypsy's deteriorating condition. She said that Gypsy was eventually transferred to Crumlin on Tuesday evening via ambulance and admitted as an inpatient.
Speaking of how Gypsy has dealt with the recent ordeal, Robinson said: "She's just mentally fed up."
In its statement to TheJournal.ie, Our Lady's Children's Hospital Crumlin said that it is in contact with the Cystic Fibrosis Association of Ireland on an ongoing basis in relation to development of facilities and the challenges in accommodating all needs of patients.
It said: "CF patients who have specific multi-drug resistant organisms cannot be admitted to the [hospital's] CF Unit for infection control reasons. This is based on international best practice.
"Hospital bed management and the clinical teams work closely daily to ensure the correct patient is placed in the most appropriate bed available for their needs."
#Open journalism No news is bad news Support The Journal

Your contributions will help us continue to deliver the stories that are important to you

Support us now
Frustration
Despite her complaints about the delays in securing a bed, Robinson thanked the hospital staff for their dedication throughout the years, and instead focused her frustration towards the government.
"[The hospital staff] are fantastic, they're so good. I'm 100% positive that they are as frustrated with the situation as we are because it has to be very frustrating for doctors, consultants and nurses," Robinson said.
A new pediatric trolley watch, launched by the Irish Nurses and Midwives Organisation last month, revealed that 73 children spent time on trolleys in emergency departments across Our Lady's Children's Hospital Crumlin, the National Children's Hospital Tallaght and the Children's University Hospital Temple Street in the first two weeks of 2018.
As a result of the ongoing frustration Robinson has faced, she has teamed up with a number of other parents in similar situations to hold a candlelight vigil in "support for those suffering through our health system" on Monday evening.
"I really want to be able to highlight that we aren't numbers. You look at the telly and see X amount of people are sitting on trolleys, we're not numbers, we're actual human beings," Robinson said.
I want to highlight the fact that I don't think anybody in this country who has a chronic illness should have to risk themselves going through A&E. I think they should be able to get a bed in a timely fashion.
In the statement on the event page, the organisers said: "We are asking for your support. Please don't let us stand alone. Show you care for our elderly, our patients, parents, nurses and staff. If you can please come along, please do."
The vigil is taking place outside Our Lady's Children's Hospital Crumlin on Monday at 6pm.