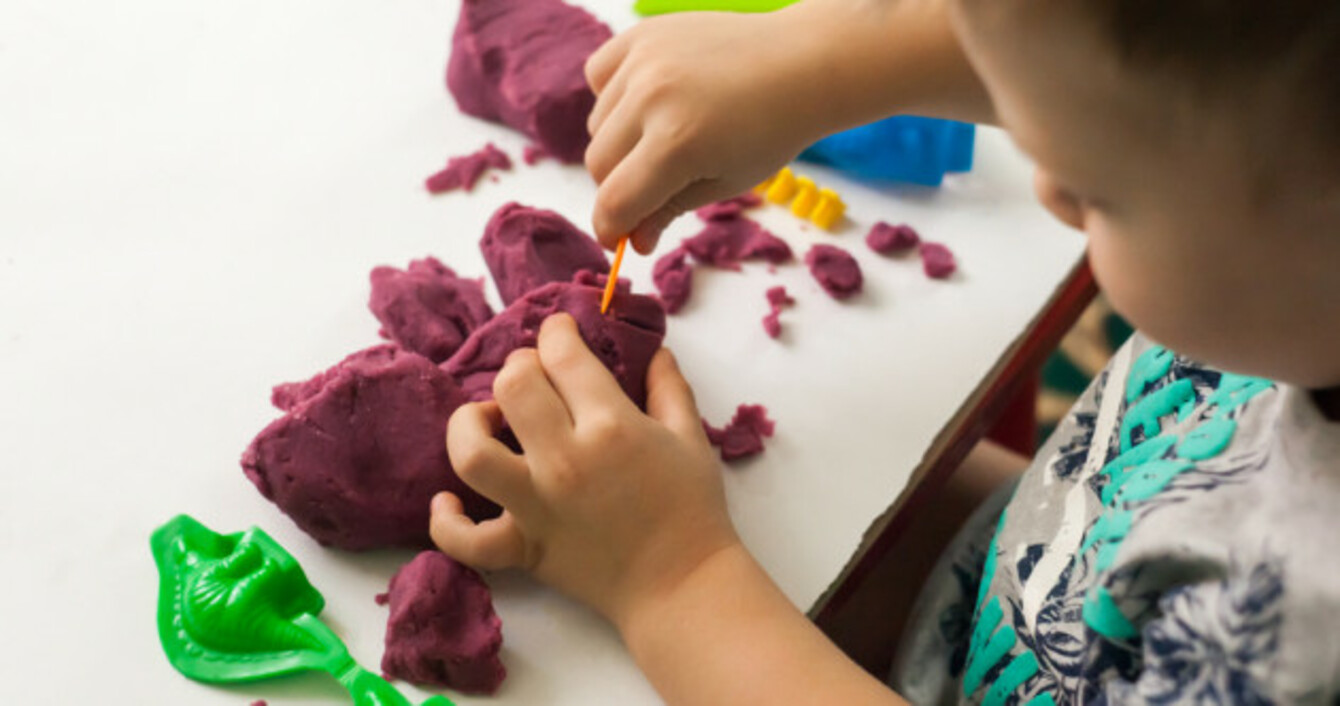 Image: Shutterstock/Katerina Morozova
Image: Shutterstock/Katerina Morozova
SOON SANTA WILL be dashing through the snow, his one-horse open sleigh filled with presents to bring children hours of delight and pleasure.
But please Santa, before you deliver those beloved toys, spare a thought for the older residents of the house – because sometimes even the most harmless-looking 'dream toy' can become the stuff of parental nightmares.
Here are 14 children's toys that make life a living hell for parents…
1. Anything with glitter on it
I once heard glitter described as 'the herpes of craft supplies' and it's a phrase that has stuck with me. Just like glitter will. Forever.
2. Playdough
Yes kids love it but it is pure evil. I don't generally like to think in absolutes but I'm standing firm on this one. It gets ground into carpets, clothes, upholstery, the soles of shoes and is a horror to remove.
Plus, it dries out too fast and it doesn't even stick very well. Your child will also inevitably poke bits of it into crevices and/or meld all the colours together and then badger you to attempt to separate them all.
3. Glitter playdough
*weeps*
4. Wooden jigsaw puzzles that make sounds
Nothing is more terrifying than entering a dark room at night and wondering where the hell the noise of a donkey braying is coming from.
By the way, even when you make sure the last piece of that braying donkey puzzle is correctly fitted, even when you put the puzzle away in your garage, you will STILL hear it. Forever more. Long after your child has left home.
5. Anything made of tiny plastic bricks
These kinds of toys inevitably require high levels of parental involvement. Especially when they have broken into a million pieces, the instructions have been lost (along with several key parts), and your child is howling for you to fix it.
Oh, and those bricks make for the greatest pain known to man when stood on.
6. Toys with American accents
Or, specifically, toys that shouldn't have an American accent (I'm looking at you Thomas ABC Train because on Sodor Island they bloomin' well say Zed not Zee).
7. Toys with distinctly unsettling topics of conversation
'That talking doll creeps me out!' confessed one mum I know before launching into a truly terrifying impersonation. 'You're sooooo cute… Can I have some caaandy? Give me a hug! I loooove you!' She grimly added that the doll was 'lucky she was still intact.'
8. Toys that have no off switch
That sodding laughing monkey whose ear-piercing cackle lasts an eternity – and anything, ANYTHING, that responds to being tickled.
9. Electronic 'learning' toys
I know people who can still, wide-eyed and haunted, recite the Little Singing Alfie song even though their children are now approaching secondary school.
In my experience many electronic learning toys seem to suffer some sort of collective educational Tourette's, bellowing out 'One, two, three, circle, triangle, square' when no-one is even near them.
10. Toys that are hard to wash
How does one wash a talking Teletubby? Our toddler threw his (admittedly stinky) red one in his bath some time ago, completely wrecking the speech mechanics. Ever since then I have had to be The Voice Of Po.
Po gets thrust at me when I wake up, when I'm driving, when I'm trying to extract Lego from my feet, all the while with my son commanding 'Make Po talk.' It's not fun for me. And Po still smells.
11. Oversized toys
There will be someone this Christmas who thinks that bigger means better. They'll opt to show their affection by gifting little Timmy or Aoife a massive kitchen/ride-on tractor/soft-toy gorilla.
That's great until you realise you're going to have to get rid of the dinner table because the gorilla now takes up 60 per cent of your living space.
12. Toys that can't be put away
Ah the dilemma of race car sets and similar track-oriented toys. Once built you're faced with two grim options: 1) live with it forever 2) facing a tantrum when dismantling it and then entering a never-ending circle of rebuilding/dismantling hell.
Even small toys can fall into this storage nightmare bracket. Have you ever tried to put Jenga back in the box? If so, you'll know my pain.
13. Any toy that makes fart noises
Specifically, the fart-blasting gun inspired by that animated children's movie I shan't name. The website may claim there are "enough varied fart sounds to keep this from getting annoying," but I know many parents who would beg to differ.
14. Joke books
Ironically nothing will make you want to cry more than listening to a young child endlessly recite 'hilarious' one liners (that they will then want you to explain).
Want to win a delicious selection of Christmas chocolate treats from Lily O'Brien's? Enter here – and don't forget to like TheJournal.ie's Family Magazine on Facebook and Twitter!