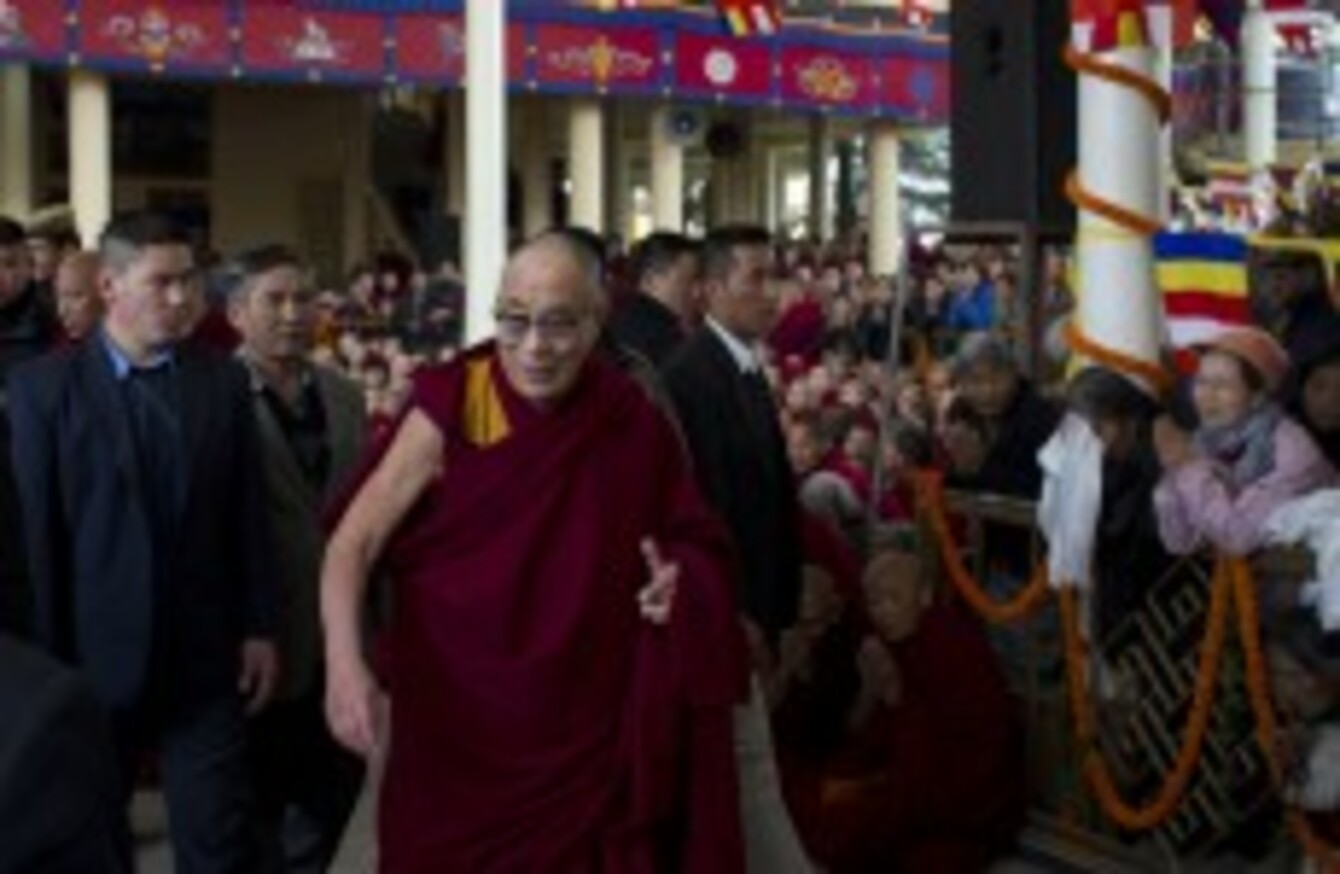 The Dalai Lama leading a special prayer in India yesterday
Image: AP Photo/Ashwini Bhatia
The Dalai Lama leading a special prayer in India yesterday
Image: AP Photo/Ashwini Bhatia
CHINESE OFFICIALS HAVE tried to discredit Tibetans who have set themselves on fire in protest at China's rules over the region, calling them outcasts, criminals, and mentally ill people manipulated by the exiled Dalai Lama.
The Tibetan Buddhist spiritual leader has said he does not encourage the self-immolations.
However, Chinese officials have sought to portray the past year's wave of about two dozen immolations — including three since Saturday — as the result of outside orchestration rather than what activists say is local unrest over the government's suppression of Tibetan religion and culture.
Many of the protesters have been linked to a Buddhist monastery in the mountainous Aba prefecture of Sichuan province.
"Some of the suicides are committed by clerics returning to lay life, and they all have criminal records or suspicious activities. They have a very bad reputation in society," said Wu Zegang, an ethnic Tibetan who is the government's top administrator in Aba.
Wu told reporters in Beijing that the self-immolations were "orchestrated and supported" by the Dalai Lama and Tibetan independence forces. He said that before setting themselves on fire, the immolators shouted "independence for Tibet and other slogans that aim to divide the nation."
The Dalai Lama has praised the courage of those who engage in self-immolation and has attributed the protests to what he calls China's "cultural genocide" in Tibet. But he also says he does not encourage the protests, noting that they could invite an even harsher crackdown.
'An unhuman and immoral act'
At a meeting Wednesday of the Tibetan delegation to the National People's Congress in Beijing, a reporter asked whether the region's leaders thought the Dalai Lama should himself self-immolate, referencing alleged online calls for the spiritual leader to do so.
Padma Choling, Tibet's governor, said he didn't think anyone should set themselves on fire.
"No matter who self-immolates, it is an unhuman and immoral act," Choling said. "If the Dalai immolates himself, that's his business and has nothing to do with me but regardless of who it is, I do not advocate it. Life is precious. I do not hope that anyone will self-immolate. What's the point?"
The most recent immolations in Aba occurred just days ago. A 32-year-old mother of four set herself ablaze and died in Aba on Saturday and an 18-year-old identified only as Dorje died after self-immolating on Monday, according to earlier reports from the International Committee for Tibet and U.S. broadcaster Radio Free Asia.
The official Xinhua News Agency confirmed the immolation of another woman Saturday in neighboring Gansu province, but said that the 20-year-old student may have been pushed to suicide because of pressure at school and because of a head injury.
Xinhua quoted local officials in Gansu province as saying that Tsering Kyi had been hospitalized after hitting her head on a radiator and suffered fainting spells prior to setting herself on fire.
Xinhua said her school grades started to slip, "which put a lot of pressure on her and made her lose her courage for life and study."
Twenty suspected immolations in the past two years
China has confirmed some but not all of the approximately 25 immolations reported by overseas media and Tibetan rights advocates since last year, and there are competing tallies of immolations and deaths from different groups.
Li Changping, a member of the Communist Party committee that governs Sichuan, who recently visited Aba and Sichuan's Ganzi prefecture, where several immolations have also been reported, said that "about 20 or so" people have set themselves on fire in Sichuan in the past two years.
Such acts show no signs of abating, even as China ratchets up security and seals off Tibetan areas to outsiders, making it impossible to know what is actually happening inside.
China blames supporters of the exiled Tibetan Buddhist leader the Dalai Lama for encouraging the self-immolations and anti-government protests that have led to the deaths of an unknown number of Tibetans at the hands of police.
China says it treats minority groups such as Tibetans fairly, and pours tens of billions of dollars into improving living conditions in their areas.
This is a sensitive time for Tibet, and for all of China. China's annual legislative session, a time when security is tightened across the country, began Monday. March is also when Tibetans mark significant anniversaries, including that of the unsuccessful 1959 revolt that caused the Dalai Lama to flee, and deadly anti-government riots that rocked the Tibetan capital Lhasa in 2008.
Leaders from Xinjiang also struck a hard line on the violent separatism that periodically hits the Central Asian border region. They said stability was a precondition for Xinjiang's No. 1 goal — development — and vowed to smash what regional Communist Party secretary Zhang Chunxian called "rotten eggs and bad elements."
"When an event occurs, we resolutely smash it. When an incident occurs, we also smash it," Zhang told reporters after the Xinjiang delegation met to discuss how the government's latest policies will raise employment and improve the region's economy.