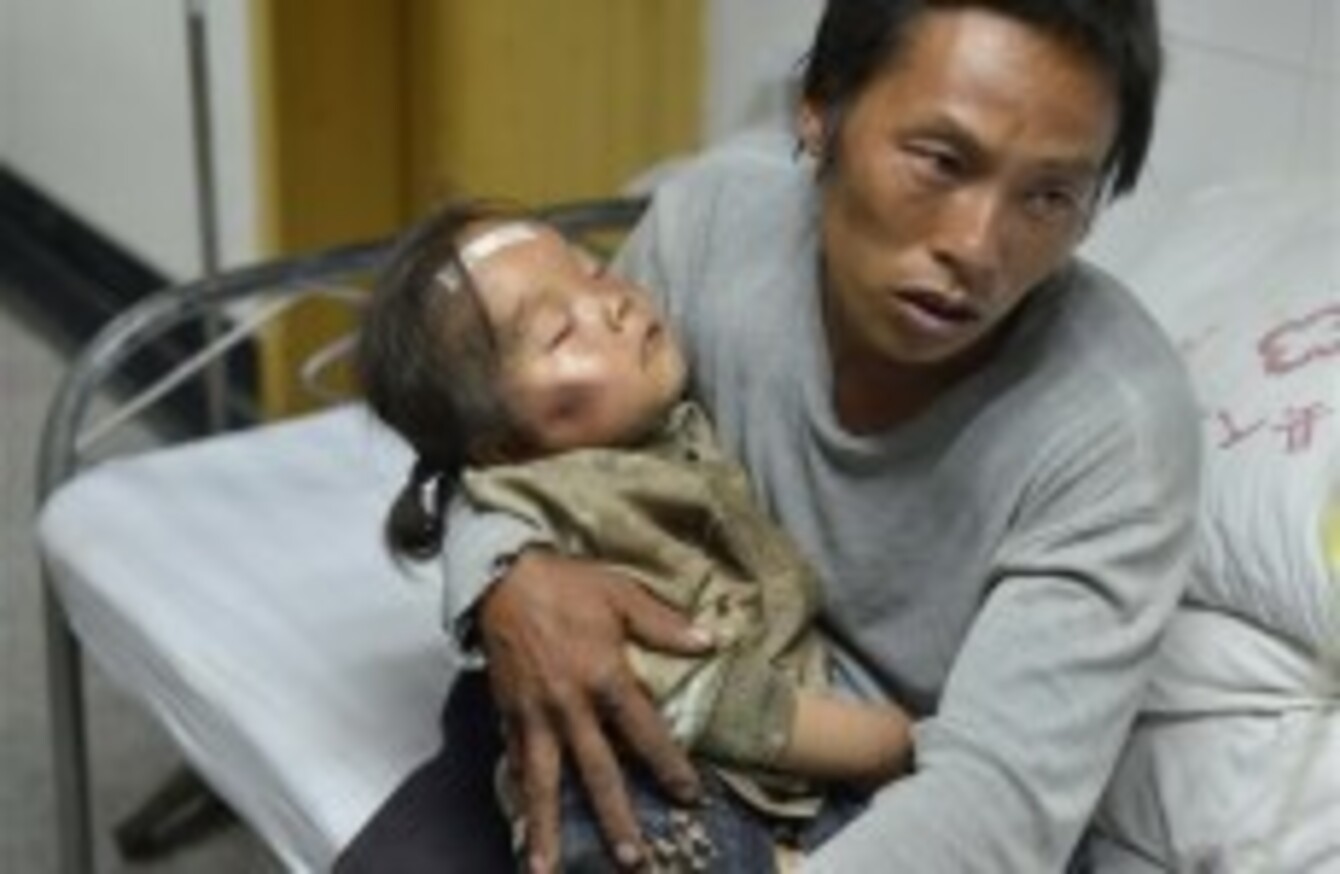 A man holds an injured child receiving medical treatment at a hospital following an earthquake in Ludian county in southwest China's Yunnan province
Image: AP
A man holds an injured child receiving medical treatment at a hospital following an earthquake in Ludian county in southwest China's Yunnan province
Image: AP
ALMOST 400 PEOPLE were killed by an earthquake in China yesterday.
More than 18,000 rescuers were deployed in the disaster zone in the southwestern province of Yunnan, where nearly 80,000 houses were destroyed and 124,000 more seriously damaged
The Yunnan province civil affairs office said 398 people had been confirmed killed and 1,801 injured.
The official news agency, Xinhua, said its reporters "saw drenched survivors sit along the muddy roads waiting for food and medication. Some half-naked survivors were quivering in the rain".
Response 
The 6.5 magnitude earthquake has caused substantial damage in Ludian County.
Aftershocks and landslides are continuing to cause damage in the area and limit rescue workers' access. In many areas, rescue workers and emergency responders have been forced to access quake-hit areas on foot.
Heavy rainfall is also forecast in the coming days, and could further complicate the response.
Bodies that are recovered from the rubble are being placed across muddy pathways wrapped in dirty blankets as the roads are blocked and so they cannot be moved.
Volunteers from across China are heading to Yunnan to assist.
Government authorities are leading the overall response.
Plan International is also deploying a rapid assessment team to assist the government response to the earthquake.
Plan has been working in China since 1995 helping children to access their rights to health, education, livelihoods and protection.
Sven Coppens is Plan's Country Director in China, he said:
The full extent of the damage, casualties, and scale of the emergency are still being assessed.
Plan's rapid assessment team is expected to reach Ludian County by this evening, subject to accessibility and damage to infrastructure.
The rapid assessment will begin immediately and be coordinated with the government and other NGOs participating in the response.
Additional reporting AFP.