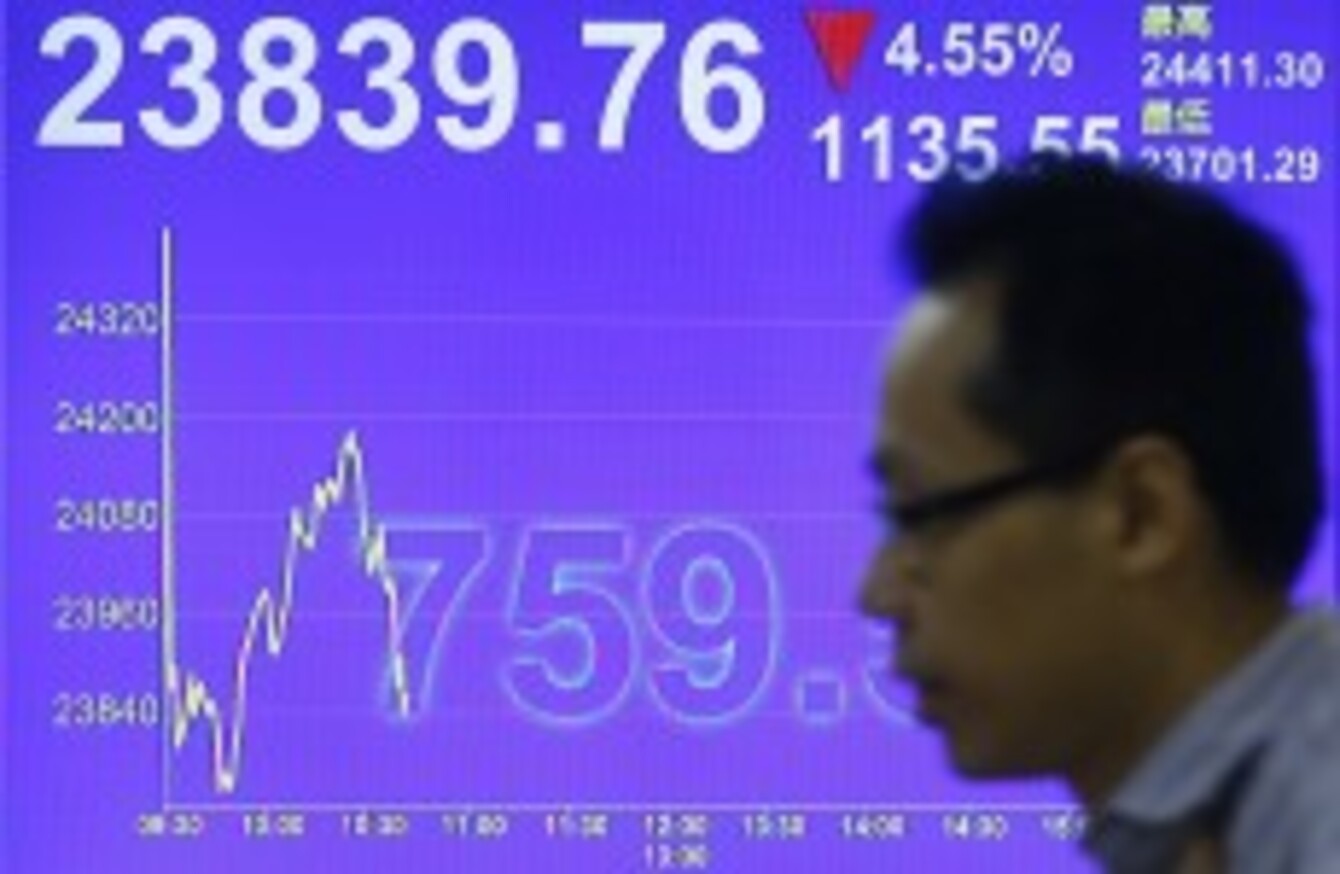 Image: AP
Image: AP
ASIAN STOCK MARKETS have tumbled again this morning as a collapse in Chinese shares began to contaminate other markets, and after European leaders slapped Greece with a deadline to submit fresh bailout reform proposals.
With markets buffeted by two global crises, traders ran for the cover of investments considered safe in times of upheaval such as the yen.
Shanghai plunged almost 7% and Hong Kong lost 4.74% soon after opening, despite Chinese leaders announcing fresh measures to staunch a correction that has wiped trillions off the country's markets.
By late afternoon both were down in the region of 5%.
The South China Morning Post reports that 51 per cent of mainland Chinese stocks have asked for voluntary suspensions from trade.
Most other regional markets – Toyko, Seoul, and Sydney – were also hit by the spillover effects, with many hosting companies with links to China.
"China's stock market rout is now spreading to other financial markets, creating a sweeping sense of panic and liquidity crunch," said Zheng Ge, an analyst at Wanda Futures Co.
Shanghai is down more than 30% from its closing peak on June 12, when it had risen by more than 150% in 12 months in a borrowing-fuelled frenzy enhanced by hopes for economy-boosting government measures.
However, analysts said new restrictions on margin trading and concerns about the overvaluation of many stocks have forced mainland investors — mostly individual retail traders — to cash out.
There are now fears that the hammering to stock markets will hit the wider Chinese economy, the world's second biggest, which is already struggling with slowing growth.
Wednesday's falls came despite the government announcing new measures to support the market.
Alex Wong, Hong Kong-based asset-management director at Ample Capital, added:
Gradually this will drag other markets lower because the magnitude of a China crisis would be far bigger than anything happening in Greece.
- © AFP, 2015, additional reporting by Business Insider.