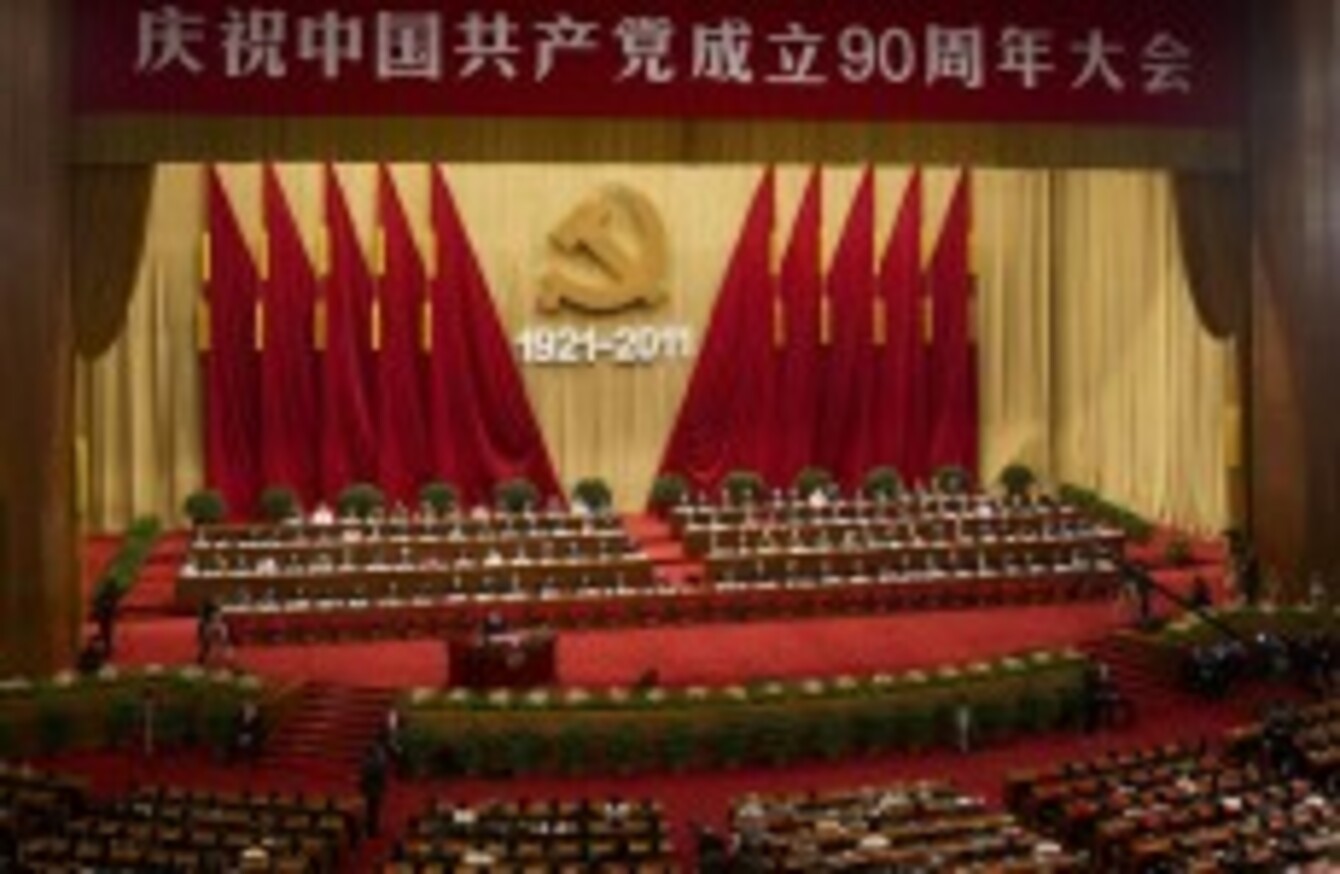 The Communist Party celebrates in Beijing's Great Hall.
Image: Andy Wong/AP/Press Association Images
The Communist Party celebrates in Beijing's Great Hall.
Image: Andy Wong/AP/Press Association Images
CHINESE PRESIDENT HU Jintao celebrated the Communist Party on its 90th anniversary on Friday for its ability to adapt and survive and said it must use that skill to fight corruption and ease social conflict if it is to stay in power.
The nationally televised speech, which can be read in full here, capped a patriotic campaign of films, TV programs and nostalgic "red" song sing-alongs aimed at solidifying the notion that the communist government has propelled China to greatness.
Hu said reforms of recent decades that have made China affluent and powerful have brought new challenges, making the public more demanding and more prone to protest. But he gave no indication of any moves toward loosening the party's firm grip on power.
"We have every reason to be proud of what the party and the people have achieved, but we have no reason to be complacent," Hu told the more than 6,000 party select gathered in the Great Hall of the People in Beijing.
Glossed over
Hu glossed over the radical campaigns and policies that led to tens of millions of deaths in the first decades of communist rule. But he said the party endured because it learned from its mistakes.
"In some historical periods, we once made mistakes and even suffered severe setbacks, the root cause of which was that the guiding thought then was divorced from China's eality. Our party managed to correct the mistakes by the strength of itself and the people, rose up amid the setbacks and continued to go forward victoriously," Hu said.
While the speech broke little new ground on policy and was laden with references to Marxism and other jargon most people ignore, it also frankly acknowledged that the party faces a new era and needs to improve governance to keep public support. Spectacular economic growth has produced side-effects like corruption and a yawning rich-poor gap that have triggered protests and challenged the party's legitimacy.
Chinese leaders ramped up this year's anniversary celebrations — like they did for the 2008 Beijing Olympics and the 60th anniversary of the People's Republic — to excite the public and broaden the government's appeal. Events have included a star-studded feature film about the party's founding, a torrent of documentaries and serialized historic dramas on television. Mass performances of "red" songs of the 1950s were staged in schools and offices.
Patriotism drive
The purpose is to inspire patriotism and loyalty to the party and reinforce a now well-practiced narrative: that after a century of civil war, dynastic collapse and foreign invasion, the Communist Party has returned China to greatness and restored its rightful place as a world leader.
"In some ways we can see that with the Communist Party that they are trying to elevate this to a sacred event," said Jeffrey Wasserstrom, a historian at the University of California, Irvine.
The need to find new rationales for rule has grown as the party itself has evolved from an underground group of hardcore revolutionaries to a vast organization of 80 million members bound together more by ambition, power and connections than ideology. Many among the public laud the party leadership for steering China to a more prosperous today yet vilify local officials as indifferent, or even abusive.
Chinese leaders have called corruption a life-and-death struggle for over a decade. Hu noted that the party's entrenched position in part contributed to the rampant graft.
"The party is soberly aware of the gravity and danger of corruption that have emerged under the conditions of the party being long in power," Hi said. "If not effectively curbed, corruption will cost the party the trust and support of the people. The whole party must remain vigilant against corruption."
Political reform
Like his predecessors and in keeping with his own nine years in power, Hu, however, did not call for institutional reforms, such as creating an investigating entity independent from the party, that many experts say are necessary to rooting out endemic graft.
Similarly, though Hu several times mentioned the need for political reform, he did so in formulaic language that so far has not heralded a loosening of the party's grip.
Critics, mostly liberal academics have warned that the anniversary hype — typified by red songs fests like one that drew 108 choirs and 100,000 spectators to a stadium Wednesday — is being used by the party to avoid grappling with deep-seated problems.
"The propaganda for the 90th anniversary of the party's founding is not only holding up its achievements, it's deifying the party," said Minzu University professor Zhao Shilin in an open letter posted, removed by censors and reposted on the Internet this week. The party "should be seriously, profoundly, objectively summing up lessons learned to truly improve and enhance your party's ability to govern."
Awards were handed out at the party gathering to more than 700 party members for outstanding work, including rocket scientist Sun Jiadong, who is lead designer for China's lunar exploration program.
Bestowing the honors was Vice President Xi Jinping. Xi is the leading candidate to replace President Hu next year, and his high-profile role at Friday's ceremony lends greater credence to his likely promotion.
- AP