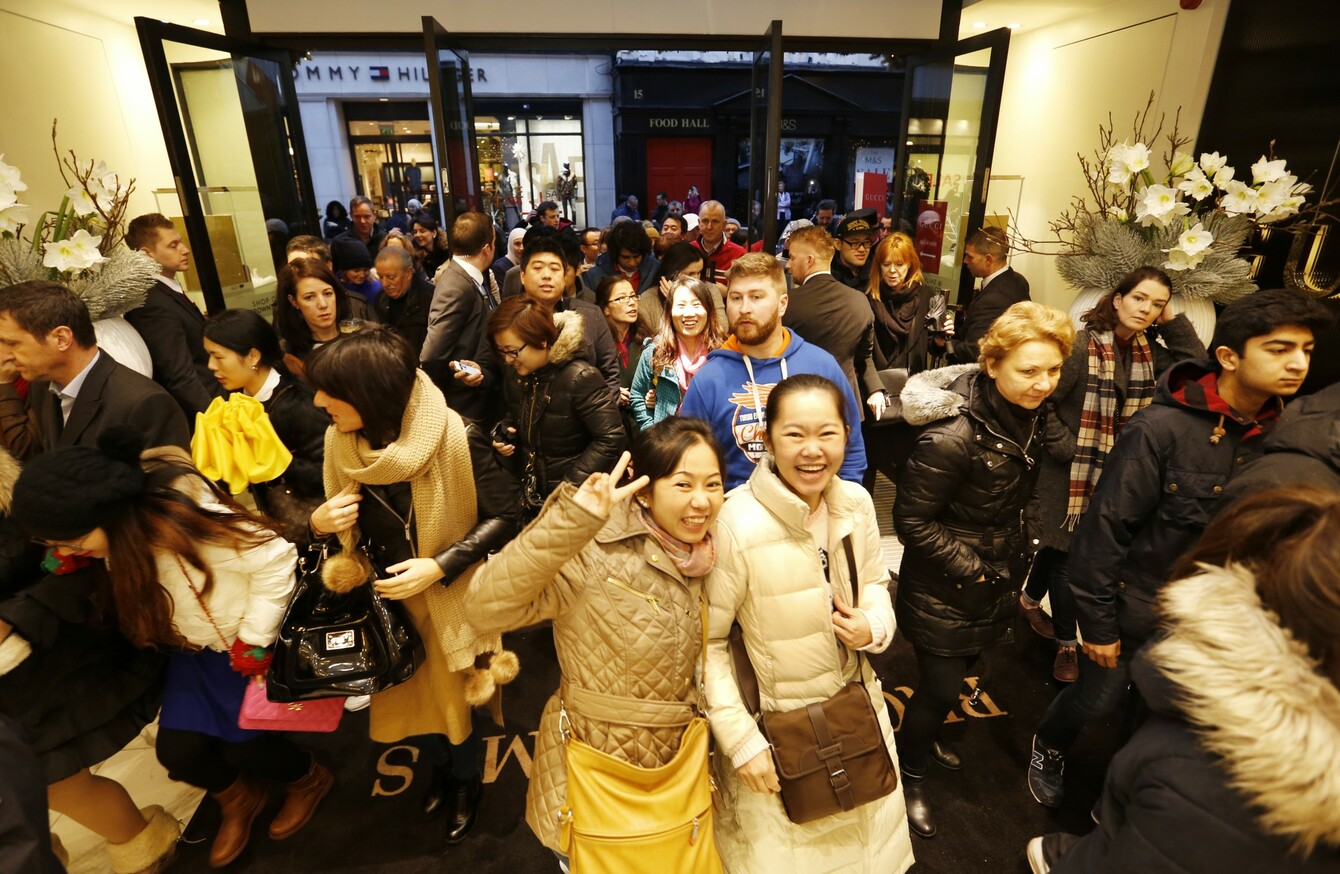 Image: Sasko Lazarov/Photocall Ireland
Image: Sasko Lazarov/Photocall Ireland
CONSUMERS ARE BEING reminded that their rights remain the same during Christmas sales as they are all year round.
Ahead of the sales tomorrow, the Competition and Consumer Protection Commission (CCPC) said this was particularly important to stress if an item bought during the sale season turns out to be faulty.
"January tends to be a busy time for our helpline, in January 2016 we received 1,227 contacts from consumers querying their rights after buying goods or receiving presents," said spokesperson Fergal O'Leary.
"Generally, the queries we receive relate to issues with faulty goods or consumers who have changed their mind about a purchase. It is very important that consumers know and understand that their rights are the same in the sales as they are all year round."
O'Leary pointed out that retailers are entitled to set their own policy as to whether they offer a refund or exchange if a consumer makes a purchase instore and then changes their mind.
A retailer's returns policy may be different when something is bought in a sale, so consumers should check the retailer's returns policy before they buy. By contrast, when consumers buy goods online or over the phone from retailers based in the EU, businesses must provide consumers with a cancellation period of 14 days.
However, if an item turns out to be faulty, regardless of the shop's return policy, consumers have rights and are entitled to a repair, replacement or refund.
"If an item bought at full price is faulty, and is now on sale at a reduced price, the consumer is entitled to a refund of the full price or a replacement of the same value. Finally, consumers should always request a receipt as although retailers are not obliged to issue receipts, they may require one as proof of purchase should an item prove to be faulty," O'Leary said.
The commission has issued these tips for shoppers:
Items sold in a sale should be of merchantable quality, fit for their intended purpose and as described. If an item is faulty, your rights do not change just because it was on sale;
Your contract is with the retailer or supplier who sold you the product (as opposed to the manufacturer) so if there is a fault, it is up to them to fix it;
If you buy something instore at full price, but change your mind about it, and it's now on sale at a lower price, you may only get the reduced amount back, if the shop is willing to refund you;
If an item you bought at full price is faulty and is now on sale at a reduced price, you are entitled to a refund of the full price or a replacement of the same value, with proof of purchase such as a receipt;
If something is on sale because it's damaged in some way, you don't have an automatic right to return it if the fault was pointed out before you bought it
Remember, proof of purchase doesn't have to be a receipt, it can also be a copy of a debit or credit card bill;
If you have bought or received an item as a present that turns out to be faulty and you don't have the receipt and you don't want to ask for one, using a guarantee, if you have one, may be your best option to get redress. A guarantee is an agreement from the manufacturer confirming that they will repair or replace an item if something goes wrong within a certain amount of time after you buy it.