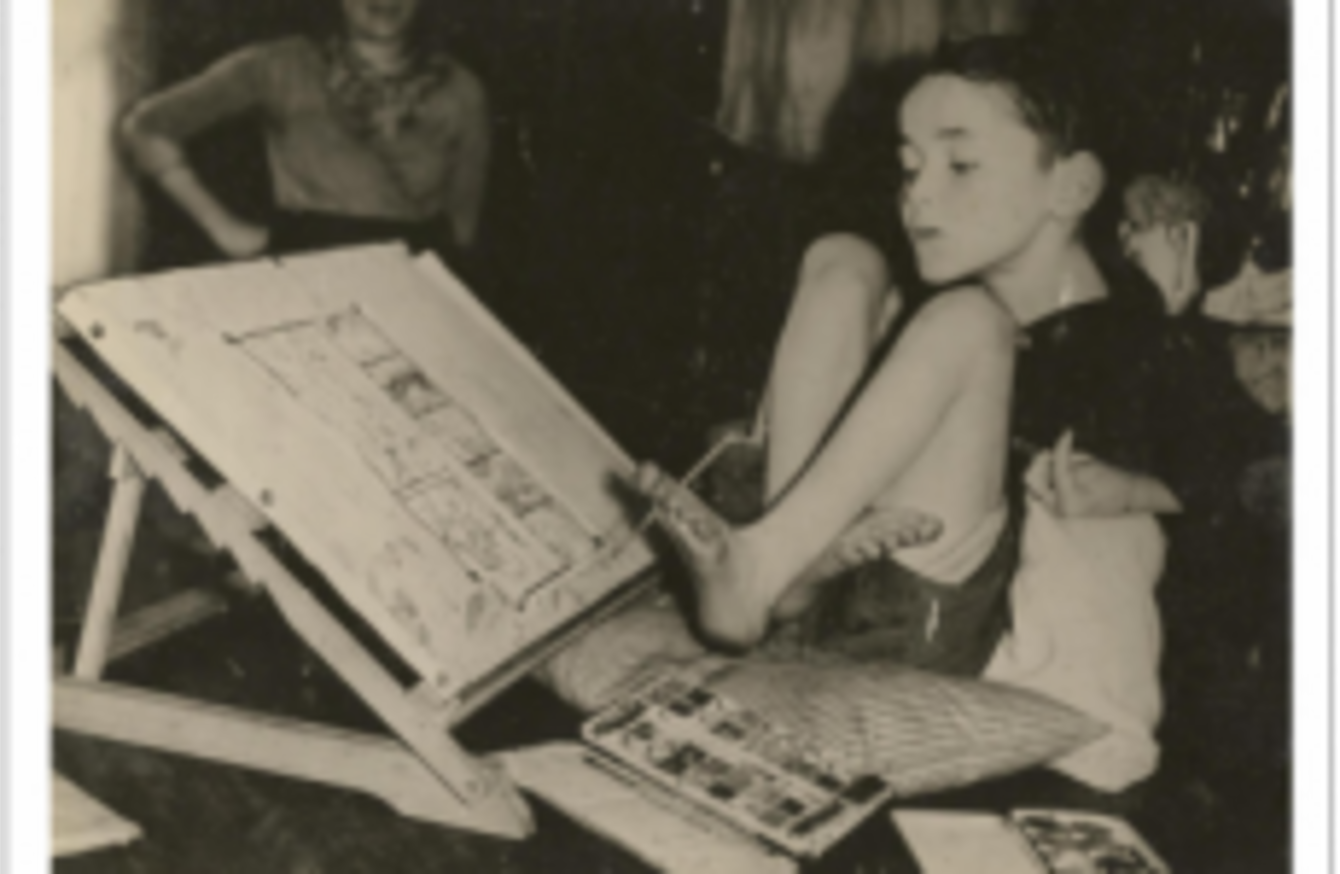 Image: National Library of Ireland
Image: National Library of Ireland
AT 16, CHRISTY Brown wrote a letter to his much-loved social worker, Katriona Maguire, about his plans for the future. "Will I be a painter or a writer?" he mused.
He went on to become both, creating his many paintings, a classic memoir, four novels and four collections of poetry, using only his left foot.
A life less ordinary
When he was born in the Rotunda in 1932, Brown emerged with cerebral palsy, then a somewhat misunderstood condition.
The assumption was that because of his physical condition, he had intellectual difficulties, but his family resisted attempts to send him away for treatment.
Instead, he grew up in the family home in Kimmage, where his abilities and intelligence were explored and allowed grow by his family, particularly his mother Bridget and social worker Katriona.
Though he was educated late, he made up for this with his voracious intelligence.
Last year, Brown's archive went up for auction in Bonham's of London. Thanks to the actions of the Little Museum of Dublin, a private donation from Direct Medical, and the Department of Arts and Heritage, the archive was bought for just over €44k.
Now, after archiving by the NLI, part of the spoils are on display in the Little Museum of Dublin, for fans and newcomers to his work to savour.
From movies to real life
The Oscar-winning film My Left Foot – starring Daniel Day-Lewis as Brown – is how most people know the name Christy Brown, but the exhibition goes beyond what the movie showed, said curator Simon O'Connor. 
What we know about Christy is the media story about him, and then the movie. But they're not necessarily the entire story. So we felt that once we started going through the archive, we can really try and present something that is biographical in an interesting way, and a non-fictionalised way.
"We all feel that we know him and that he's ours, but maybe not many of us have read the books or are familiar with what a great writer he was."
The archive contains many letters to Maguire. "She was really encouraging to him – in a way the relationship between Christy and Katriona was the most important relationship continuously through his life. He writes to her for his entire life," said O'Connor.
Katriona, who is 92, attended the launch on Thursday night.
Dear Christy: The Christy Brown Collection contains childhood mementos, unpublished poetry, nude sketches, Brown's passport and a letter from John Banville describing Down All The Days as "perhaps the best Irish novel since Ulysses".
Going 'the way of Brendan Behan'
Alcohol played a massive role in Brown's life – when he wrote Down All the Days, he depended on an American woman, Beth Moore, to keep him 'on the dry' during working hours.
The archive has a letter from his doctor, Dr Robert Collis, where he says he is concerned Brown "would go the way of Brendan Behan".
Brown's latter years appear to have been quite difficult, following his marriage to nurse Mary Carr. The exhibition doesn't dwell on the darker parts of his intimate relationships, having respect for the living relations of those left behind.
Brown died aged 49 at home in Somerset after choking on his dinner.
But there's little need to focus on these aspects when so many parts of Brown's life are fascinating – not just from a literary point of view, but a social one too. As a young man with a disability, he faced and overcame huge barriers in his quest to become what his 16-year-old self imagined he would be – a painter and a writer.
The exhibition runs in The Ireland Funds Gallery at the Little Museum of Dublin, 15 St Stephen's Green, Dublin 2, until 2 August.