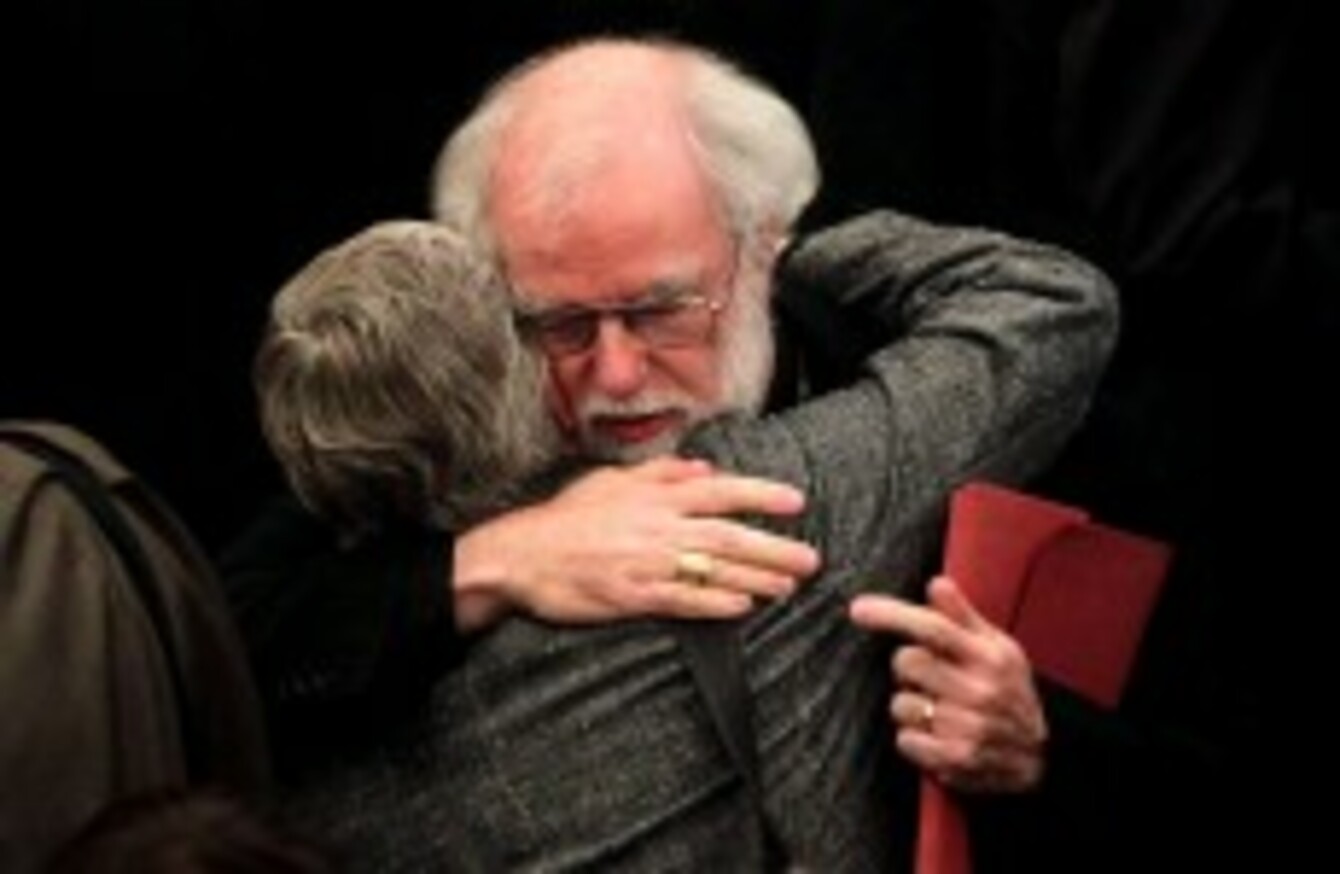 Dr Rowan Williams, the outgoing Archbishop of Canterbury, after draft legislation introducing the first women bishops in the Church of England failed to receive final approval from the Church of England General Synod
Image: Yui Mok/PA Wire/Press Association Images
Dr Rowan Williams, the outgoing Archbishop of Canterbury, after draft legislation introducing the first women bishops in the Church of England failed to receive final approval from the Church of England General Synod
Image: Yui Mok/PA Wire/Press Association Images
THE CHURCH OF England's governing body today narrowly blocked a move to permit women to serve as bishops, leaving the church facing more years of contentious debate.
Following a day-long debate on Tuesday, opponents mustered enough support to deny the necessary two-thirds majority among lay members of the General Synod.
The defeat was a setback for Archbishop of Canterbury Rowan Williams, who retires at the end of December, and his successor, Bishop Justin Welby. Both had strongly endorsed a proposed compromise that they had hoped would end decades of debate.
Passage of legislation to allow women to serve as bishops must be approved by two-thirds majorities in the synod's three houses: bishops, priests and laity. Synod members were voting on the latest compromise which calls for church leaders to "respect" the position of parishes that oppose female bishops — without saying exactly what "respect" means.
The vote was 132 in favour and 74 against. In separate votes, bishops voted 44-3 in favour with 2 abstentions, and clergy voted 148-45 in favour.
Church officials say it may take five years to go through the process of taking new legislation to a final vote.
'A train crash'
In the day-long debate, many speakers expressed regret that they were unable to agree on a way forward.
"Whatever the outcome, there is no victory in the coming days. It is a train crash," said Rev. Angus MacLeay, summing up for the opposition.
Sister churches of the Anglican Communion in Australia, New Zealand and the United States already have women serving as bishops.
Southern Africa joined that group on Sunday with the consecration of Ellinah Wamukoya as the Anglican bishop of Swaziland.
At the time of writing, the Church of England's Wikipedia page included an entry describing it as "sexist", citing today's decision to block females from becoming bishops for the declaration.
Additional reporting by Jennifer Wade