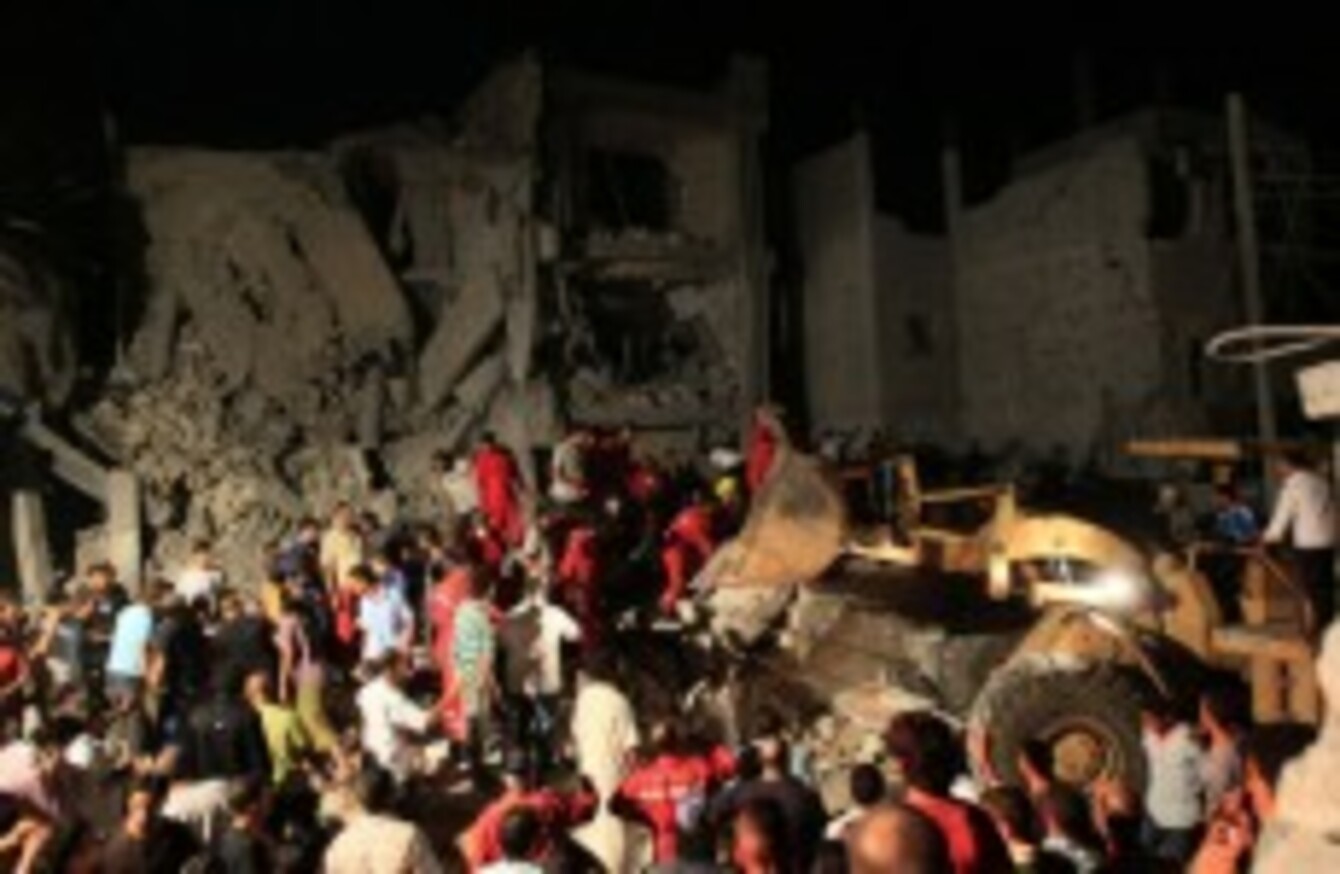 Photo taken on government-organised tour showing Libyan firefighters and local residents removing debris from damaged buildings in Tripoli today.
Image: AP Photo/Ivan Sekretarev
Photo taken on government-organised tour showing Libyan firefighters and local residents removing debris from damaged buildings in Tripoli today.
Image: AP Photo/Ivan Sekretarev
THE LIBYAN government accused NATO of bombing a residential neighbourhood in the capital and killing civilians early today, and journalists taken to a hospital were shown four bodies including those of two young children.
It was not possible to independently verify the government's account of what happened.
Journalists based in the Libyan capital had been rushed by government officials in the early hours of the morning to a neighbourhood where rescue efforts were under way at a destroyed building, which appeared to have been partially under construction.
Government spokesman Moussa Ibrahim said the damage was caused by NATO rockets and bombs. He wasn't immediately able to provide the number of casualties, but said there were no military facilities anywhere near the damaged building.
"There was intentional and deliberate targeting of the civilian houses," said deputy foreign minister Khaled Kaim during a visit to the site shortly after reporters arrived. "This is another sign of the brutality of the West."
NATO criticises Libyan figures
NATO, which has a mandate to protect Libyan civilians, rejects the allegations and has accused Gaddafi's forces of using children's parks and mosques as shields.
"We are conducting operations with utmost care and precision to avoid civilian casualties. Civilian casualties figures mentioned by the Libyan regime are pure propaganda," NATO spokeswoman Oana Lungescu said yesterday.
Bodies
Journalists who were taken to a hospital were shown at least four people said to be killed in the strike, including the two young children. Foreign journalists in Tripoli are not allowed to travel and report freely and are almost always shadowed by government minders.
Meanwhile, there was heavy shelling Saturday night and Sunday morning in the port city of Misrata, 200km east of the capital. Muthana Issa, an official at Hikma hospital in Misrata, said there had been four killed and 16 wounded.
For weeks rebels had been bottled up in Misrata, one of a handful of toeholds they hold in western Libya. The eastern third of the country is under rebel control from their de facto capital, Benghazi. As NATO warplanes began stepping up attacks on Libyan government forces, bases and ammunition depots in recent days, the rebels in Misrata used the distraction to start their push out of the city toward Tripoli.
On Friday, Prime Minister al-Baghdadi al-Mahmoudi accused NATO of a "new level of aggression," and claimed that the military alliance intentionally targeted civilian buildings, including a hotel and a university. He has called on the United Nations to take action to stop NATO's daily bombing runs.
Libya's Health Ministry says 856 civilians have been killed in NATO airstrikes since they began in March. The figure could not be independently confirmed. Previous government tolls from individual strikes have proven to be exaggerated.
NATO hit rebels
Late on Saturday, NATO announced that it had mistakenly struck a column of Libyan rebel vehicles in an airstrike near an eastern oil town two days earlier and expressed regret for any casualties that might have resulted.
The alliance has accidentally hit rebel forces before in its air campaign to protect civilians in the civil war between Gaddafi's military and the fighters trying to end his more than four decades in power.
The rebels also have complained that NATO's strikes have not helped them gain decisive momentum against the Libyan leader's better trained and equipped military, which still has firm control over most of western Libya. The rebels control much of the east.
The alliance statement gave no figures on casualties from Thursday's airstrike, but said it regretted "any possible loss of life or injuries caused by this unfortunate incident."
NATO said its forces spotted a column of military vehicles near the frequent flashpoint town of Brega where forces loyal to Gaddafi had recently been operating and hit them because they believed they posed a threat to civilians.
A rebel military spokesman, Abdelrahman Busin, said yesterday that they appreciated NATO's efforts and understood the difficulty in differentiating between the two sides along shifting front lines.
Thursday's airstrike was similar to one in April during which NATO hit a convoy of rebel tanks, killing at least five fighters. NATO officials said at the time they did not know the rebels had any tanks, a statement that raised eyebrows as footage of the fighters with tanks had been on YouTube for weeks.
- AP