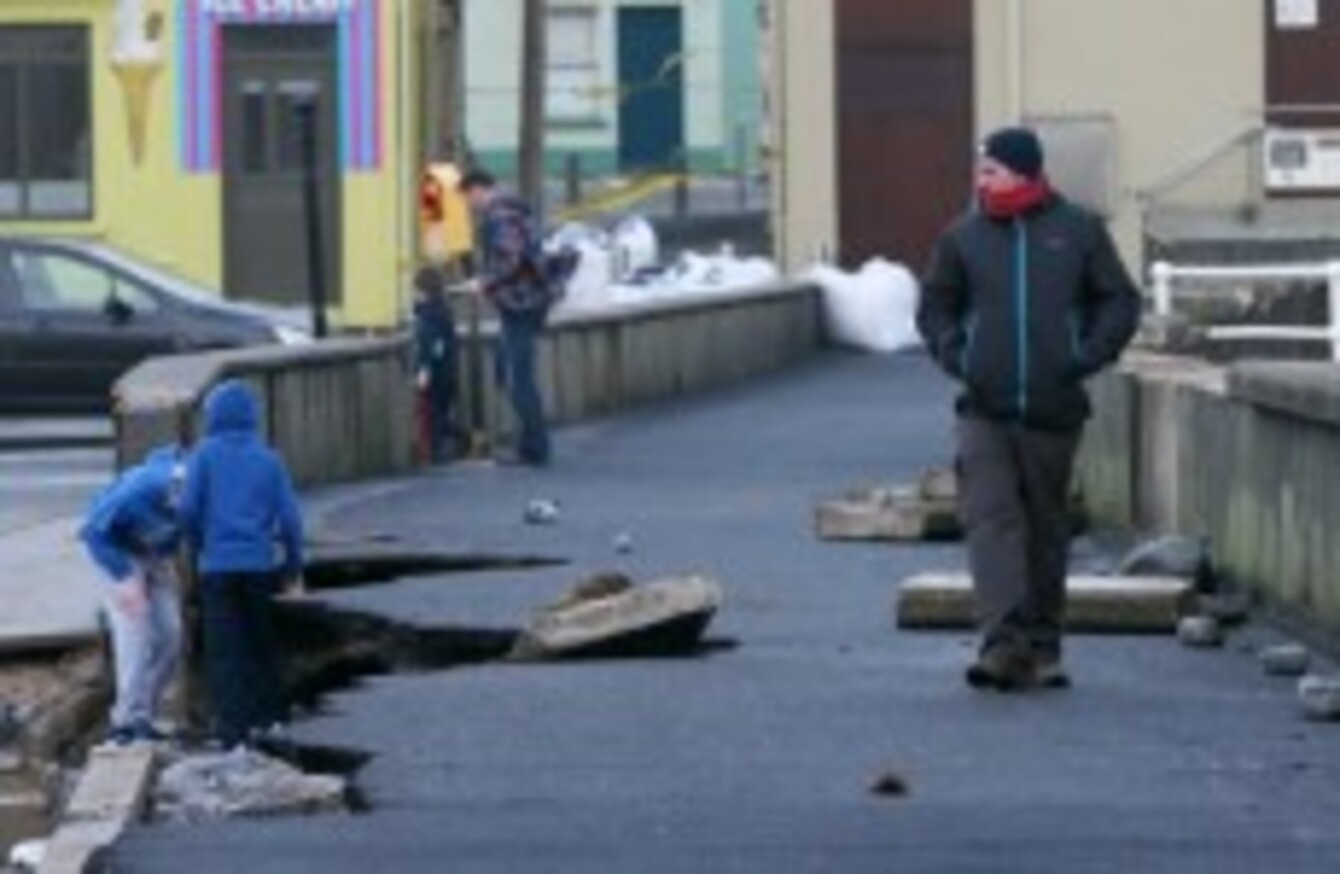 A photo from February 2014 showing damage to the promenade at Lahinch.
Image: Laura Hutton/Photocall Ireland
A photo from February 2014 showing damage to the promenade at Lahinch.
Image: Laura Hutton/Photocall Ireland
CONFUSION STILL SURROUNDS the allocation of emergency funding to Clare County Council to repair infrastructural damage caused by storms in late 2013 and early 2014.
Junior Minister Simon Harris this morning re-stated the OPW's position regarding Government funding for storm damage repairs in Co Clare, saying that a total of €16.8m has been allocated to the local authority.
Of this, Harris said that up to €8.276m has been earmarked specifically for repairs to damaged public coastal protection works, while the remainder is to be spent on damage to other public infrastructure "such as piers, harbours and roads".
Addressing reports of poor communication between the OPW and local authorities on the issue of storm repairs, Harris said in a statement that his office had been in contact with the Clare authority on the issue:
My Office has an excellent working relationship with local authorities and continues to liaise with them on all the various schemes administered by this Office. There has been numerous exchanges of correspondence with the local authorities, including Clare County Council, in relation to the storm damage funding.
Harris added that it was "made clear to all local authorities that this funding was being made available for repair and not for the construction of entirely new coastal protection works."
He also said that any decision to progress with "major capital works" requires planning and assessment and that his office will continue to work with Clare County Council "to ensure the best possible outcome".
'Awaiting clarification'
However, confusion still surrounds the funding allocation with regards to proposals made by Clare County Council to upgrade storm barriers and coastline defences instead of replacing or repairing the same structures that were damaged by the storm.
The senior engineer overseeing Clare County Council's repair and restructuring programme, Tom Tiernan, told TheJournal.ie today that key elements of this programme are on hold until the council receives clarification from the OPW that its proposals can or cannot go ahead.
Tiernan said he could not respond to Harris's comments today, as he was unaware that Harris had made a statement on the issue and the council is still awaiting notice that a decision has been made by the OPW concerning the council's proposals.
The council has proposed a number of barrier strengthening projects along the coastal and quayside areas worst affected by the storms.
"If we had a bottom line regarding the total sum of money available to us, we would be finalising the programme of work," the engineer explained.
Some of the allocated funding has already been used in repairs: "At this point of time, we have spent €3m of that original allocation and we have spent that effectively in clean-up, in relation to works that are necessary [under] the circumstances at the various tourism resorts to enable the ongoing tourist season to go ahead."
Overall, however, Tiernan says the council is still waiting for further clarification from the OPW before it can actually finalise its repair projects as there is "no point" in repairing certain areas if they are actually going to be restructured:
The bottom line is that we have been notified to date of funding availability to €16.8m – our total estimate for all of the damage, including the strengthening requirements that we feel are pertinent, is €38m, so there's vacuum there of €21m that we don't know whether we're going to be allocated all or part of it. So with a gap that wide, you'll appreciate it is very difficult for us to conclude on a programme.
Responding to a query from TheJournal.ie, a spokesperson for the OPW said that officials from the OPW and Clare County Council are meeting today to discuss matters further. Following today's meeting, Minister Harris will hold further meetings with local residents and Oireachtas members in early September.