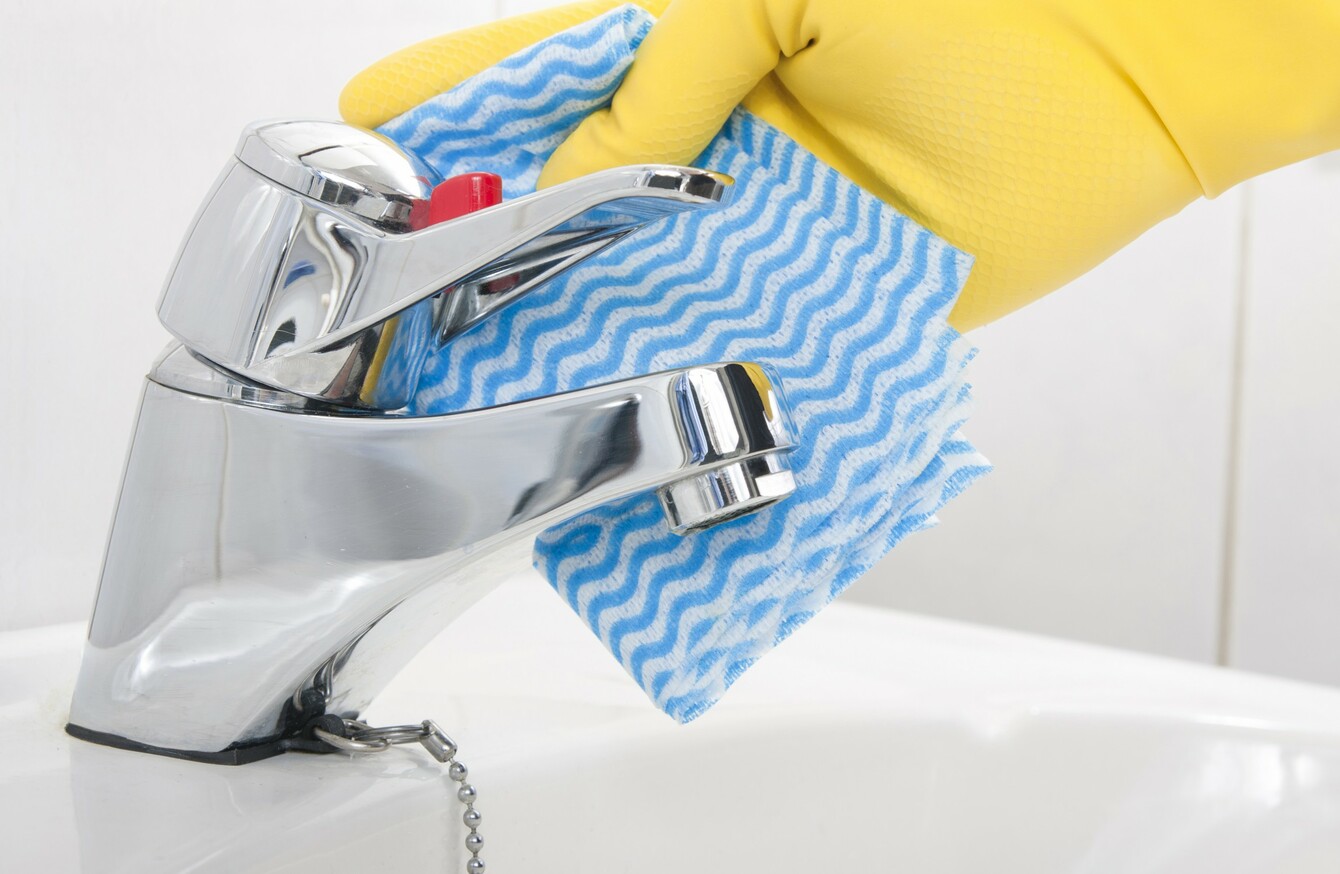 Image: Shutterstock/Oskari Porkka
Image: Shutterstock/Oskari Porkka
Laura de Barra regularly brings her lifestyle and home maintenance expertise to the Glenveagh Home Magazine on TheJournal.ie. This week: how to put the 'stainless' back in your steel surfaces. 
STAINLESS STEEL AND chrome are hardwearing, long lasting and resistant to staining and chipping. This makes them ideal for sinks, appliances, bathroom fittings and anything else we use often.
Although they feature heavily through many homes, we're often left scratching our heads about how to keep them clean and looking their best.
Let's start with the basics so we can get out head around how we should clean them and why.
Who are these girls?
Stainless steel is an alloy (two metals mixed together – it must have at least 10.5% chromium) and it is not plated. This is why, depending on the type of stainless steel, the surface can have a grain. Although it's called stainless steel it can get stained by things like bleach or can eventually rust if not dried down after cleaning. It's used in appliances and kitchen surfaces due to its durable hardwearing nature and also because of its low cost.
Chrome on the other had is a plating, usually on metal but sometimes on plastic. She's 100% chromium and has a more polished and shiny appearance. As she's a coating, objects she plates will usually be lighter than those of stainless steel.
As you can gather from these two, they will have different issues. Stainless steel will usually have grease and oil stains or lots of fingerprints as it's used on fridges, kettles etc. Chrome will usually be used in bathroom fittings and so be the victim of soap scum… and dreaded water marks.
To clean either you'll need:
Vinegar (but make sure you know what your surface is made of as vinegar can harm some coatings)
Water
Washing up liquid
Spray bottle
Good quality dry microfibre cloth (the only way to tell in store is if the cloths stick slightly to your fingers. This means they are fabulous at what they need to do)
Appliances:
If it is mainly smears and finger marks on your appliance, you only need water and a dry microfibre cloth. Microfibre technology is fantastic for for cleaning as it means you will usually not need another product.
The make-up of the fabric is doing all the work as the fibres are split many times. This splitting causes the fabric to be positively charged, which means it will grab on to any dirt or grime on the surface – and in all crevices and cracks – and ensure it's all wiped away.
Simply spray the surface with water and wipe down, in the direction of the grain.
If there are grease and oil marks, you have two options here. For lighter deposits on a fridge door or kettle, make up a 50/50 mix of vinegar and water and spray this over the surface. Wipe with your microfibre cloth then buff with a fresh dry one. The vinegar will loosen any dried-on food, oil or grease and is a non toxic cleaner. C'est bon.
If it's a cooker or work surface that is particularly bad, I find using washing up liquid is ideal! It is designed to cut through greasy food and cooking oil and will also not harm the surface. Throw a teaspoon into your spray bottle, add some warm water and shake it to mix. Use as you would the vinegar.
Sinks:
A mix of hot water and washing up liquid combined with a good aul scrub with a non-scratch sponge (the yellow and green ones) will usually lift most stains and leave your sink in perfect condition.
However, if you have a lot of tea staining for example around your drain, grab some bicarbonate of soda. This will act as a mild abrasive that won't damage the sink. Simply sprinkle on to the area of concern and work it in to the drain or stain with the non- scratch sponge. This will brighten the sink and remove any stains naturally.
Bathroom fittings:
These girls will be chrome, and will usually be spattered with water marks in hard water areas. This can be sooo frustrating when you clean them down and then still see these water marks after they dry. Here's why that happens:
What we are tackling here is limescale, which is caused by the dissolved minerals found in hard water. When hard water evaporates, the minerals crystallise and are left behind as carbonate deposits. So what you are seeing on your chrome is usually these deposits and not just simple water spots. The reason that they are reappearing when dry is that the limescale has not been removed – lighter marks just disappear when wet.
To get rid of these entirely… you will need vinegar! A 50/50 mix sprayed on and left for 10 mins will break down these deposits. Simply wipe down and then buff as you would the appliances above.
To prevent these building up again, use this mix every week. And if you can be bothered, wipe the fixings down after each use.
If you are suffering from a lot of grime and soap scum (hair treatments and strong conditioners can leave behind a hard-to-remove oily residue), use your washing up liquid mix to lift these.
If you have some really tough and unsightly limescale deposits around faucets, dip a cloth or tissue in vinegar and wrap around the tap. Leave it overnight and it will work in to the heavy deposit, making it easier to wipe away.
Want more tips and hacks? Laura de Barra's new debut book, Gaff Goddess: Simple Tips And Tricks To Help You Run Your Home is on shelves now, published by Transworld Ireland. Buy it here or in all good bookshops, and follow Laura on Instagram for even more cleaning and lifestyle tips.