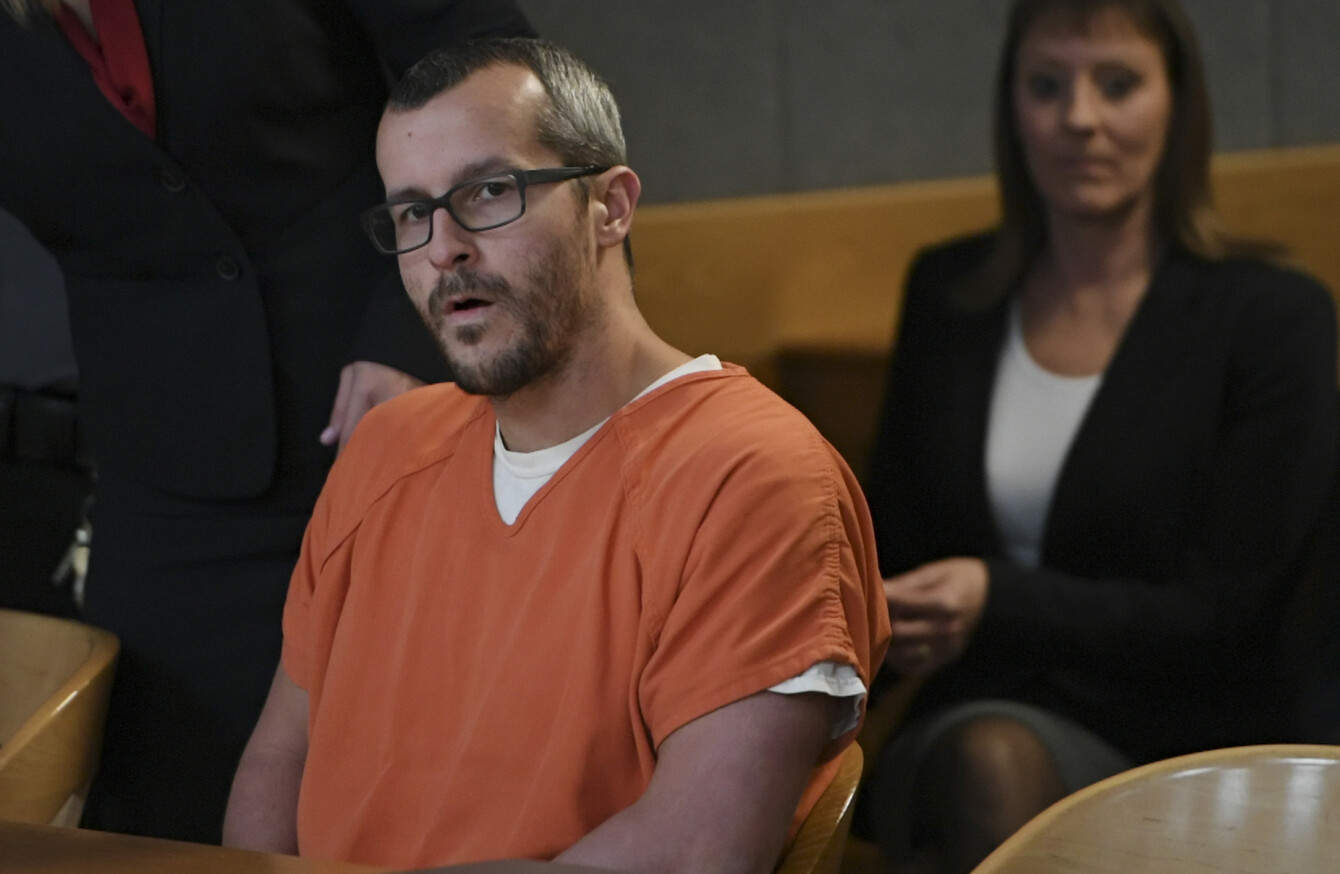 Christopher Watts sits in court for his sentencing hearing at the Weld County Courthouse on Monday.
Image: PA Images
Christopher Watts sits in court for his sentencing hearing at the Weld County Courthouse on Monday.
Image: PA Images
A COLORADO MAN has avoided the death penalty after he pleaded guilty to murdering his pregnant wife and two young daughters last year.
Christopher Watts cried and stared into his lap as a judge told him he would spend the rest of his life in prison for the killings of Shanann Watts and the couple's two children, 4-year-old Bella and 3-year-old Celeste, last August.
Watts spoke only once at his sentencing hearing to decline the opportunity to give a statement.
"How could a seemingly normal husband and father annihilate his entire family? For what?" district attorney Michael Rourke said at yesterday's hearing.
"These are the questions that only one individual in this courtroom — or on this planet — knows the answers to."
The court proceeding revealed a wealth of evidence that prosecutors planned to use against Watts if the case went to trial.
But with no insight from Watts, prosecutors said they could only guess that the murders were intended to give him a "fresh start" with a new girlfriend.
'Inhumane and vicious'
With the approval of Shanann Watts' family, prosecutors agreed not to seek the death penalty in exchange for a guilty plea that would require the 33-year-old to serve life in prison with no chance at parole.
Judge Marcelo Kopcow called it "the most inhumane and vicious crime" to cross his desk in 17 years.
After strangling his wife with his hands and smothering his two children, Watts loaded their bodies into his truck.
GPS data showed that he drove to a rural oil work site owned by his employer, Rourke said.
He spent a normal day at work and frequently texted his girlfriend, even as police began investigating his family's disappearance.
He made calls to a real estate agent about selling the family home and told the girls' school that they would not enroll that fall as planned.
Within days, he was charged with killing his family.
Full confession
The girls' bodies were found submerged in separate oil tanks on property owned by his employer, while Shannan Watts' body was found in a shallow grave nearby.
As a prosecutor detailed the injuries at Monday's hearing, Shanann's father Frank Rzucek leaned forward, gasping.
Christopher Watts' parents were permitted to speak at the hearing as the girls' grandparents. Cindy and Ronnie Watts urged their son to use his reprieve from a death sentence to make a full confession.
"We hope that he embraces that moment," the couple's attorney said, although Rourke doubted the moment would ever come.
"Those are the questions that will always haunt anyone who was involved in the investigation," he said. "I don't think there is ever going to be a satisfactory answer for anyone."
The killings captured national media attention and became the focus of true crime blogs and online video channels, which showed dozens of family photos and videos that Shanann Watts shared on social media showing the smiling family.
Prosecutors said the images belied Christopher Watts' secret affair.
Suspicions aroused
A friend asked police to check on Shanann Watts on 13 August, 2017 after not being able to reach her and growing concerned that the expectant mother had missed a doctor's appointment.
Investigators quickly became suspicious of Watts after he was unable to square his claims that his family had disappeared from a tightly secured home in a busy subdivision.
Meanwhile, Watts spoke to local television reporters from the front porch of the family's home in Frederick, a small town on the plains north of Denver where drilling rigs and oil wells surround booming subdivisions.
He pleaded for his family's safe return, telling reporters their house felt empty without Bella and Celeste watching cartoons or running to greet him at the door.
Earlier this month, he pleaded guilty under a plea deal which allows him to avoid the death penalty but puts him behind bars for life without a chance of parole.