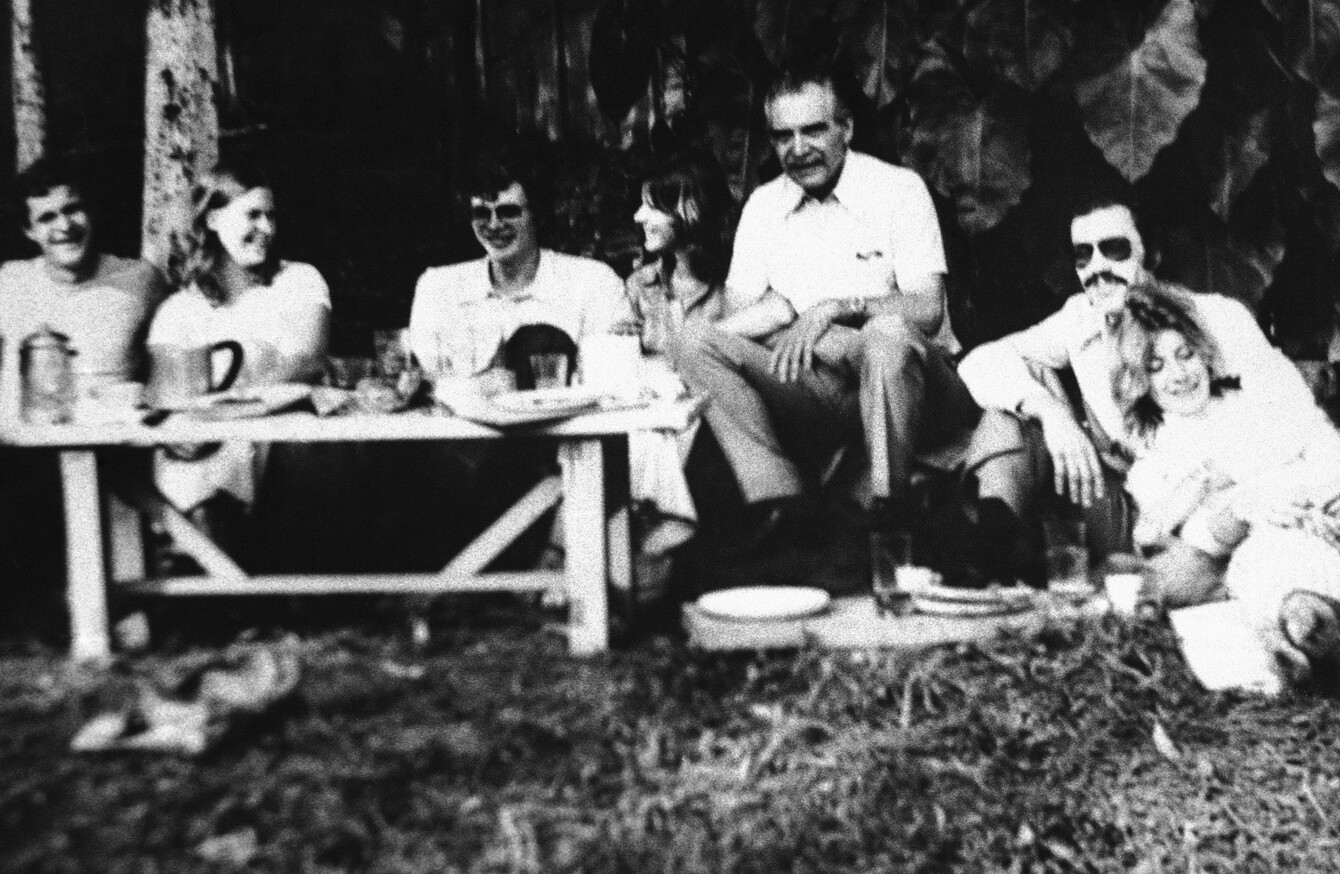 Josef Mengele, third from right, poses for a photo during a picnic with friends in Sao Paulo, Brazil.
Image: AP/Press Association Images
Josef Mengele, third from right, poses for a photo during a picnic with friends in Sao Paulo, Brazil.
Image: AP/Press Association Images
CONCERNS OVER TWO Nazi war criminals and their links to Ireland were raised with the Department of Justice back in 1985.
According to documents released by the National Archive this month under the 30-year rule, the government at the time was concerned that infamous Nazi war criminal Josef Mengele may have spent six weeks in Ireland once he fled Germany after World War II.
The other Nazi involved was Pieter Menten, a Dutch citizen, who was was released from prison in 1985 after serving a prison sentence in Holland for war crimes. Menten owned a country house in Lemybrien, Co. Waterford and it was feared that he would return to the house in Ireland.
Mengele
According to one of the documents, media reports surfaced in 1985 which suggested that Mengele may have used Ireland to escape from Europe when he fled for South America soon after World War II ended.
Michael Noonan, Minister for Justice at the time, was asked about it during Dáil questions in June 1985.
Minister Noonan said nothing had come to light within his department suggesting that Mengele spent time in Ireland. However, he added:
That perhaps is not surprising since what is alleged is that an alien came here under an assumed name – which is not specified – almost 4o years ago and it must be assumed that if there were any records these would refer only to the assumed name.
Mengele was one of the main perpetrators of the atrocities at Auschwitz concentration camp  where he performed human experiments on the prisoners. He escaped justice by fleeing Auschwitz as the Russian army advanced on the camp, eventually finding his way to South America, settling in Argentina.
The Simon Wiesenthal Center, named after the famed Nazi hunter, sent letters to the Irish ambassador to the US Tadhg O'Sullivan in 1985 after the media reports emerged, asking for any information that the Irish government might have in regards to the reports that that Mengele was in the country at some point.
Rabbi Abraham Cooper of the Simon Wiesenthal Center even provided a list of aliases Mengele was known to have used in the past to help with the enquiries.
According to correspondence between the Department of Justice and the Irish Embassy in the US, Mengele did not spend time in Ireland as far as the Irish government was aware.
Enquiries have been made with the relevant Irish authorities who confirm that there is no record of Mengele having been in Ireland
After World War II, Mengele spent the rest of his life evading justice, settling initially in Argentina, before moving to Paraguay and Brazil. Mengele died in 1979, six years before the question of whether he had arrived in Ireland after the war was being asked.
In 1985, German police working on evidence taken from the Mengele family, located his grave and exhumed his body. Forensic experts determined at the time that it was indeed the body was of Josef Mengele but it wasn't until 1992 that DNA testing confirmed it.
#Open journalism No news is bad news Support The Journal

Your contributions will help us continue to deliver the stories that are important to you

Support us now
Menten
Pieter Menten was found guilty in 1980 of complicity in mass murder which took place in 1941 and he was sentenced to 10 years in prison. He served two-thirds of his sentence.
After he was released it was thought Menten would return to his property in Waterford.
To prevent Menten arriving back in Ireland, Minister Noonan signed an order under section 5 of the Aliens Act 1935 prohibiting Menten from landing in or entering the country.
Menton's Dutch lawyer questioned the legality of Noonan's decision to ban his client from Ireland as under EEC law, EEC nationals were allowed to move freely within the community.
Menton would go onto to claim £68,326 from Waterford County Council for damage done to his property when his house in Waterford was set on fire by persons unknown.
See National Archive file 2016/51/927