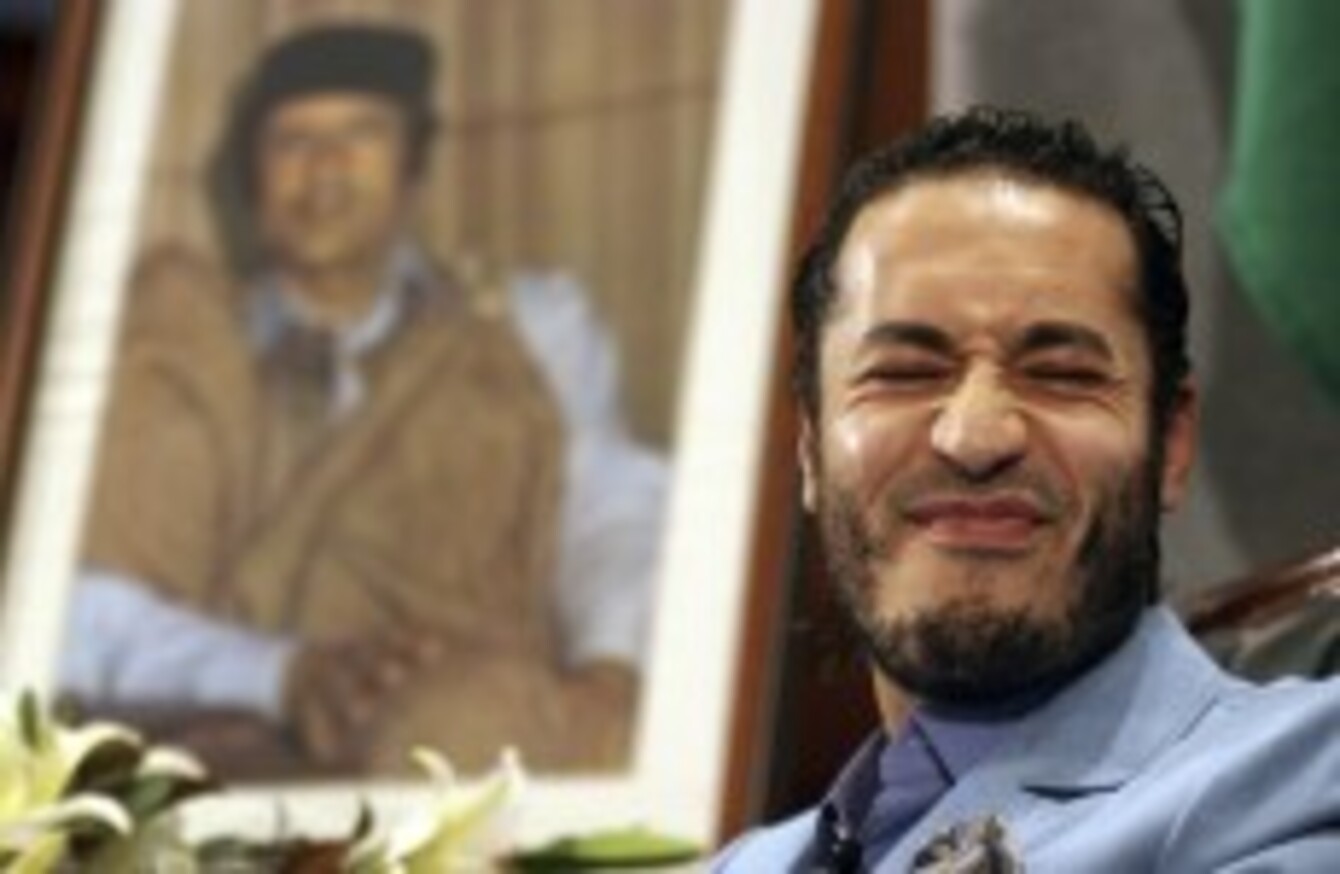 Al-Saadi Gaddafi in happier times in 2005
Image: AP Photo/Dan Peled
Al-Saadi Gaddafi in happier times in 2005
Image: AP Photo/Dan Peled
A CONVOY CARRYING ousted Libyan leader Muammar Gaddafi's son al-Saadi has crossed into neighboring Niger, a spokesman for Niger's government said Sunday, one of the highest-profile former regime figures to flee to the landlocked African nation.
Al-Saadi, the fugitive ruler's 37-year-old son, entered Niger in a convoy with nine other people, said Niger Justice Minister Amadou Morou. The vehicles were traveling south toward the outpost of Agadez, where other fleeing Libyan loyalists are believed to be holed up in a hotel.
"I wish to announce that one of Gaddafi's sons — al-Saadi Gaddafi — was intercepted in the north of Niger by a patrol of the Nigerien military," Morou told reporters late Sunday.
He said al-Saadi "has no status at all" in Niger, indicating that he has not been granted refugee status, which would guarantee him certain rights.
Since last week, several convoys carrying senior officials of the former Libyan regime as well as civilians and soldiers have made their way across the porous desert border into Niger. Among them were several of Gaddafi's top military officers, including his chief of security and the head of his southern command.
As Libya's new leaders move to exert their authority in Tripoli, forces loyal to Gadhafi continue to hold out in three strongholds — Sirte on the Mediterranean coast, Sabha in the southern desert, and Bani Walid southeast of Tripoli.
Revolutionary forces battled their way back into Bani Walid Sunday, seizing control of the northern half of the town and fighting supporters of the fugitive dictator in the town centre.
After a week of efforts to negotiate a peaceful surrender of Bani Walid, anti-regime fighters launched a two-pronged assault on the town that soon dissolved into street fighting. But Gaddafi supporters have put up fierce resistance, and forced former rebels to retreat Saturday amid a barrage of rocket and mortar fire.
Libyan fighters pushed back into the town Sunday, a day after retreating under heavy fire, said fighter Sobhi Warfali. He said revolutionary forces now control the northern half of the town and were battling regime loyalists in the centre.
Resident Khalifa al-Talisi said "the rebels don't control the centre yet, but everything from the city centre to this (northern) side is liberated."
Around a mile (kilometer and a half) from the town center, a cluster of abandoned houses in the desert showed signs of fierce fighting. The charred hulk of a car stood in front of a still-burning home that sent plumes of black smoke into the air.
Abdullah Kenshil, a negotiator for the former rebels, said loyalist forces that withdrew from several cities after the fall of Tripoli have regrouped in Bani Walid.
"For them, it is a matter of life or death," he said. "They don't care if residents are killed in the middle."