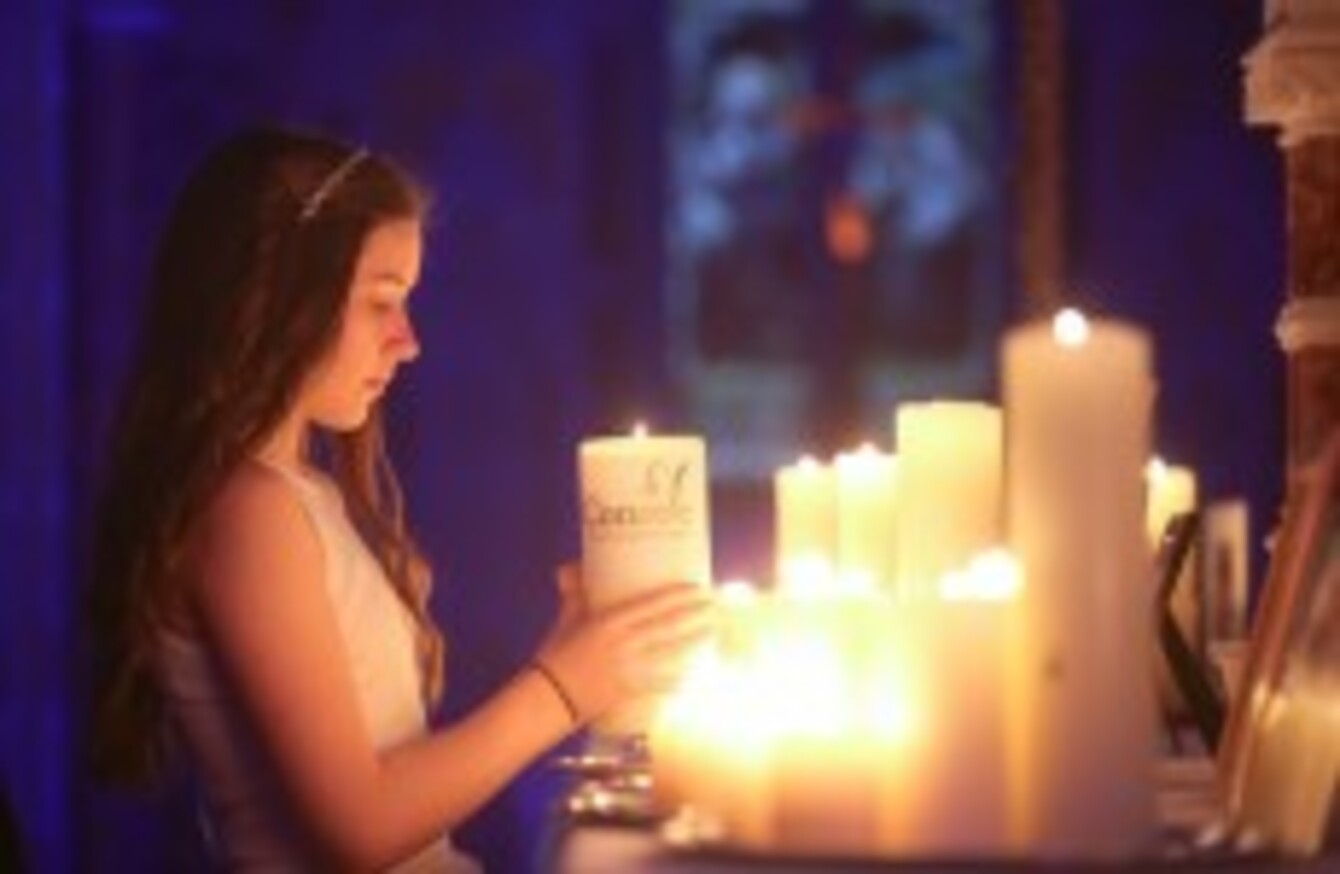 Caoimhe Devennby (age 13) from Leixlip at the Christmas Celebration of Light
Image: Conor McCabe Photography
Caoimhe Devennby (age 13) from Leixlip at the Christmas Celebration of Light
Image: Conor McCabe Photography
THOUSANDS OF FAMILY members and friends of people lost through suicide gathered for special events in Maynooth, Galway, Limerick, Wexford, Tipperary and Mayo to remember their loved ones today.
They were taking part in six Christmas Celebrations of Light organised by national suicide prevention and bereavement charity Console. They were ceremonies of song, music, poetry and reflection, and included the lighting of candles to remember those who have lost their lives, as well as a minute's silence.
At St Patrick's College in Maynooth, almost a thousand people gathered to hear performers including Rebecca Storm, Niamh Kavanagh, Eleanor Shanley and Paul Hennessy. The service was led by author and broadcaster Christy Keneally, while RTÉ's Eileen Dunne performed a reading.
Console said that while over 500 people lost their lives to suicide in Ireland last year, "the real figure" is higher.
"The Christmas Celebration of Light provides families and friends with a gentle and understanding environment to celebrate the lives of their loved ones," said Console founder and CEO Paul Kelly.
The loss of a loved one is always devastating, but when that loss is through suicide it can be so much harder for the families and friends left behind. Many people find Christmas an especially difficult time.
Kelly said that the special services give people throughout Ireland "the opportunity to come together in solidarity to honour the lives of their loved ones", while the lighting of candles shows "that their memory is very much alive". He founded the organisation after his sister Sharon took her own life at the age of 21.
A further Celebration of Light will take place in Cork next Sunday at 4pm.
For more information on Console, which offers counselling services and 24-hour helpline support to people in crisis and those bereaved by suicide, visit its website or call freephone 1800 201 890.