Image: Shutterstock/bernatets photo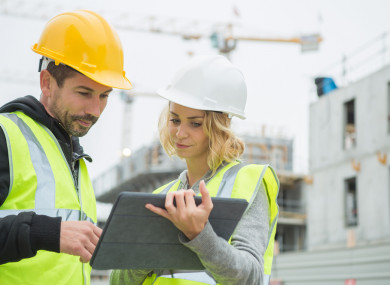 Image: Shutterstock/bernatets photo
121 APPRENTICE BRICKLAYERS, 63 people learning how to be plasterers and zero taking on the job of trainee wall tilers – this is the story of Irish trades in 2018.
Overall, the total number of apprenticeships – once a bastion of Irish employment – has increased from 10,445 in 2016 to 12,849 in 2017.
But it's a far cry from the peak of about 27,000 during the previous decade's housing boom.
Registrations for bricklaying apprenticeships increased by 34 to 121 in 2017. Plumbing had a bigger boost of 224, bringing the total to 1,272, while painting and decorating apprenticeships stands at 85. This is up from 53 the previous year.
The electrical sector seems to be more attractive to prospective workers. Apprenticeships in this area rose from 4,191 to 5,458 in 2017.
The construction apprenticeship uptake has risen from 2,273 to 2,873 – but some key trades remain stagnant.
The slowdown in the construction sector is one of the unsurprising symptoms of the economic crash. During the downturn, countless tradespeople found themselves without work as sites downed tools.
Foreign friends such as Australia and Canada provided some work, but others had no choice but to retrain.
With the economy improving, groups like the Society of Chartered Surveyors Ireland, the Construction Industry Federation and Engineers Ireland have been encouraging people to enter construction courses and to return home from abroad for work.
Has it worked? 
While the sector is showing shoots of growth, some are quick to point out that the pace might not be enough for our growing economy.
Fianna Fáil Spokesperson on Business, Enterprise and Innovation Niall Collins said current low take-up of apprenticeships in trades like bricklaying, plastering and tiling will create a massive skills shortage.
"A lack of apprentices will jeopardise progress in most construction projects and will end the government's hope of building 25,000 houses a year," warned Collins.
It's just over a week since Taoiseach Leo Varadkar packed up his Cabinet members to bring them on a rural road trip to Sligo to launch the government's grand plan for Ireland for the next 20 years.
The opposition had a full three-day debate in the Dáil on Ireland 2040 which is set to cost some €116 billion (if it is all achieved).
The project makes big promises. New roads, more houses, improved transport links like Metro North and the extension of the Luas line.
Those in the construction industry have welcomed these grand schemes, why wouldn't they?
It means more work and more jobs. But they have warned that the pledges must be matched with adequate training if they're to be kept.
The plan makes a commitment to providing "capital supports" for new apprenticeship courses but the scale of the work that needs to be implemented is huge.
A skills shortage 
Fianna Fáil hasn't been shy in its criticism of the plan during the week – and the issue of the lack of trained workers to carry out the works is something they have latched on to.
"[An] abysmal support of the apprenticeship sector," is how Niall Collins described the government's work in the area.
According to Collins, figures released to him in a parliamentary question from the Minister of State for Skill and Training John Halligan show that both traditional and modern apprenticeship numbers aren't where they need to be.
He said the government is also falling short of its own target for apprenticeship registrations for new programmes.
#Open journalism No news is bad news Support The Journal

Your contributions will help us continue to deliver the stories that are important to you

Support us now
Rise in overall apprenticeships 
The hospitality, insurance, accounting and financial services sectors have been supported through what are known as consortia-led apprenticeships. These are industry-led programmes developed by business and education partners.
Two further programmes in ICT, network engineer and software developer are also due to see their first intake of apprentices in the coming months.
Despite the heralding of 800 such traineeships, only 335 have begun.
"This is a disgraceful 42% success rate," said Collins
These latest revelations underline and underscore the Government's shocking failure to deliver on apprenticeship uptake as part of its Action Plan to Expand Apprenticeships.
'Women woefully represented'
Another issue the figures highlight is a lack of gender balance – with women accounting for just 1% of all apprentices in Ireland.
"Women are still woefully represented in the apprenticeship sector, and in particular among traditional construction based apprenticeships. Of the total apprentice population of 12,849 at the end of last year, just 151 were female," said Collins, describing the numbers as "dismal".
A Department of Education and Skills spokesperson told TheJournal.ie that the government is committed to doubling the number of new apprenticeship registrations by 2020 to 9,000 annual new registrations.
It has pumped €122 million into apprenticeship training – a 24% increase on 2017.
"New apprenticeship registrations have risen from 2,698 in 2014 to 4,843 in 2017, which represents an increase of almost 80%," said the spokesperson, noting that almost 30% of participants on the new apprenticeships are female.