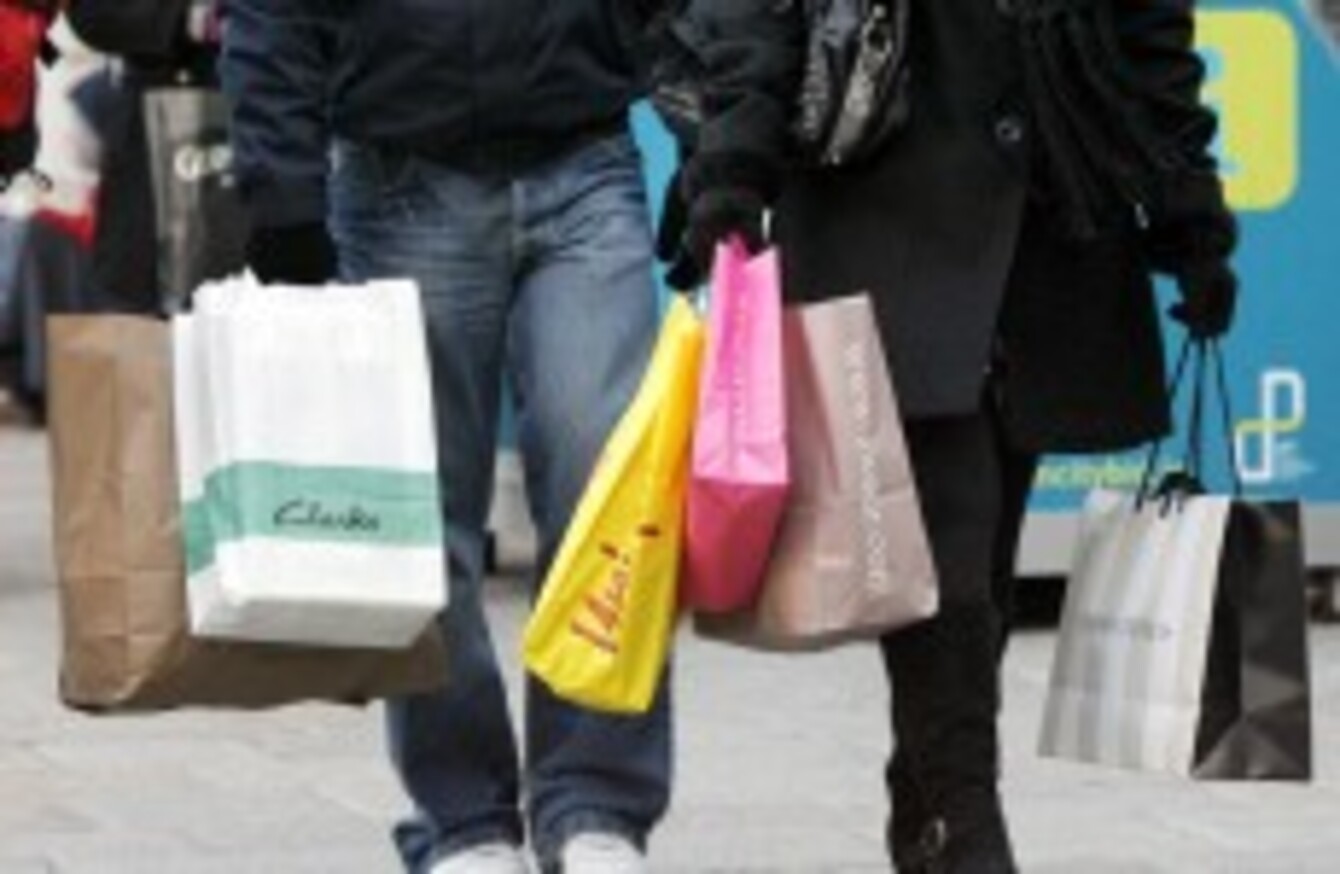 Image: Mark Stedman/Photocall Ireland
Image: Mark Stedman/Photocall Ireland
CONSUMER SPENDING IS down for the fourth consecutive year, new figures show.
The UCD Smurfit School and the Marketing Institute of Ireland have just launched their Q2 2012 consumer market monitor results, which show that not only has consumer spending fallen, but it is expected to be down by 2 per cent by the end of the year.
Savings and credit cards

The personal savings ratio, on the other hand, has continued to rise this year, and it is estimated to be as high as 13 per cent for the year as a whole.
Credit card debt continues to decline in the first half of 2012, and is down -5.4 per cent in June 2012, compared to June 2011.
The monitor also showed:
Consumer confidence has picked up slightly in the first half of 2012, rising to -20 in June 2012, but this is still lower than the same period last year (it was -15 in June 2011).
Consumer spending has declined in line with incomes, continuing its downward trend in 2010 (-3.0 per cent) and 2011 (-1.2 per cent), to a level of €78.3 billion.
Disposable income of households had been declining every quarter since 2008. However, disposable income was up 3.6 per cent in Q1 of this year compared with the same quarter of 2011.
Personal consumption fell by a cumulative -6.9 per cent in real terms over the four years since the peak in 2007.
Retailing, which makes up about half of all consumer spending, is down by -1.7 per cent in the second quarter, following a growth of 0.4 per cent in the first quarter.
The monitor also showed that essential products including food and pharmaceuticals "held up well" in the second quarter, while other retail categories (fuel; clothing, footwear and textiles; books and stationery; bar sales) experienced substantial declines in Q2 year-on-year.
Confidence
Mary Lambkin, Professor of Marketing, UCD Smurfit School, said:
It is likely that Irish consumer confidence will remain well below historical averages against the backdrop of a persistently high unemployment rate and international economic instability.
The Monitor uses quarterly data collected from sources including the Central Statistics Office (CSO), the Central Bank, the European Commission, and various other secondary sources.
Added Lambkin:
Despite an unprecedented rate of personal savings at present-13 per cent of disposable income (compared to a normal rate of about 5 per cent), over 80 per cent of this saving is going into paying down debt rather than residing in bank accounts waiting to be spent. Given the importance of the consumer economy – over 60 per cent of GNP – policymakers at home and abroad are wrestling with the challenge of how to stimulate consumer demand to enable the domestic economy to return to a more normal level of activity.
She added that: "Despite the positive signs of an increase in disposable income of households and an increase in consumer confidence, the only real prospect of stimulating growth in the consumer economy is to get more people back to work."