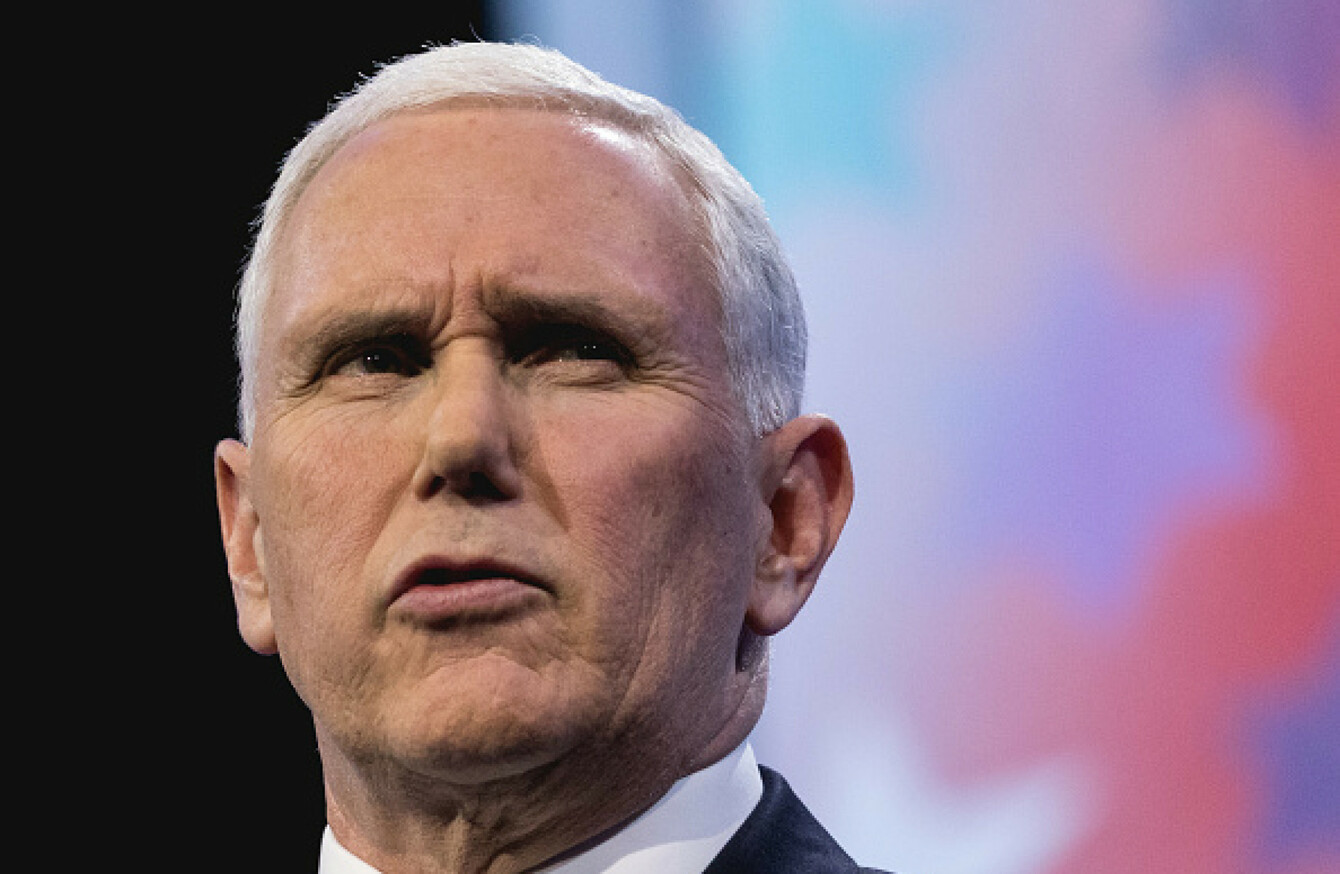 US VP Mike Pence
Image: Cheriss May
US VP Mike Pence
Image: Cheriss May
Updated 9.30pm
THE CONVERSATION BETWEEN Taoiseach Leo Varadkar and US vice president Mike Pence will be closed to the media this Friday.
It is tradition during the St Patrick's Day trip to Washington DC for the Taoiseach to have breakfast with the vice president.
Generally, this is done the morning before the Taoiseach meets the US President in the Oval Office.
Breaking from tradition this year, Varadkar will attend the vice president's residence on Friday morning, the day after meeting Donald Trump in the White House.
The remarks between the Taoiseach and the US vice president are usually open to the media, but this year reporters have been informed that their conversation is to be held behind closed doors, with no reporters permitted.
Earlier this afternoon, TheJournal.ie asked Varadkar if he would raise the issue of conversion therapy and LGBT rights with Pence.
The Taoiseach said he will raise the "wider issue" of LGBT rights with Pence, if he has the opportunity.
"I am told Vice President Pence is not a supporter of conversion therapy even though some people have mentioned he is. But I imagine I will have the opportunity, I am going to be meeting him over breakfast on Friday morning, so if I have the opportunity I will certainly be mentioning the wider issue of equal rights and freedoms for LGBT citizens."
Pence has been criticised for his record on gay and transgender rights, and has been much accused of supporting conversion therapy, the New York Times and other outlets have reported.
However, Pence has denied that he supports conversion therapy – which is a hugely controversial practice that aims to reverse people's sexuality, or encourages them to be celibate and not act on their natural sexual urges. It has been condemned in the US by groups such as the American Psychological Association and the American Medical Association.
Sinn Féin Senator Fintan Warfield today urged Varadkar to highlight the issue with Pence.
The senator has a new bill which aims to ban the practice of in Ireland, with those found guilty risking a fine or jail sentence.
Regarding the Taoiseach's meeting with Pence, Warfield said he "would have an expectation" that the issue would be raised by Leo Varadkar.
He said that he thinks the message Varadkar should send to Pence "is that we value all of our people's contribution to the diversity of this island. That diversity needs to be cherished and protected".
"The launch today is timely, unexpectedly so," said Warfield today about his proposed bill.
"Two weeks ago, the European Parliament passed a motion commending member states that have prohibited the harmful practice, and indeed calling on member states to do likewise. On Monday, Mary McAleese spoke publicly about conversion therapy in the context of religious organisations in Ireland."
"This is happening in Ireland, it's happening in the European Union," said Warfield.
We know through some LGBT organisations in Ireland that they have dealt with removing people from the likes of summer camps, the likes of sports camps, the likes of music camps in mainland Europe. So for that reason we included a removal of someone from the State for the purpose of conversion therapy.
There is one service provider of conversion therapy in the State, and Warfield said that his bill is about protecting LGBT people.
"What we are dealing with is the legacy of criminalisation … if we put the shoe on the other foot, this practice wouldn't be appropriate for heterosexual people, so I think it's time to end the practice and prohibit it in law."
Fine or jail sentence
The bill says that 'conversion therapy' means:
any practice or treatment by any person that seeks to change, suppress and, or eliminate a person's sexual orientation, gender identity and, or gender expression; and

does not include any practice or treatment, which does not seek to change a person's sexual orientation, gender identity and, or gender expression, or which– provides assistance to an individual undergoing a gender transition; or provides acceptance, support and understanding of a person, or a facilitation of a person's coping, social support and identity exploration and development, including sexual orientation-neutral interventions
The Prohibition of Conversion Therapies Bill 2018 would make it illegal for any person to perform or offer to perform conversion therapy on a person. It would also make it illegal to advertise conversion therapy. A person could be fined up to €5,000 and/or imprisoned for up to six months for either of these.
It would also make it unlawful for a person to remove a person from the State for conversion therapy. A person could be fined up to €10,000 and/or imprisoned for up to 12 months for this.
It would make it illegal for a professional to perform conversion therapy on a person, irrespective of whether monetary compensation is received in exchange; and to refer a person to other professionals or to any other person to perform conversion therapy. A person convicted under this part of the act could be fined up to €10,000 and/or jailed for up to 12 months.
Warfield said the bill has received cross-party support from Fianna Fáil, a diverse range of independents, the Labour Party and the Green Party.
He said that when the Oireachtas returns, the bill will be submitted to the Bills Office.
- With reporting by Christina Finn in Washington DC