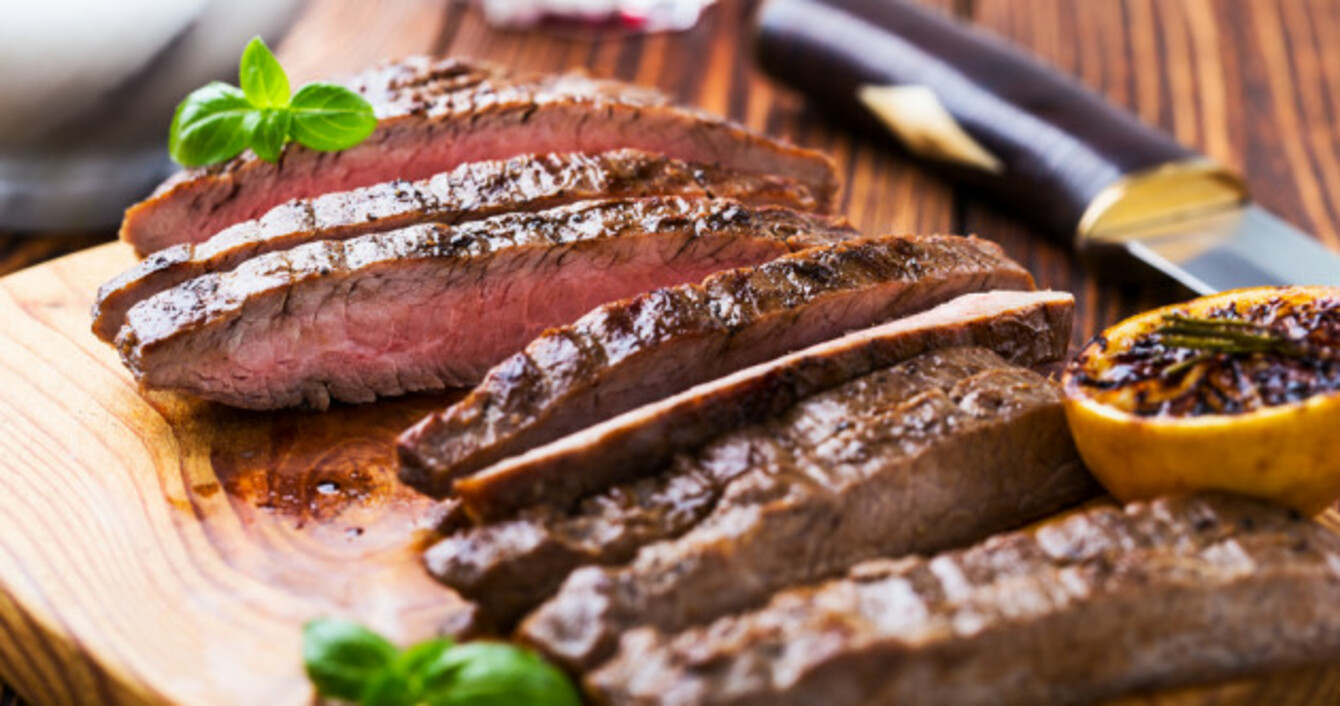 Image: Shutterstock/istetiana
Image: Shutterstock/istetiana
WHEN YOU THINK about steak, you tend to think about indulgence and decadence.
Most people would agree that steak is not something you eat every day; steak is for an occasion. In reality though, steak is simple.
But perfecting the art of cooking an incredible steak takes time, care – and a little bit of practice. Who better to ask about what it takes to cook the perfect steak that Dublin-based head chef James Doyle?
"Getting steak right is simple," says Doyle.
I serve up countless steaks every week and you get to know exactly what each cut cooks like, they're all slightly different to cook.
According to Doyle, there are two important elements to consider if you want to put your steak on the path to perfection: the quality of the ingredients and the method.
The unique flavour of Irish beef is attributed to its marbling (the amount of fat distributed throughout the cuts of meat that creates a marbled effect) and also to the grass feeding of Irish livestock.
As well as its great flavour, Doyle favours Irish beef as the traditional breeds found here tend to be smaller in stature, giving the desired smaller, thicker cuts of steak:
People think steaks have to be big but actually, you're better off going for a smaller, thicker cut of steak because that's where the best flavour is.
Many steakhouses use techniques like multi-day drying and cold rooms to ensure their steaks are as tender and tasty as possible. But, assuming you don't have your own cold room at home, you can still get great results by choosing the best quality of steak you can find.
Doyle says that once you've chosen the cut of steak you want to cook, there are four steps to nailing the cooking process – temperature, seasoning, time and rest.
"Before you even think about cooking your steak, take it out of the fridge and get it up to room temperature, this helps it to cook more evenly," he says.
The next step is seasoning.
It's all about the salt. You want to have a little bit of seasoning on every slice you cut off when you're eating your steak so you need to use a bit more salt than you think is necessary. It really enhances the flavour.
You can leave it at that, if you wish, or make like Doyle and use an oil rub. "I usually rub steaks with a mix of pomace oil, extra-virgin olive oil and herbs like oregano and rosemary which really enhances the flavour."
As for the cooking time, this will depend on the cut you have chosen. Fattier cuts like rib-eye aren't suitable to be cooked rare or blue as the fat doesn't have time to melt – but that high fat content makes them perfect for those who like a well-done meat.
"You can literally just seal it a sirloin or fillet quickly in the pan for a second and serve it rare, if you wish" says Doyle.
Ideally, depending on the thickness of the steak, you shouldn't be cooking your steak for more than two or three minutes either side for medium rare. The key thing is to have your pan very, very hot to seal in the flavour as soon as the meat touches the heat.
This technique of sealing in the flavour produces a scientific effect called the Maillard reaction (or the Browning Effect), where contact with heat turns the enzymes and proteins on the surface of the steak from unappetizing raw red meat into a succulent wonderfully browned steak.
Initially applying a high heat on the outside ensures more succulent meat on the inside. Restaurants will generally use heats of 300 degrees or more, but at home just whack up the heat as high as it will go.
Crucial to the whole process though is the final step: resting.
"Letting your steak sit for a while in a warm place, like the oven, for a few minutes after you've taken it off the grill is really crucial" says Doyle.
"This gives the meat the opportunity to relax and let out its juices. If you serve it straight off the pan, it'll still be very tight from the heat and you just don't get the same flavour. The thicker the steak and the more dense, the longer resting time it will take. So, rump would benefit from say 7 or 8 minutes rest, whereas for a thin-cut rib-eye, like a 10oz, around 5 minutes is good."
And the final expert tip? Don't stress out:
Cooking steak is quite simple,once you get a bit of practice, you won't go too wrong.
Planning a BBQ this summer? Here are James Doyle's tips for becoming king or queen of the grill:
1. Choose wisely: "A rib-eye is perfect for barbecuing, you get really good flavour from it. A 10oz is probably normal, usually about ¼ inch thick."
2. Turn up the heat: "Get your barbeque good and hot. Not so hot that the coal will burn the steak when you put it on but very hot."
3. Seasoning is key: "Sprinkle plenty of salt on both sides of your steak and brush both sides with some extra virgin olive oil."
4. Short cooking time: "For a steak like a rib-eye, by the time you've got a good even colour on both sides, it's almost ready. Allow around 2 minutes each side for rare and 3 minutes for medium-rare. If you do want a more well done cook, move the steak out to the edge of the barbecue, away from the flames, and leave it there for another minute or two."
5. Give it a rest: "Let your meat rest somewhere warm before serving. For a rib-eye, around 4 or 5 minutes is enough to really let the juices and flavours come out."
This article was updated on 18/06.
Trying out steak at home? You'll find a massive range of steaks, beef and other ingredients at your local Lidl store.