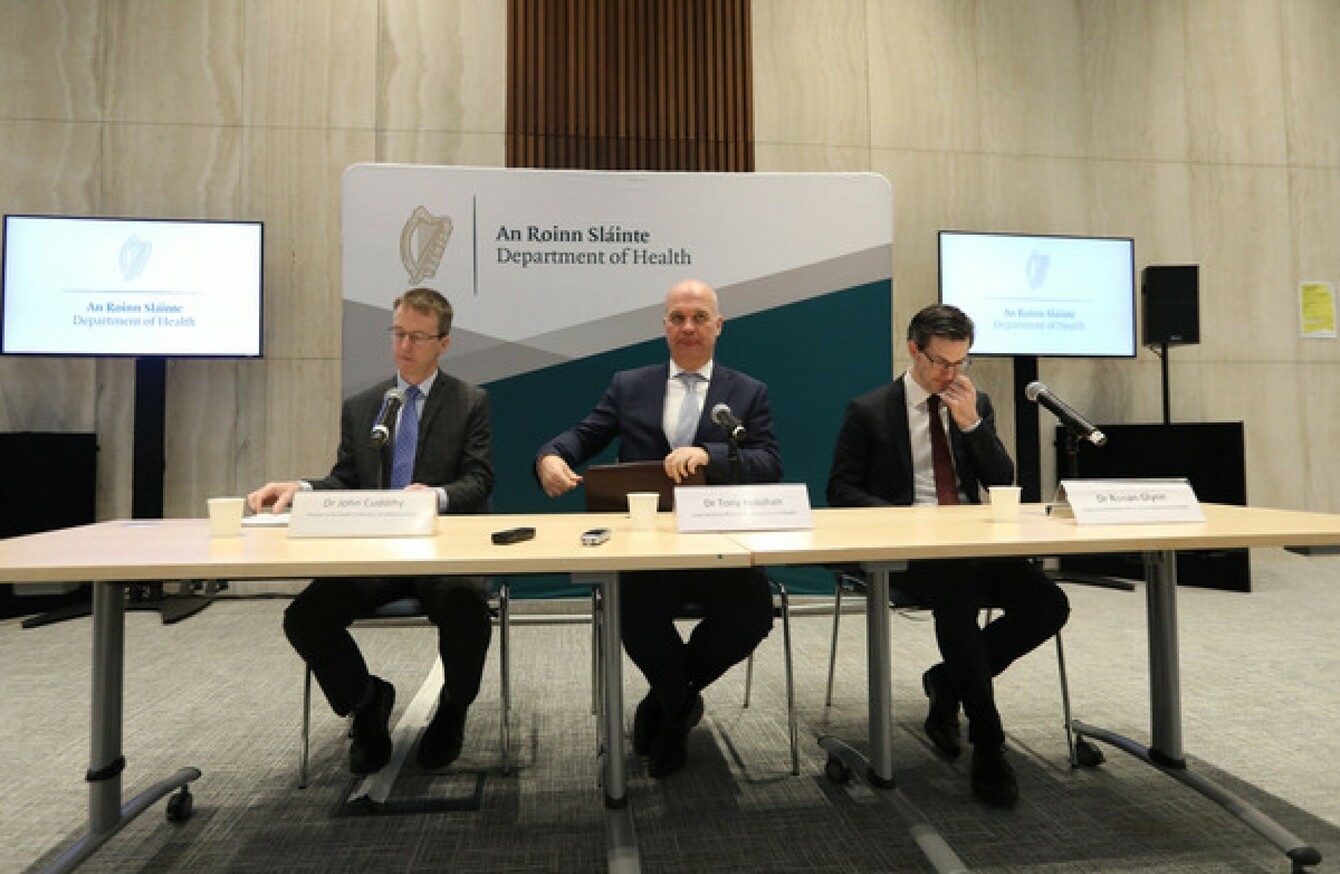 A Department of Health briefing in Dublin last night,
Image: Sasko Lazarov/RollingNews.ie
A Department of Health briefing in Dublin last night,
Image: Sasko Lazarov/RollingNews.ie
Updated Mar 4th 2020, 2:00 PM
RESTRICTING FLIGHTS ARRIVING from northern Italy "wouldn't be effective", according to Health Minister Simon Harris. 
Speaking on RTÉ's News at One, the health minister said suspending flights from the affected Italian areas would not work for "a variety reasons", stating that it would not prevent people from those areas arriving into Ireland through other member states. 
Harris noted that the issue is being "kept under constant review" on a daily and hourly basis. 
His comments come following new advice from new advice from the Department of Foreign Affairs (DFA) that non-essential travel to four Italian regions should now be avoided.
The advice was delivered last night as the second case of the Covid-19 coronavirus was confirmed in the Republic of Ireland in a woman who had returned from northern Italy. 
The advice against travelling refers to the Lombardy, Veneto, Piedmont and Emilia-Romagna regions in northern Italy. 
The move comes after an increase in the number of confirmed cases of Covid-19 in Italy and a number of new towns being put on lockdown. Italy has so far reported 79 deaths from 2,502 Covid-19 cases. 
Isolated towns in Lombardy include; Codogno, Castiglione d'Adda, Casalpusterlengo, Fombio, Maleo, Somaglia, Bertonico, Terranova dei Passerini, Castelgerundo and San Fiorano.
Vo' in Veneto has also been isolated as have Emilia-Romagna and Piedmont. 
The DFA said certain public services, tourist attractions, bars, restaurants and cultural events may also be curtailed in these regions depending on advice from local authorities in Italy.
It is also advising people currently in Italy to check the following websites for updates; Malpensa Airport in Milan, Bergamo Airport in Milan, Marco Polo Airport in Venice, Bologna Airport, Port of Genoa and Port of Venice. 
The DFA is also advising against non-essential travel to mainland China, Iran and the Daegu and Cheongdo areas of South Korea.
Sick pay legislation 
Harris was also asked about the emergency legislation on sick pay that Boris Johnson plans to enact in the UK.
Johnson told parliament today that if people are asked to self isolate, they may lose out financially. He announced that he plans to bring forward emergency legislation for the payment of statutory sick pay, so that it kicks in on the first day you are sick instead of the fourth day, which is currently the case.
"No body should be penalised for doing the right thing," said the UK prime minister.
When asked whether Ireland will follow suit, Harris said "we are looking at this as we speak".
The minister said the first meeting of the Cabinet sub-committee on Covid-19, which is chaired by the Taoiseach, will meet on Monday. He added that senior officials also met today.
He said statutory sick pay is in place, but said if there is a need to make amendments to support people, the government will look at how best to do that.
Earlier this week, Labour's Alan Kelly stated that he would introduce an emergency bill to the House tomorrow, when the Dáil returns for the second day since the general election. 
Mass gatherings 
Speaking about why the Italy versus Ireland Six Nations game was called off, but the restriction of flights from Italy has not been announced, Harris said suspending the rugby game was a specific decision made due to it involving a large number of people from the affected area congregating in confined space for a prolonged period of time. 
He said there is not the same risk with people travelling from areas of Italy who are "out and about" in open spaces, adding that there is no travel ban currently in the EU.
As it currently stands, the St Patrick's Day Festival is going ahead, said the minister. He said the situation is being monitored but that the advice today is that it should not be cancelled. 
Guidance on mass gatherings is due to be published today, which will help guide organisers when making a decision about future events. 
Following the announcement yesterday evening that a second Covid-19 case had been confirmed in Ireland, contact tracing got underway. 
If you are not contacted by the health authorities "you are not deemed to be at risk", said Harris. 
In the case that the authorities could not contact everyone suspected to have come in contact with the patient, a public health announcement would be made. 
He was keen to point out that this is not necessary at the moment. It has occurred previously during a case of the measles, he said. 
The measles patient travelled on a bus, and a public health announcement was issued for people who travelled on a certain bus at a certain time. 
"If we need to do it, it is a tool available to us," he said. 
Holidaymakers 
With concerns over travel to certain areas outlined by the DFA, The Irish Travel Agents Association (ITAA) is advising that Irish travellers and holidaymakers follow the advice of the authorities when travelling overseas.
With that in mind, some travellers may wish to cancel flights over the coming weeks or months.
In the instance where someone decides not to travel on a flight they have booked, no refund will be made available, usually, according to Dermott Jewell of Consumers' Association of Ireland 
However, with the advice issued by the DFA, Jewell said an argument could be made to an airline that a refund is warranted.
Once the Department of Foreign Affairs states you should not go to that area, "then that is sufficient reason to be able to say to an airline 'I'm not going because the Department has suggested that's the wrong thing to do'" and I have expectations now of a refund, he said.
Indeed
In the last week, a number of companies have asked workers to stay at home as a precaution.
Recruitment company Indeed, meanwhile, has asked its global workforce – including 1,000 staff in Dublin  – to work from home until further notice. 
The company told staff that although there have been no confirmed cases of Covid-19 among staff, its goal is "to minimise the risk to employees and help to lower the probability of the spread of the virus to you, your families and the communities where we operate."
The company has also halted all business travel and cancelled events planned for the coming weeks.
Indeed said it recognised that the precaution would be "inconvenient" for some but that it continues to act "out of an abundance of caution". 
What's the latest advice from the HSE? 
The HSE's main advice page on the coronavirus has been changed overnight to note the new case. 
In a section detailing the risk of catching the virus, the latest advice says:
The risk of catching coronavirus in Ireland is still low. This may change. However, most people may continue to go to work, school and other public places, as usual.
Anyone who knows they have been in close contact with a confirmed case in the last 14 days and has symptoms (cough, shortness of breath, fever) should:
Isolate themselves from other people – this means going into a different, well-ventilated room, with a phone
Phone their GP, or emergency department – if this is not possible, phone 112, or 999
In a medical emergency (if you have severe symptoms) phone 112 or 999
Close contact means either:
Face-to-face contact
Spending more than 15 minutes within 2 metres of an infected person
Living in the same house as an infected person
More details on how to protect yourself from Covid-19 are available on the HSE website. 
- With reporting by Hayley Halpin, Daragh Brophy and Cónal Thomas