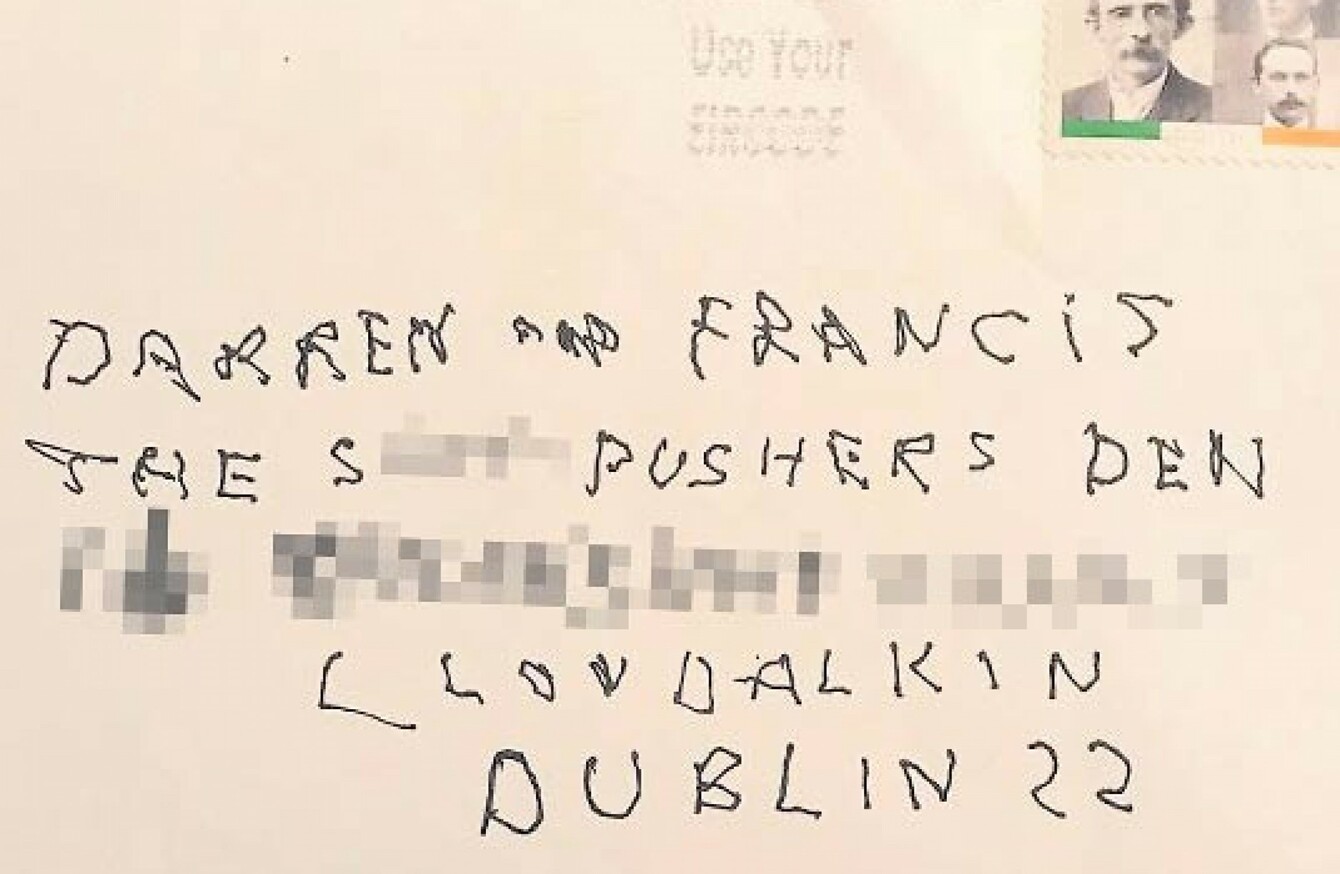 The envelope sent to Cllr Francis Timmons.
The envelope sent to Cllr Francis Timmons.
A SOUTH DUBLIN county councillor has had a homophobic letter and a photo of Pope Francis sent to his home.
Independent Clondalkin councillor Francis Timmons, who is gay and lives with his partner of almost two decades, was sent the envelope this week.
Speaking after the incident, he called for more action on hate crimes which target people specifically because of their race or sexual orientation.
The letter he received was addressed to the "shit pushers den".
Inside was a picture of Pope Benedict, a letter about World Family Day and a letter from Pope Francis.
Timmons said that the letter, coming so soon after last month's Pride festival, was "horrible".
"Myself and my partner are 18 years together and we have been warmly accepted as part of the community in Clondalkin. As an elected politician I have grown use to having to accepting certain backlashes but my partner is not in public life and was very distressed about this attack.
I respect the rights of any person to practice the religion of their choosing, but sending Catholic-based literature like this in a vile addressed envelope is not with keeping with any ethos of acceptance and tolerance.
Timmons said that whoever sent the letter should be "pitied".
"Whoever sent this is to be pitied more than anything… how sad and vile must that person's thoughts be to send such a horrible thing. I thought Ireland has moved on so much but sadly some people are still homophobes."
There have been a number of issues this year which have seen calls for further legislation on hate crimes.
In March, the European Network Against Racism Ireland (ENAR Ireland) released figures which showed a surge in the number of people reporting that they were victims of racist abuse and threats.
The report was made by Dr Lucy Michael of Ulster University from information on racist incidents submitted to the iReport.ie website. The data revealed the highest levels yet of incident reporting, up to 246 from 190 for the previous period with at least 155 of these being in the category of criminal offences.
Last year, the government said it would not oppose Fianna Fáil's Criminal Justice (Aggravation by Prejudice) Bill. If signed into law, it would seek to ensure that the option is open to gardaí and the Director of Public Prosecutions (DPP) to pursue a hate crime conviction.
It was criticised at the time for being 'lazy' and 'vague'. The bill is currently at committee stage of the legislative process.