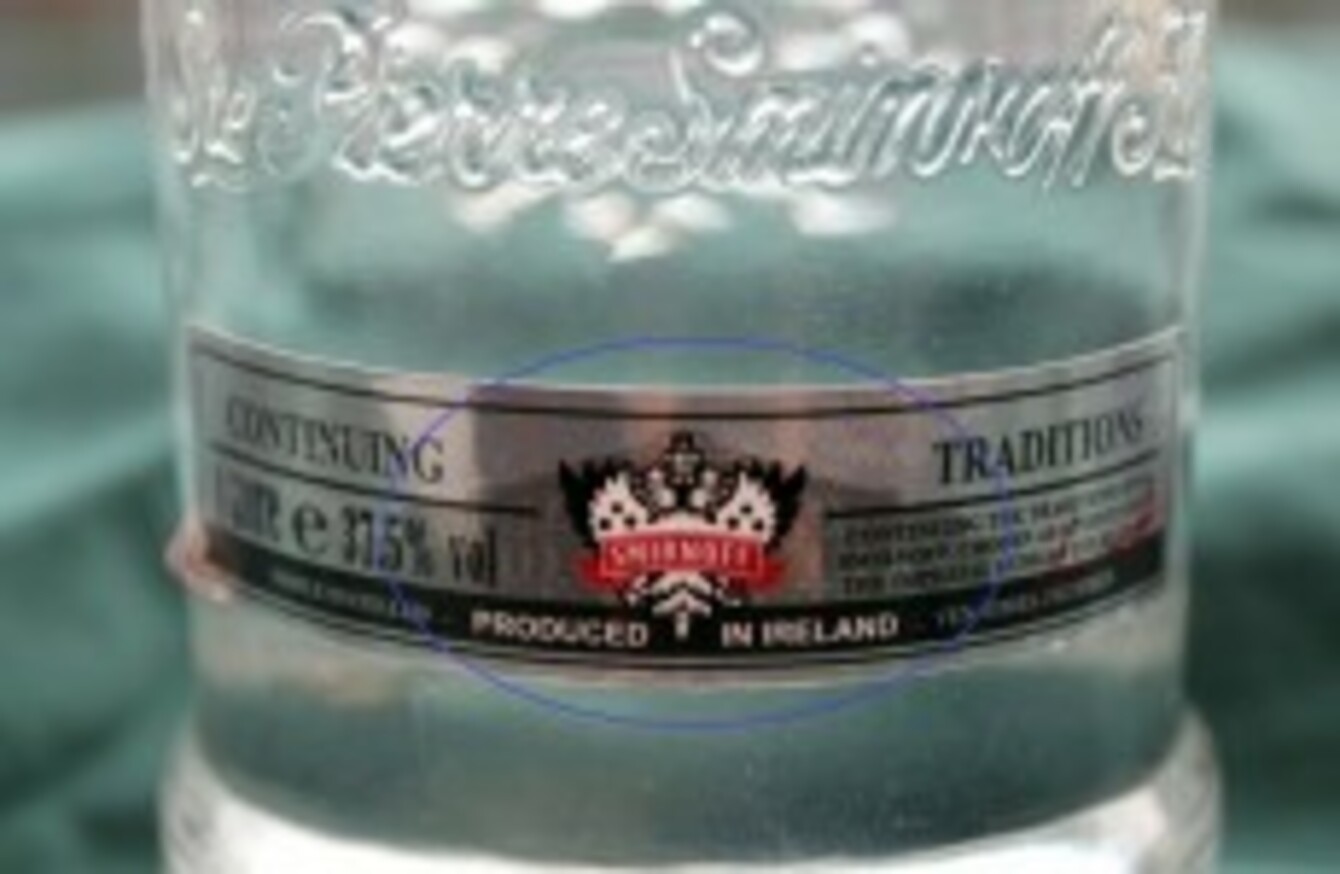 File photo of counterfeit vodka previously seized by the FSAI.
Image: FSAI
File photo of counterfeit vodka previously seized by the FSAI.
Image: FSAI
A SUCCESSFUL PROSECUTION was taken last month against a pub in Cavan over counterfeit vodka seized by the Food Safety Authority of Ireland (FSAI).
Hughie's Bar on Church Street in Kingscourt pleaded guilty after the counterfeit Smirnoff Red Label was discovered. The bar was fined €7,000 for four offences including selling below-strengths counterfeit vodka and misleading customers regarding packaging and labelling. Costs of €2,000 were also imposed.
"Incidents such as the sale of counterfeit vodka are an unacceptable breach of consumer trust and serve to undermine confidence in the food and drink industry as a whole. Businesses that sell or serve alcoholic drinks should be particularly careful that they only accept genuine drinks from reliable suppliers," commented FSAI Chief Executive Professor Alan Reilly.
Consumers have an absolute right to know what they are buying, and we will not hold back in pursuing any food business that attempts to mislead customers through the sale of counterfeit products.
Four other successful protections were taken by the HSE last month on:
The Smoke House (restaurant), 8 High Street, Killarney, Kerry
Ruposhi Indian Restaurant, 1 Whitworth Road, Drumcondra, Dublin 9
Quinns (public house), 42–44 Drumcondra Road Lower, Drumcondra, Dublin 9
Saffron Tandoori (take away), 1A Annamoe Road, Cabra, Dublin 7
Source: Street View
Nine food businesses were served with closure orders last month over food safety breaches discovered during inspections.
The inspections carried out by FSAI environmental health officers resulted in closure orders for:
Fei's Garden Restaurant, Hamlet Lane, Balbriggan, County Dublin
Afghan Grill and Kebab (restaurant), 39 Richmond Street South, Dublin 2
Kebabish Original (restaurant), 40 Richmond Street South, Dublin 2
Eddie Rockets (restaurant), Restaurant 1, Bridgewater Shopping Centre, North Quay, Arklow, Wicklow
Swan Bar (closed area: old bottle and ice store room), Chapel Square, Swanlinbar, Cavan
Premises occupied by Mr Mohammad Rafi (fruit & vegetable processing), Cloughans Crossroads, Ballynacor, Delvin, Westmeath
Spar (grocery) (closed area: delicatessen only), 17 Douglas Street, Cork
Adana Char Grill (restaurant), Cornmarket Row, Limerick
Long Thanh (take away), 14 North Strand Road, Dublin 3
It is usual for businesses to reopen within a day or sometimes even a few hours after these orders are served, once they can show they have fixed the problems identified. Six of these businesses have now reopened.
The FSAI said a prohibition order was also served on Gerry Joyce Meats, a small manufacturing plant in Moneen Industrial Estate, Castlebar, Mayo.
Reilly said it is unacceptable for any food business to potentially put their customers' health at risk.
"Every food business should be striving to meet the high food safety and hygiene standards that the majority of food businesses achieve on a daily basis. We're urging food businesses to make sure that they have a food safety management system in place and that it is consulted on a regular basis and updated, where necessary, to ensure non-compliance issues and breaches of food safety legislation don't occur."