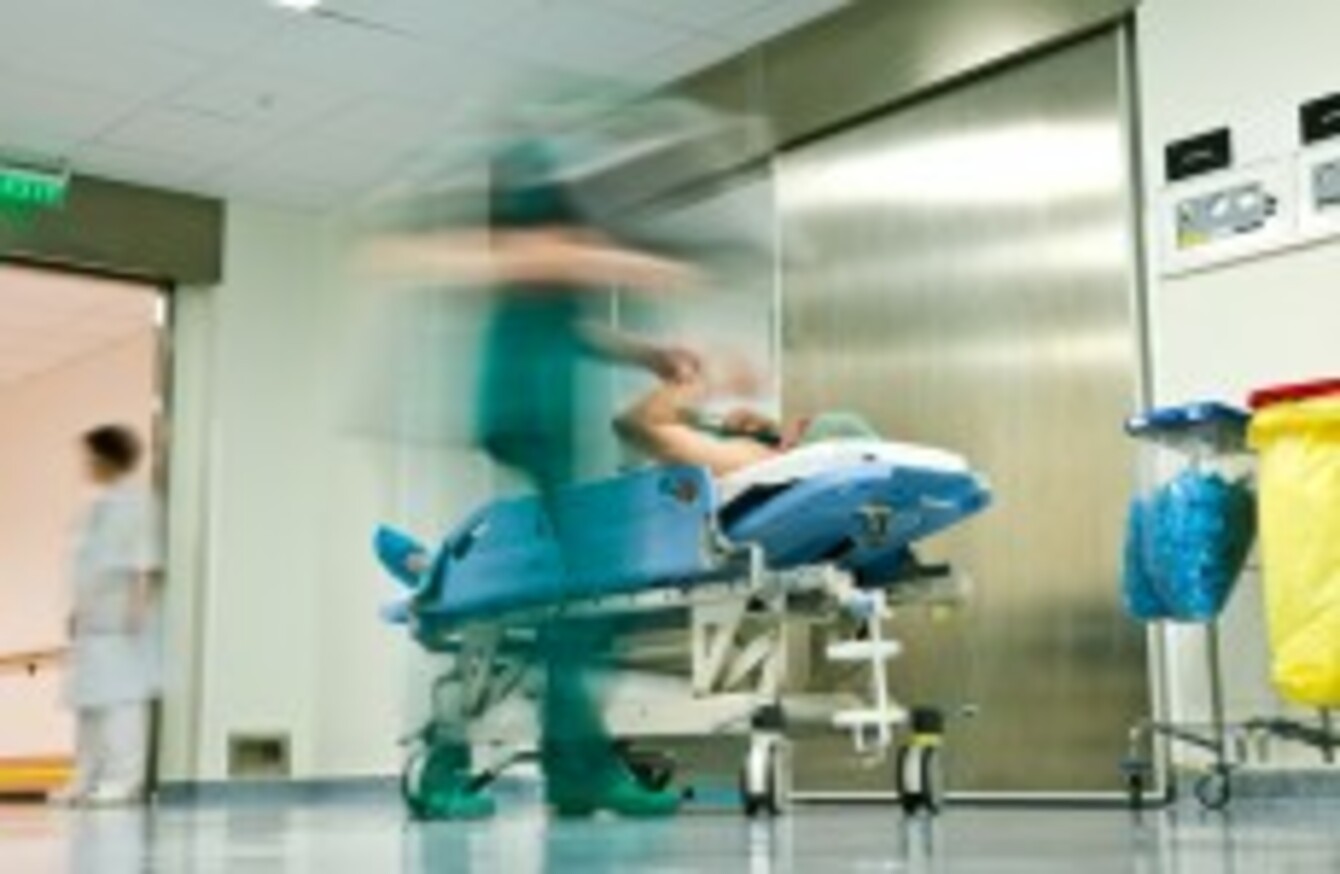 File photo
Image: Shutterstock/VILevi
File photo
Image: Shutterstock/VILevi
Updated 6.30pm
TALLAGHT HOSPITAL HAS announced an internal review into the circumstances surrounding how confidential information about a couple in their 90s was leaked to media.
Earlier, the hospital apologised "unreservedly" after it was revealed that the 91-year-old man with Parkinson's had spent 29 hours on a trolley.
In its most recent statement, the hospital said the patient had "expressed strong dissatisfaction" with how his personal, clinical details were revealed and "elements of his care misrepresented".
His wife, who was also treated at the hospital, was also on a trolley for as long as seven hours.
"The patient, who suffers from a chronic condition requiring regular attendance at the Hospital, has expressed his appreciation for the standard of treatment received throughout all his periods of care at Tallaght Hospital," it continued.
While the Hospital apologises that the patient in question was subject to an unacceptable delay prior to being transferred to a ward bed on Monday, the Hospital also has a strong duty of care to safeguard the interests of all its patients and will take necessary steps to ensure these are upheld at all times.
This afternoon, Taoiseach Enda Kenny told the Dáil that he "can't understand" how the elderly man spent 29 hours on a trolley at the hospital.
Consultant email 
Both statements follow the publication of an email from an emergency medicine consultant at Tallaght Hospital describing how the couple in their 90s spent hours on a trolley.
Dr James Gray said the man became sleep deprived because of the bright and noisy conditions he was subject to for more than a day, and described it as "torture".
Gray said in the letter to the hospital's CEO and Minister for Health Leo Varadkar that it was an example of how a "dysfunctional system disgracefully treats some of our senior citizen", allowing them to "fester" on a trolley.
Gray later told RTÉ's News at One that the husband was "clearly in pain" when he treated him.
Promised
"We were promised that this would never happen again," he said, referencing an earlier incident where a 101-year-old woman spent more than a day on a trolley.
The doctor said the man had "no dignity, no privacy" in the internal corridor where the trolley was placed, describing the conditions as dangerous.
He believes a "full capacity protocol" could be put in place, where patients are spread out across the institution – "I'm not saying it's safe, it's safer".
"The trolley situation is not improving, it's getting worse… staffing is still at crisis levels."
Speaking during a rowdy Leaders' Questions, the Taoiseach said:
"I agree with the consultant concerned, this is a shocking example of dysfunction in the system, you don't need to be a health professional to understand that you can't have a 91-year-old patient sitting on a trolley."
This is a case where I just can't understand how it has been allowed to happen. I would like to know who the person was who was responsible for that. Not to pass the buck but I would be very interested to hear what the hospital has to say on this matter
He said overcrowding remains a serious challenge, but that waiting lists have been reduced from 16 weeks to four.
The question was put to the Taoiseach by Fianna Fáil leader Micheál Martin, who said "it's only a matter of time before we see another death in our system due to hospital mismanagement".
Stephen McMahon, director of the Irish Patients Association, described the incident as "totally unacceptable".
He told The Anton Savage Show on Today FM that the man didn't receive a bed as he was undergoing telemetry, involving constant monitoring of his blood pressure.
This was dependent on the hospital's wifi system which was only available in certain areas.
"They are currently in the process of purchasing the various wifi kits to install around the hospital," McMahon told the programme.
He added that he expects "something in the region of 420 extra beds" will be available in the hospital system by the end of November.
McMahon also described it as "disturbing" that some experts have suggested that patients are dying as a result of overcrowding in Irish hospitals.
We must ensure that every patient gets their opportunity to safe care, and appropriate care, and timely care when they need it, and particularly our elderly deserve a little better.
#Open journalism No news is bad news Support The Journal

Your contributions will help us continue to deliver the stories that are important to you

Support us now
Crisis
In a statement this evening, doctors' representative group the IMO said there was a system-wide problem in the health system that requires a system-wide response.
President of the group Ray Walley said the roots of the problem lay not in emergency departments but in the lack of capacity in terms of bed and medical staff across the system, rolling theatre closures and severe overcrowding.
"This Government undermined our health services through draconian cuts and the consequences of those decisions are now coming to pass.
"We have increased demand, reduced services and insufficient numbers of staff.
"We are struggling to keep doctors in Ireland, there are over 200 vacant consultant posts many of which have been advertised with no applicants responding.
"Our young medical graduates are leaving Ireland and less than one quarter of them see themselves practising here and we are now seeing older GPs retiring or emigrating"
Tallaght
In its first statement today, Tallaght Hospital said:
"Tallaght Hospital cannot comment on individual patient cases due to patient confidentiality, however, we are aware of a delay in admitting elderly patients this week for which we unreservedly apologise."
"These delays are currently under review by management and while the delays are undesirable there were no critical or clinical incidents reported in the Emergency Department this week arising from delays in allocating ward beds."
The Hospital has a policy of prioritising the allocation of ward beds for elderly patients and is currently implementing a number of initiatives to improve patient flow processes through providing more inpatient beds funded under the HSE winter initiative, developing its Frail Elderly Initiative and completing the €5 million upgrade of the Emergency Department.
With reporting by Cianan Brennan, Sinéad O'Carroll and Daragh Brophy.