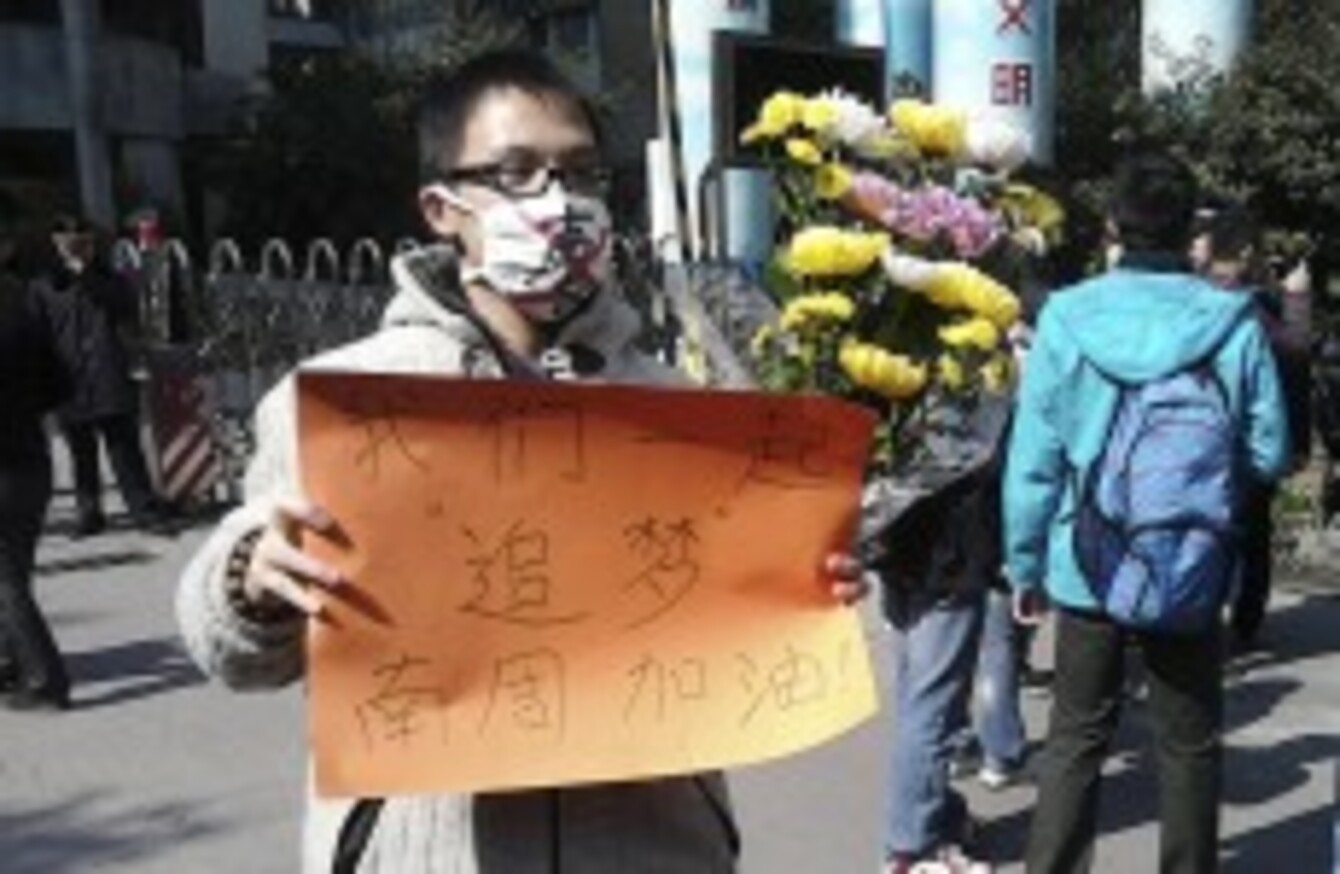 In this photo taken and provided by activist Wu Wei, a man wearing a mask with words "Silent" holds a banner reading: "Let's chase our dreams together, go Southern Weekly newspaper" during a protest
Image: AP Photo/Wu Wei
In this photo taken and provided by activist Wu Wei, a man wearing a mask with words "Silent" holds a banner reading: "Let's chase our dreams together, go Southern Weekly newspaper" during a protest
Image: AP Photo/Wu Wei
FREE-SPEECH PROTESTERS in masks squared off against flag-waving communist loyalists in a southern Chinese city today as a dispute over censorship at a newspaper spilled into the broader population, with authorities shutting microblog accounts of supporters of the paper.
What started out as a conflict between journalists at the Guangzhou-based Southern Weekly and a top censor over a New Year's editorial has rapidly become a focal point driving public calls for the authoritarian Communist Party government to loosen its grip on information.
Editorial
The dispute centers on how the editorial, originally calling for political reform, was transformed into a tribute praising the Communist Party. Scholars have signed open letters calling for the censor's dismissal, celebrities and other supporters of the journalists are speaking out for the paper on microblogs and hundreds of people gathered for a second day outside the publication's office bearing flowers and signs in support.
The paper's editorial committee was in negotiations with its top management, which is part of the provincial propaganda office, according to a Southern Weekly editor.
Propaganda officials want the newspaper to publish — as per normal — on Thursday but editors are negotiating over whether to do so, and the terms under which they would be willing, for example, if they could include a letter to readers explaining the incident, the editor said.
The committee is also pushing a larger appeal to abolish censorship of the newspaper's content prior to publication, the editor said. The suggestion is that Communist Party leaders could provide direction but not interfere with reporting and editing, and should refrain from taking issue with content until after publication, the editor said.
Free-speech protesters started gathering outside Southern Weekly's offices again this morning, holding signs calling for media freedom and other democratic reforms but were soon confronted by party loyalists waving Chinese flags.
Both sides berated each other — at times resorting to hurling abuse and calling each other "traitors and running dogs," and minor scuffling ensued that was broken up by police.
Security guards stand near protest banners and flowers laid outside the headquarters of Southern Weekly newspaper in Guangzhou, Guangdong province. (AP Photo)
Microblogs
The issue also galvanized a wide variety of people on China's popular Twitter-like microblogs, with many journalists, scholars, entrepreneurs and celebrities posting messages of support for the newspaper's stance.
The newspaper's name in Chinese translates literally to "Southern Weekend," and in a sign of the authorities' sensitivity about the dispute, searches on microblogs were blocked for that name and even for the otherwise mundane individual Chinese phrases "southern" and "weekend."
At least 15 journalists at the newspaper have not been able to post messages on Sina Weibo, a popular microblog site that has served as a key platform for dissenting voices and for spreading information on sensitive incidents.
Wu Wei, a Guangzhou-based based writer who posted photos from Monday's protest said his Sina Weibo account was deleted Monday afternoon. Two guards dispatched by the local police were posted to his residence to prevent him from going out, said Wu, better known by his pen name, Ye Du.
Others targeted by the online police included a prominent real estate magnate and a couple of well-known rights lawyers.
Political expression in the public sphere is often viewed as risky in China, where the authoritarian government frequently harasses and even jails dissidents for pro-democracy calls.