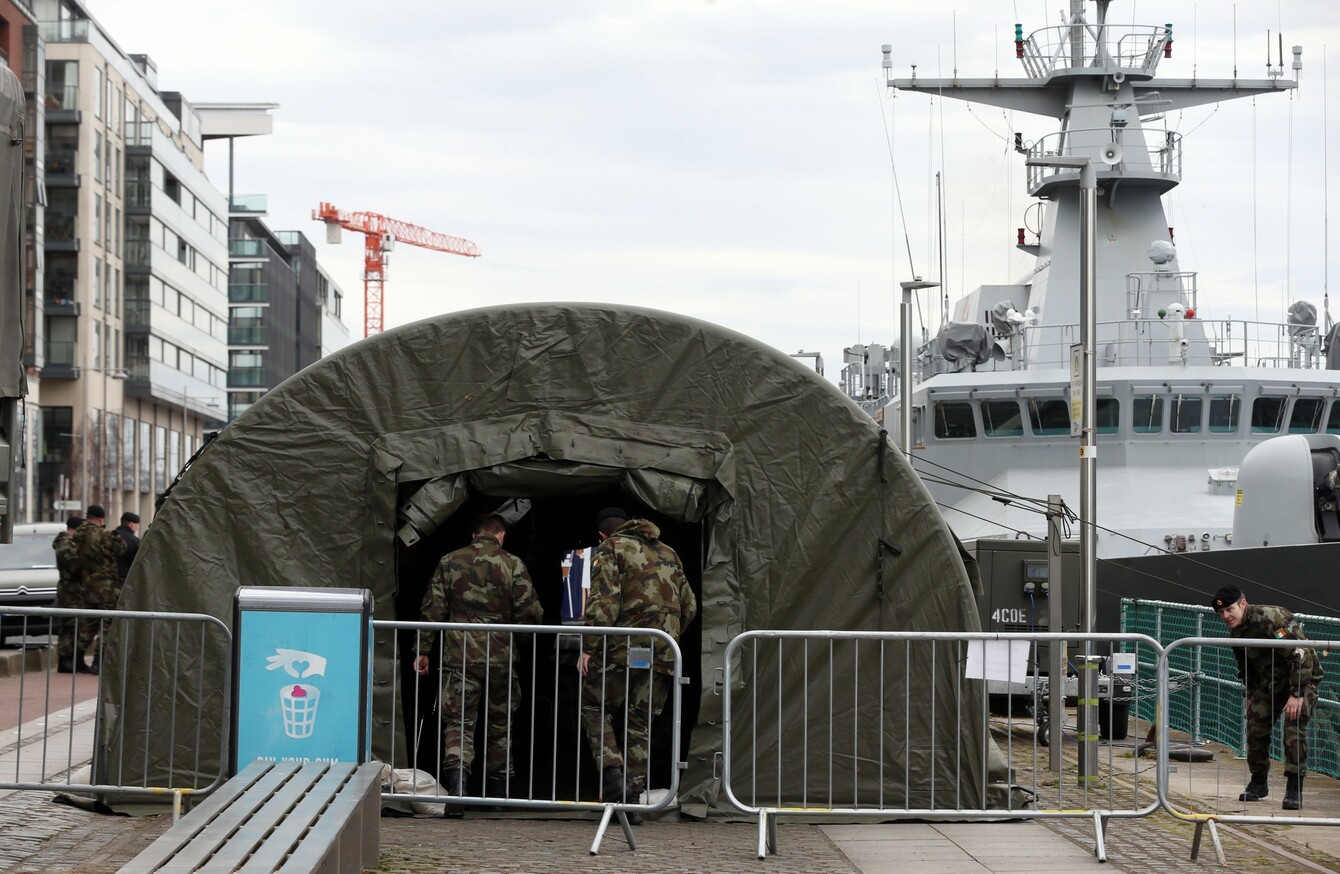 Members of the Defence Forces setting up a Covid-19 test centre at Sir John Rogerson's Quay, Dublin 2, yesterday.
Image: Sam Boal/RollingNews.ie
Members of the Defence Forces setting up a Covid-19 test centre at Sir John Rogerson's Quay, Dublin 2, yesterday.
Image: Sam Boal/RollingNews.ie
Updated Mar 22nd 2020, 12:54 PM
ABOUT 40,000 PEOPLE in Ireland are waiting to have a Covid-19 test, the HSE has said.
At a press briefing in Dublin this morning, HSE officials said the wait time is typically four to five days. However, some people have been waiting for over seven days.
People were again told to self-isolate while they wait for their test.
The HSE said, as more centres open and testing increases, there will be more confirmed cases. It's essential to confirm where the cases are so that contact-tracing can be done, officials said.
As of today, there will be 35 testing centres nationwide, including new centres on Sir John Rogerson Quay in Dublin city and Páirc Uí Chaoimh in Cork. This will increase to 41 centres by Tuesday and additional centres are being planned.
From Monday to Friday, over 10,000 people were tested and this figure will increase in the coming days as testing is ramped up to about 6,000 tests per day.
Dr Sarah Doyle, Specialist in Public Health Medicine with HSE, said she understands that people are concerned due to the delay in getting a test.
"I completely understand that people are concerned and they're worried," Doyle said. "If you have symptoms, you need to self-isolate."
Full details on how to self-isolate can be read here.
Click here to play video.
"People are at home and they're waiting for tests and they're concerned. If you have symptoms, you need to self-isolate," Doyle said, adding that other people in the same household need to restrict their movements.
She said even a person's symptoms are mild, they still need to self-isolate while they wait for a test, saying "at worst, it may turn out to be an inconvenience".
If a person's symptoms worsen, they should phone their GP, she added. The most common symptoms include a cough, shortness of breath, breathing difficulties and fever or chills.
Anne O'Connor, COO of the HSE, asked people to be patient, saying this is "an extraordinary time" and that health officials are doing everything they can to meet the "logistical challenges".
She said the HSE will try to link people who don't drive or can't get a lift to a drive-through testing centre with the National Ambulance Service to get a test done.
Extra equipment and beds
CEO Paul Reid said the HSE is in advanced negotiations internationally, mainly with China, to secure 100,000 more kits per week in the future as well as extra ventilators.
The HSE is also working to double the bed capacity in Irish hospitals, another 10,000 beds, as the country deals with the coronavirus pandemic. Reid said this "will involve putting in field hospitals".
There are currently 2,243 vacant beds in hospitals around the country, something described as "unprecedented" to prepare for the upcoming demand. This includes 173 vacant ICU beds.
As of 8pm yesterday, 177 people with Covid-19 were in Irish hospitals including 29 people in ICU.
Overall, there have been 785 confirmed cases in the Republic of Ireland and three deaths.
Reid said the HSE typically spends about €15 million per year on personal protective equipment (PPE) for staff. Since January, it has spent €60 million on PPE including a €20 million order on items such as 11 million masks, one million goggles, and 400,000 gowns and suits.
A further €175 million will be spent on PPE in the coming weeks, he said, brining the total spend so far this year to almost €240 million.
Reid said the pandemic will put the Irish health system will under stress "like we've never seen it before", saying the upcoming surge will put the demand on services every winter "in context".
He said he wanted to assure the public the HSE is "putting plans in place" and "working around the clock to secure medical equipment and supplies".
More than 50,000 people have contacted the HSE as part of its recruitment drive.
Reid said about 1,500 nurses who are not currently working in the Irish health service have contacted the HSE, as have 200 doctors not working here and hundreds of ambulance personnel.
He said the immediate focus for recruitment is nurses and doctors and that the interview process has begun.
'Reckless' minority
Reid said the vast majority of people are obeying the guidelines set down by the HSE in terms of social distancing and restricted movements. He said it is "unfair" to solely blame young people for not adhering to the rules.
"We really need to call out all the public, the minority, who are reckless, to do the right thing."
He said people can save lives and decrease the demand on hospitals if they follow HSE guidelines about hand washing, social distancing and isolation as required.
Doyle said it's okay to go outside in twos and threes once physical distancing is observed, at least two metres of space between people is recommended. She said "solidarity is very important" and said "physical distancing" is perhaps a better term than "social distancing".
Reid said he is "absolutely not" satisfied with the slight decrease in the daily number of cases in recent days, saying "we are at the start of the beginning of this process". He said he will "take no comfort just now" but wanted to "assure the public we're making every effort" to deal with the pandemic.
One of the new centres opening today is on the quays in Dublin city.
As personnel from the Defence Forces set up the testing centre yesterday, incorrect messages about a lockdown again began to circulate on WhatsApp and social media. We've debunked that claim here.
A number of tents were erected along Sir John Rogerson Quay in Dublin city, close to where the LÉ Samuel Beckett is berthed. The naval ship is being used to provide electricity for the testing centres.