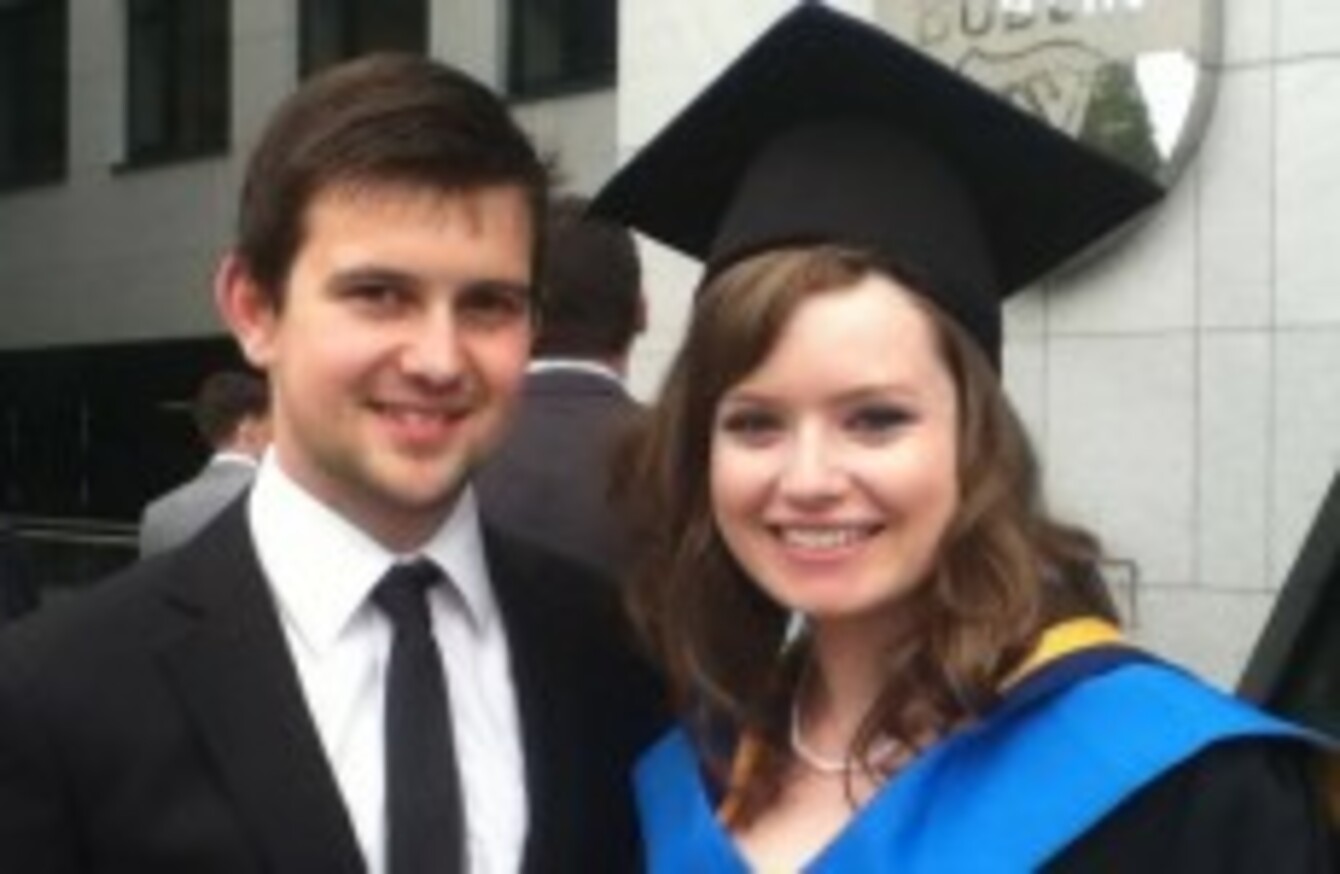 Alison Kelly with her boyfriend at her graduation last September.
Alison Kelly with her boyfriend at her graduation last September.
BOWEL DISEASES ARE not generally thought of as a popular topic of conversation, but it's a chat we shouldn't shy away from, says Alison Kelly, a Limerick woman who has been living with Crohn's Disease for the last nine years.
"I was 14 when I was first diagnosed."
"I remember getting the first symptoms and not knowing what was wrong with me. I'll never forget the day. I was really worried as I was going to a friend's birthday party. I had diarrhea and it just wouldn't stop."
The following week, Alison had to go in to hospital to get a colonoscopy and endoscopy. It was then that she got her diagnosis.
Taboo to talk toilet habits 
"Every teenager just wants to be normal, so it was very tough," she explained.
"There is still such a taboo about talking about it. No one wants to talk about their bowel movements or habits, but at the end of the day, some people are suffering in silence, as they are too embarrassed to speak out about what they are going through. Some people won't even go to their own doctor."
Alison explains that social events can be a huge cause of anxiety for sufferers of Crohn's disease.
"I used to get really worked up about going out. Why? It translates in to worry about where you are going, where is the nearest toilet, and when you do get to use the toilet there is all sorts of things you get embarrassed about then."
Alison explains that everyone with a bowel disease suffers from different symptoms, which can be a problem when trying to find the best medications.
Medications 
"Lots of the medications can have side effects, which isn't easy. I was on one medication for eight years, but I later got a blood test and found out that permanent damage has been caused to my kidneys. It's not easy to have a disease of this kind and then be told that the medication caused more damage to you when you are so young," she said.
"Depression and anxiety are also linked to these conditions, which is not surprising," she said.
"It can be a very isolating disease," she explained, adding that it causes a lot of people to avoid normal social events with friends and family.
"I don't drink myself, but that can be an issue for a lot of people. I am going to a hen party next week and it's something I'll have to say. I am lucky that a lot of foods I can still have, but others can have it a lot worse."
"It really is a case of trial and error with foods, and you'll know pretty much straight away what foods don't agree with you!"
She also said it is a difficult condition for others to understand.
An invisible disease 
"It's an invisible disease and a lot of time, family and friends can have no idea what it is like to live with. People are also eager to give you advice about what you should and should not eat, which can be frustrating."
Alison said living with Crohn's Disease can leave some people with a  lot of fear and anxiety, but urged people to speak more openly about it.
"It's not really a topic people want to speak about, it's hardly the most approachable conversation to have with friends, but if people think they could have it, it's important they don't suffer alone."
"I am currently studying for a masters in Scotland, so you see, you don't have to let it hold you back in life."
Around 20,000 people  in Ireland suffer from colitis and Crohn's Disease. The illnesses can cause inflammation anywhere in the digestive tract, causing ulcerations.
Symptoms, which vary widely depending on the location(s) of disease along the digestive tract, may include:
Abdominal pain
Cramping
Diarrhoea
Nausea and vomiting
Reduced appetite
Weight loss
Today is Inflammatory Bowel Disease (IBD) Day. To find out more information visit the The Irish Society for Colitis and Crohn's Disease (ISCC).