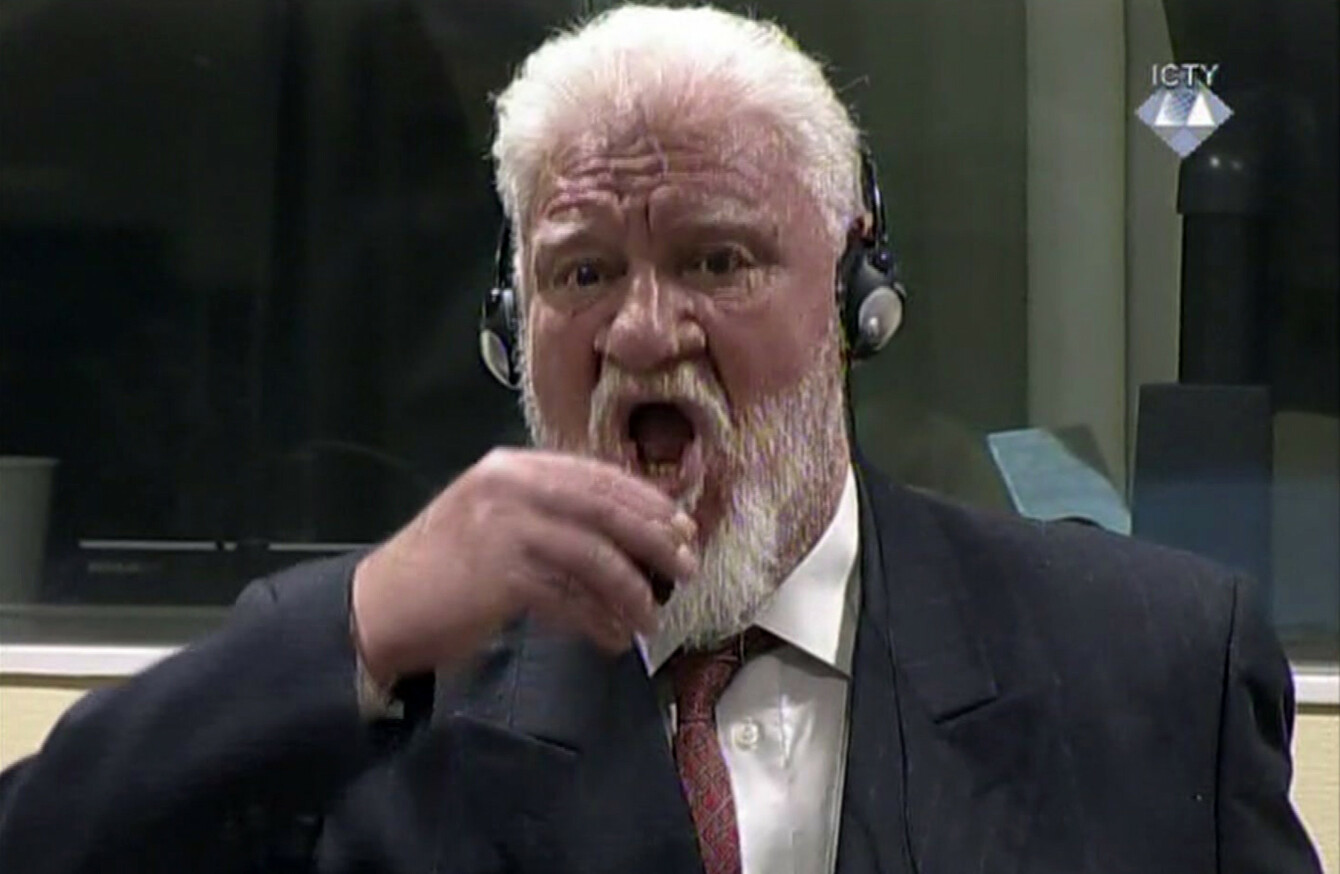 Image: AP/PA Images
Image: AP/PA Images
BOSNIAN CROAT WAR criminal Slobodan Praljak likely died from heart failure after swallowing potassium cyanide, Dutch prosecutors said yesterday, two days after his dramatic courtroom suicide in front of UN judges.
"The preliminary results of the toxicological test showed that Mister Praljak had a concentration of potassium cyanide in his blood," the Dutch prosecution said in a statement.
"This has resulted in a failure of the heart, which is pointed out as the suspected cause of death."
The preliminary results were released after an autopsy was carried out on the body of the 72-year-old Bosnian Croat commander, whose shocking final act was broadcast live around the world.
On Wednesday, in a last show of defiance against the International Criminal Tribunal for the former Yugoslavia (ICTY), Praljak swallowed the poison before UN judges, just moments after they upheld his 20-year jail term for war crimes.
He remains a hero to many Croats despite his conviction for crimes during Bosnia's 1990s conflict.
Praljak worked in film as well as theatre before joining the military, and yesterdayCroatia's state broadcaster aired one of his movies in a prime evening slot. It announced the broadcast on its website with the title "In memoriam — Slobodan Praljak".
The Dutch prosecution service said "Praljak passed away in Westeinde hospital in The Hague after consuming a fluid substance in the courtroom".
Two Croatian experts were also present during yesterday's autopsy carried out at the Netherlands Forensics Institute in The Hague.
Contacted by AFP, prosecutor Marilyn Fikenscher confirmed the autopsy was over, but said "we are still awaiting the final results."
She could not confirm whether his body remained the forensics unit, or what arrangements may be being made to release it to Praljak's family.
Lingering questions
It remains a mystery how he managed to get the poison held in a small brown bottle past the tribunal's tight security.
"Was the poison already in the prison, or in the courtroom? They need answers to all these questions, because obviously it raises suspicion about possible 'complicity' in quote marks by prison staff," said international lawyer Celine Bardet, an expert in war crimes issues.
For Dutch international lawyer Goran Sluiter from the University of Amsterdam there are three scenarios: either Praljak obtained the toxic substance in the UN detention centre where he has been held since 2004, on the way to the court building or inside the courtroom itself.
Former Serbian president Slobodan Milosevic died in his cell during his trial at the ICTY in 2006. Doctors concluded that he had died of natural causes, and found no other substances in his body.
But in the past Milosevic was known to have "self-medicated as evidenced by the finding on occasions of non-prescribed medications in his privileged office and his cell," the official ICTY report into his death concluded.
If Praljak "got hold of the bottle inside the courtroom then that reduces the circle of people who could have helped him. So you are thinking about the lawyers," Sluiter said.
Prison contraband
Diana Goff, law expert and researcher with the Clingendael Institute think-tank, highlighted that "contraband is very easy to get in and out of prisons generally, so it's not just an ITCY issue".
"There's many people that it could be. They can have visits from religious officials, they can have doctors, they can have friends, they can have conjugal visits, their family can come," she told AFP.
Praljak's lawyer Nika Pinter has already said she had no idea what her client was planning.
"Nobody killed him, it was suicide. I am sad but I understand and respect what he did," she told Croatia's HINA news agency Thursday.
"I never thought he could do such a thing, but I understand because he is a man of honour who couldn't live with a conviction for war crimes and being led out of the courtroom in handcuffs."