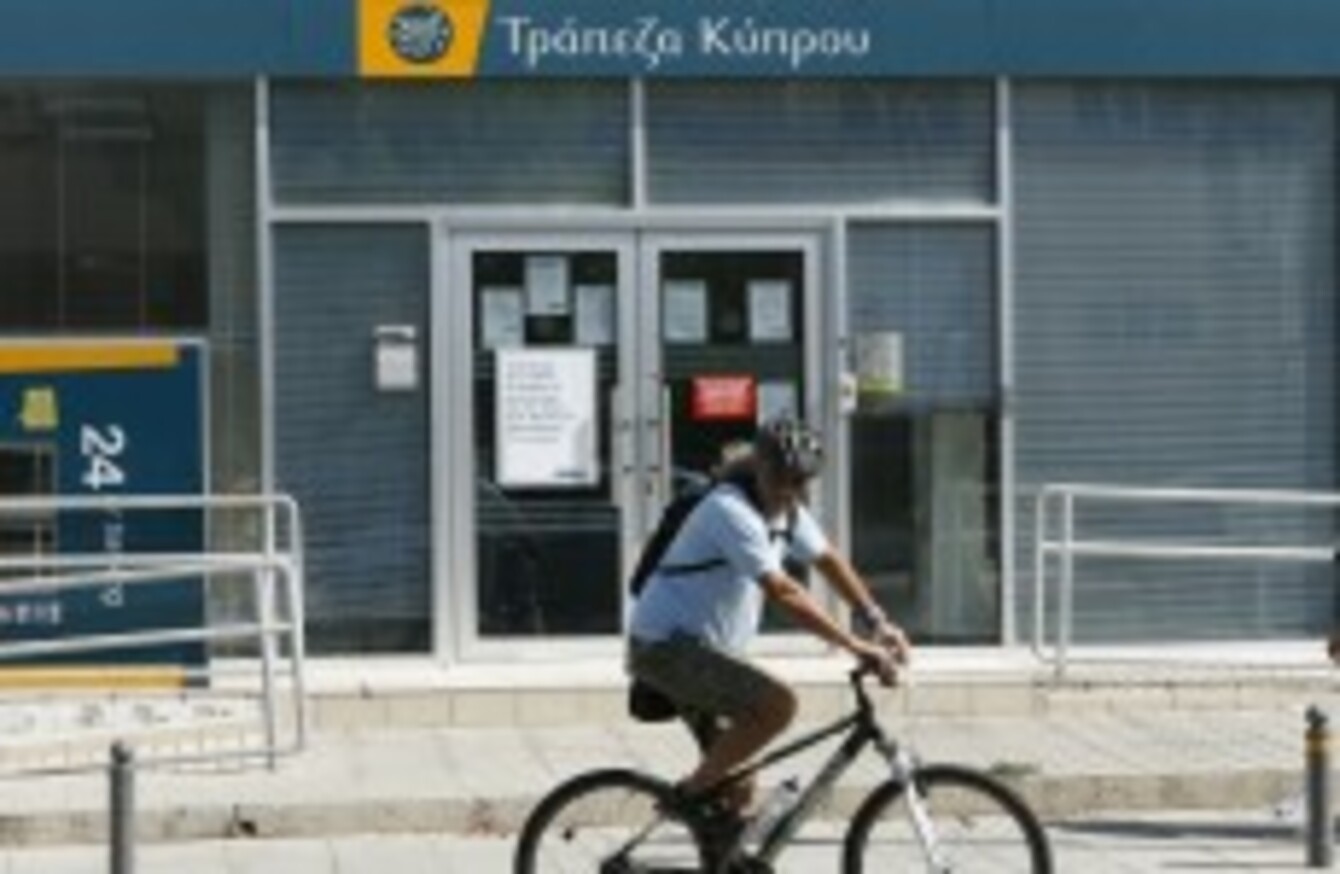 A man passes with a bicycle outside from a branch of Bank of Cyprus in Nicosia
Image: AP Photo/Philippos Christou
A man passes with a bicycle outside from a branch of Bank of Cyprus in Nicosia
Image: AP Photo/Philippos Christou
CYPRUS HAS ABOLISHED restrictions on cash withdrawals imposed a year ago to avoid a run on the banks during bailout negotiations in 2013.
Moving towards lifting the eurozone's only capital controls, Finance Minister Haris Georgiades issued a decree abolishing the €300 daily ceiling on cash withdrawals from banks.
With "the overall stabilisation and restoration of confidence in the banking system, it is feasible to ease restrictions further," he said in the decree.
Capital controls
The daily withdrawal limit was one of the key restrictions under the capital controls regime.
Cypriots are still not allowed to cash cheques or take more than 3,000 euros with them when they travel abroad.
The decree also increased the current limits for the transfer of money within Cyprus, regardless of the purpose.
New accounts
Under certain conditions, Cypriots are also allowed to open new bank accounts if they are not an existing customer of a credit institution and they open a fixed deposit account exceeding 5,000 euros.
Cyprus has passed three reviews from the troika of international lenders and received bailout cash to restructure its near bankrupt banking system.
The IMF announced Thursday it was disbursing another tranche of a one-billion-euro extended fund facility following the third review.
"The completion of this review enables the disbursement of SDR (Special Drawing Rights) €83.3 million euros," bringing total disbursements under the arrangement to about 333.2 million euros, it said.
Bailout
Nicosia says it could abolish all controls by the end of 2014 if sufficient progress is made in adopting its bailout programme and investor confidence is fully restored.
#Open journalism No news is bad news Support The Journal

Your contributions will help us continue to deliver the stories that are important to you

Support us now
Cyprus last year agreed a 10-billion-euro rescue package with the European Commission, European Central Bank and International Monetary Fund to bail out its troubled economy and bloated banking system.
The deal included a restructuring of the banks, with the island's second-largest lender, Laiki, wound up and its good assets folded in to the largest lender, Bank of Cyprus (BoC).
"Bail-ins"
Deposits above 100,000 euros in both banks were subjected to so-called "bail-ins".
Those amounts from Laiki were converted into BoC shares, and 47.5 percent of deposits already held in BoC were also converted.
Fears of a bank run in March 2013 forced the government to close all the island's banks for nearly two weeks and impose the draconian controls when they reopened.