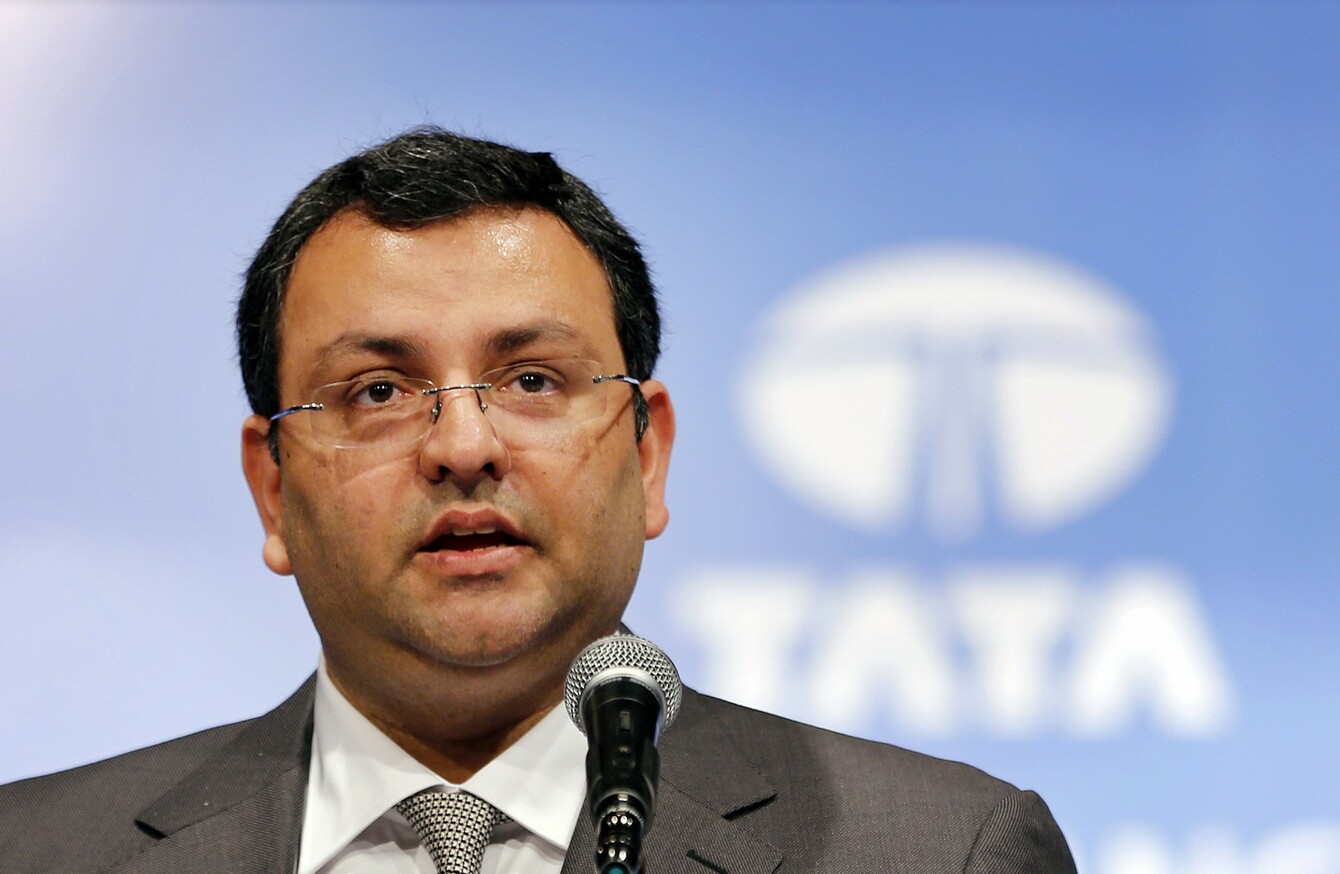 Image: Rajanish Kakade/Press Association Images
Image: Rajanish Kakade/Press Association Images
IT MAY COME as a surprise to some, but Ireland's richest citizen isn't media magnate Denis O'Brien. That honour instead goes to Pallonji Shapoorji Mistry, one of the biggest shareholders of Tata Group.
The Mistry family has a stake of around 18% in Tata, a gigantic Indian conglomerate, and Pallonji's holding is estimated to be worth around $14 billion.
Pallonji's son, Cyrus, was the CEO of the company until recently. However, he was suddenly fired towards the end of last year and has been locked in a war of words with Tata ever since.
Earlier this week, Cyrus Mistry filed a contempt petition against his former employer.
Here's a rundown of how the son of Ireland's richest citizen came to be toppled from the summit of one of the world's largest companies.
What is Tata?
Tata is a massive company based in Mumbai, India, with interests in everything from steel to energy, communications and the automotive industry.
Tata has over 100 operating companies, offshoots in more than 100 countries around the globe, total revenues of more than €100 billion and in excess of half a million employees worldwide. Some of its subsidiaries are extremely well-known, such as Jaguar cars and Tetley Tea.
The Irish connection
Indian born and raised, Pallonji qualified for Irish citizenship due to the fact that his wife, Patsy Perin Dubash, was born in Dublin in 1939. Mistry took up Irish citizenship in 2003.
Due to the fact that his birth country forbids dual citizenship, Mistry forfeited his Indian passport for an Irish one with the change.
His two sons, Shapoor and Cyrus, also have Irish citizenship by virtue of being sons to an Irish mother.
Mistry's father was an original investor in Tata Sons some eight decades ago, and the family are second in prominence at the group to everyone except the Tata family itself.
Cyrus Mistry became the chairman of Tata in 2012, the first person from outside the founding family to take the position in the company's 148-year history, in a move that made him one of the world's most powerful Irish business figures.
What happened?
Ratan Tata led the company for more than 20 years before stepping down in 2012 to make way for Mistry. Four years after the move, Tata came out of retirement to wrest back control of the company.
Ratan Tata still wielded significant influence as chairman of the Tata Trusts, charities that hold about 66% of the shares of Tata Sons, the conglomerate's holding company, and the firm said in October that it was reinstating the former boss.
The decision sent shockwaves through Indian business circles. Shares in 30 of the listed companies that made up the Tata Group had risen by 56% since Mistry took over, outperforming the market, and it had been assumed that the newcomer would have a long career at the helm of the conglomerate.
But it soon became abundantly clear that a rift had developed between Mistry and Ratan Tata. In October, the Financial Times reported that Mistry told Tata Sons directors in an email that five of the conglomerate's major businesses faced major asset writedowns.
He condemned a phase of debt-fuelled expansion that the company had gone through under Ratan Tata, and claimed that his predecessor had interfered with his running of the company.
In November, Tata Sons released a lengthy statement on the removal of Mistry in which it said that dividends received from its listed companies fell from 2012 to 2015 while staff expenses rose.
It added the group structure of Tata "seem to have been consciously dismantled so that now the operating companies are drifting farther away from the promoter company" and claimed that he had no long-term overarching strategy for the group.
The Financial Times reported Mistry's critics as claiming that he had become dangerously reliant on a single unit within the conglomerate, Tata Consultancy Services, the largest of India's successful IT services groups to provide the bulk of the company's earnings.
#Open journalism No news is bad news Support The Journal

Your contributions will help us continue to deliver the stories that are important to you

Support us now
What's the latest?
Since then, Tata has tried to get rid of Mistry, but the former company boss isn't going quietly.
Although he was removed as its chairman, Mistry still remains a director of the crucial Tata Sons company. Tata Sons has called an extraordinary general meeting for early February to remove Mistry from its board.
However, Reuters reported that Mistry is contesting his removal with India's corporate governance body, the National Company Law Tribunal (NCLT).
He claims that Tata Sons board members breached an NCLT order asking both sides not to take any action until a preliminary ruling in February.
Reuters said he is seeking the imprisonment, for a term which may extend to six months, of Ratan Tata and the directors of Tata Sons for contempt of court.
According to the news report, Tata has denied that it is in contempt of the tribunal order and said it will give its response at the tribunal.
Meanwhile, the Financial Times reported in December that Mistry wrote to company investors to plead his case directly and argued that the group needs governance reform.
He said it is crucial that Tata's companies "have a defined, transparent governance structure".
Earlier this week, Natarajan Chandrasekaran, the CEO of Tata Consultancy Services, was appointed as the chairman of Tata Sons, replacing Mistry. This story looks like it's set to rumble on for some time yet.
Written by Paul O'Donoghue and posted on Fora.ie