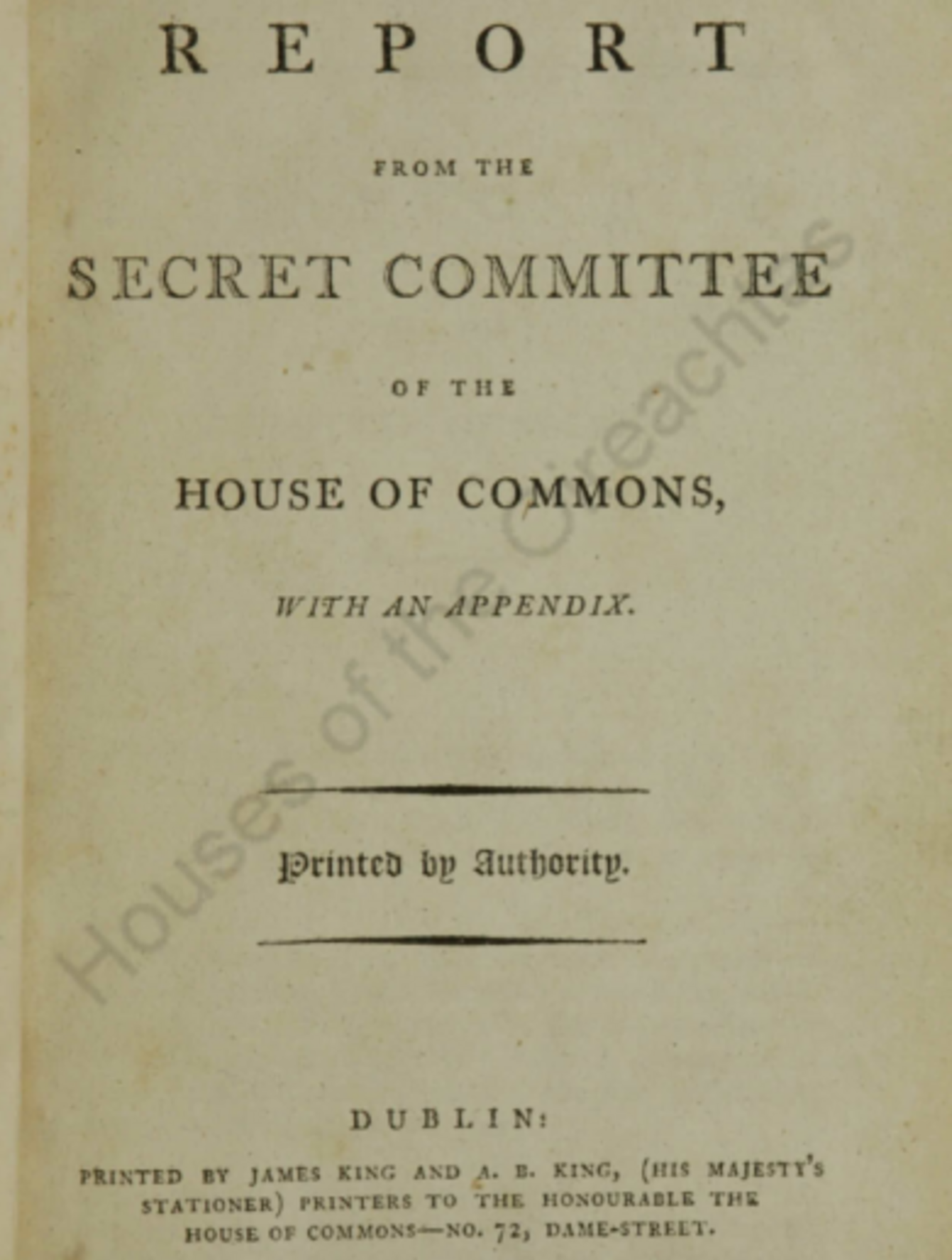 A 1798 report from a House of Commons Secret Committee on the 1798 rebellion.
A 1798 report from a House of Commons Secret Committee on the 1798 rebellion.
WANT TO READ about the Emergency Powers relating to Sweets and Chocolates introduced by the Irish government in 1943?
Maybe even look at bizarre death mask of someone called "Jemmy O'Brien the informer", executed for murder in 1800?
Or just sit back and enjoy a 2005 report on a visit by the Joint Committe on Agriculture and Food to a donkey sanctuary in Cork?
The Oireachtas has launched its new Library and Research Service website, meaning you can access all of these documents online for the first time.
If those topics didn't catch your interest, there's 80,000 other documents dating back to the 1600s available on the site.
The website is divided in two main sections. One consists of historical documentation dating back centuries from the Dáil Library, most of which was gathered by the Irish government following independence.
The other contains various government documents and reports which are formally presented to parliament, including documents from Dublin Castle prior to 1922. Most reports or accounts must be presented to the Dáil and Seanad in this way, being electronically filed to the library.
However, they were not accessible online until now.
Mark Mulqueen, Head of Communications with the Oireachtas, confirmed on RTÉ's Morning Ireland that this will be continuously updated with new information.
He said that not many other governments are this advanced with their library achieves.
"We would be quite ahead of other parliaments in Western Europe, other the Congress in the United States who would be an equivalent in terms of making this collection accessible", he said.
A map of Munster, dated 1610 (Image Credit: OPAC)
The archive also features three online presentations, to demonstrate the kind of material available.
"Ireland and the Crown" focuses on life in Ireland under British rule, "Building Modern Ireland" which looks at how Ireland developed after 1922, and "Maps", which Mulqueen says demonstrates some of the oldest material from the collection.