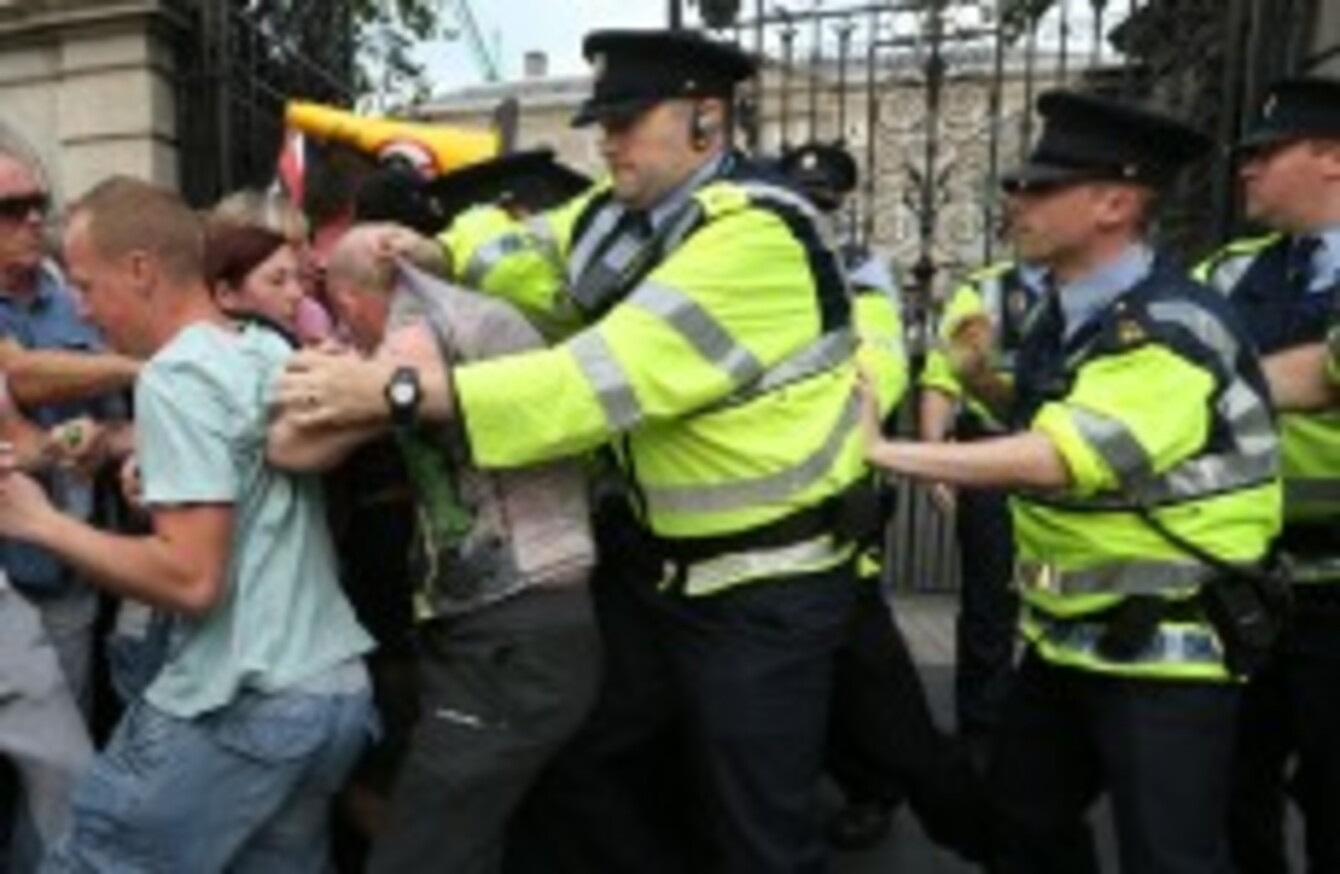 Image: Sam Boal/Photocall Ireland
Image: Sam Boal/Photocall Ireland
Updated 09:30pm.
THE GARDA COMMISSIONER has said that gardaí at the protest outside Leinster House this week acted with 'professionalism and restraint'.
Nóirín O'Sullivan was called before the Committee for Procedure and Privileges (CPP) today to explain why garda management commitments to place barriers outside the Dáil during larger protests were not honoured on Wednesday.
The protest saw a number of politicians either trapped in their cars or unable to drive out of Leinster House. Two Senators even had to abandon their vehicles in the street.
A review of the policing response to the protest has now been launched.
In a statement this evening, O'Sullivan called for close planning between An Garda Síochána and any group organising a protest:
"The theme that runs between all successful protests is one of close co-operation between the organisers and their local Gardaí.
The organisers of protests should consult with Gardaí to ensure that the event they organise is peaceful, successful and passes off with the minimum of disruption to the general public.
The Commissioner also acknowledged her concern for the female garda who was knocked unconscious during the incident.
"It should be remembered that Wednesday saw two distinct protests carried out at Leinster House, and the majority of people who attended behaved in a peaceful manner.
"However, a small minority of individuals went beyond what could be described as a peaceful protest and engaged in the type of behaviour which resulted in the injury of a female Garda."
"Anti-democratic fascist thuggery"
A source told TheJournal.ie that the issue of the commissioner apologising for the distress caused to some politicians did not arise.
Damien McCarthy, a member of the Garda Representative Association's (GRA) executive committee, rejected comments made in the last two days about gardaí "acting inappropriately and being negligent".
He took issue, in particular, with comments made by former Minister for Justice Alan Shatter suggesting gardaí allowed the situation to develop.
Shatter was one of the TDs who was trapped in his car during the protest. The TD later described the demonstration as "anti-democratic fascist thuggery".
However McCarthy said it "wasn't the guards preventing people going in and out".
I was there on Wednesday and what members had to endure and experience was acts of aggression, thuggery and violence. There were several attempts to provoke gardaí who were present and it didn't work.
McCarthy told TheJournal.ie that the female garda who sustained a head injury when a traffic cone was thrown by protesters "is recuperating but will be on sick leave for some time".
"We welcome reviews of these types of incidents because a member of ours was injured and if we can have protocol to eliminate that we'd always welcome it."
- with reporting by Hugh O'Connell