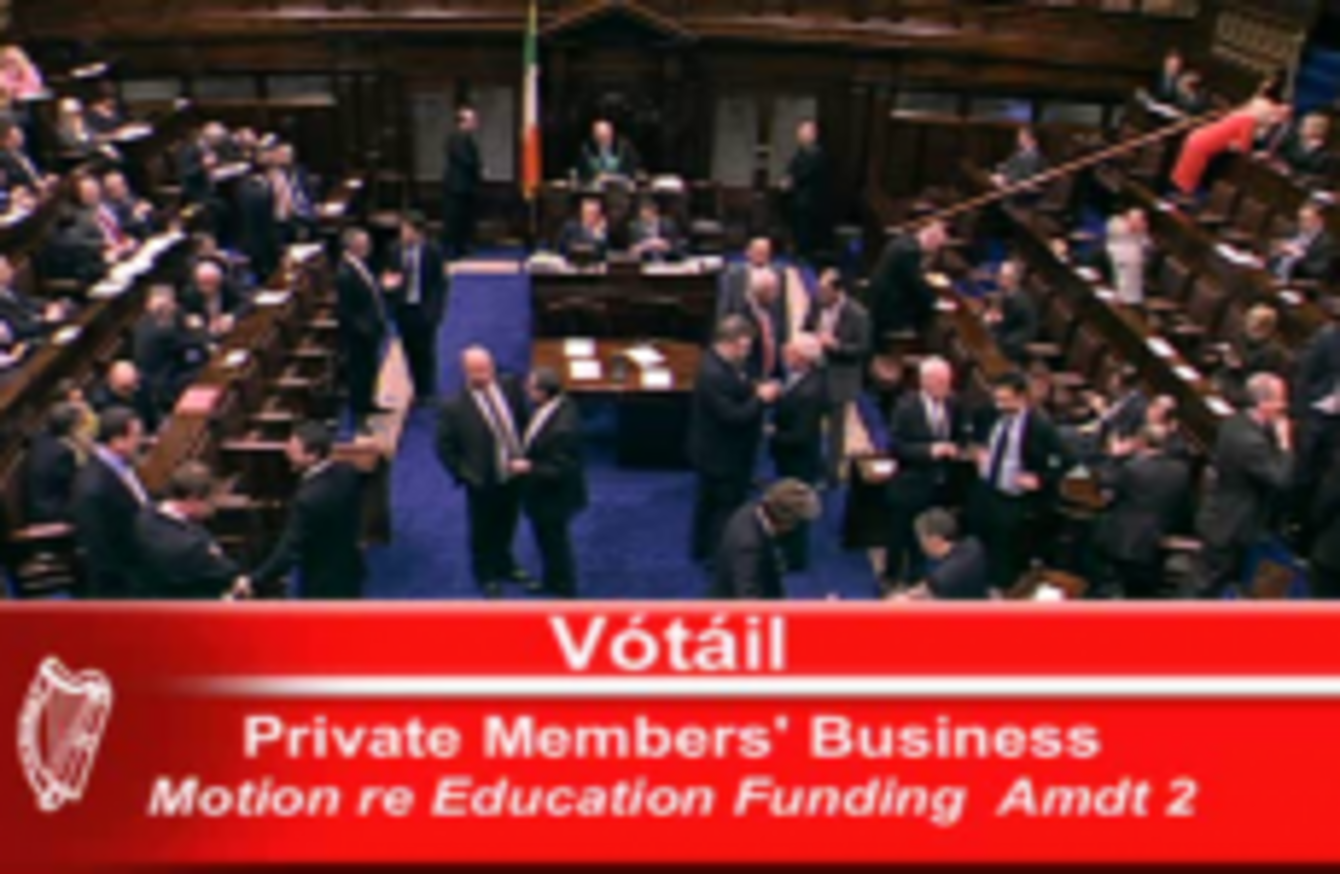 Quirks in Dáil procedure mean TDs will never get to vote on Sinn Féin's abortion motion tomorrow - but rather on the government's amended version.
Quirks in Dáil procedure mean TDs will never get to vote on Sinn Féin's abortion motion tomorrow - but rather on the government's amended version.
ONE OF THE THORNIEST social issues in modern Ireland will be debated in the Dáil this week – for the second time in seven months – as Sinn Féin table a motion calling for immediate legislation on the X Case.
The motion follows the death in a Galway hospital last month of Savita Halappanavar, a 31-year-old who was denied a termination on the grounds that her unborn daughter still had a foetal heartbeat – meaning that even though Savita was miscarrying and the child would not survive, its life could not be ended.
The motion put to the Dáil by Sinn Féin – which will be debated tonight and tomorrow, before being put to a vote at 9pm tomorrow evening – expresses sympathy for Halappanavar's death, and calls for the immediate publication of the Expert Group's report on the A, B and C ruling.
Though there are internal questions over whether one of Sinn Féin's most prominent TDs – Meath West's Peadar Toibín – will vote for the motion, after breaking ranks and refusing to put his name to the motion, the reality of the Dáil is that his loyalty is not likely to be questioned.
This is because Dáil rules give government ministers almost unilateral power to suggest amendments to motions – which can radically change their content and turn them almost immediately from a motion criticising the government to a motion giving ministers their full backing.
This is best explained with an example. Let's take last week's motion from Fianna Fáil, which dealt with the backlog in processing grants for first-year college students, and which read as follows:
That Dáil Éireann:

agrees that:

— the new Student Universal Support Ireland central online system for processing student grants is failing abysmally to meet what is required for over 65,000 applications and this is causing undue hardship for third-level students awaiting payments; and

— sufficient extra staffing should be supplied immediately to correct this on-going problem so that student grants can be issued by Christmas;

recognises that third-level students are facing year-on-year increases in their registration fees which are unfair and unjust in light of a promised reduction in these fees; and

calls on the Government to:

— refrain from further cuts to the education budget and increases in third-level registration fees;
— ensure that all children who require Special Needs Assistants are provided with them;
— reinstate the Career Guidance Teacher provision; and
— preserve funding to Delivering Equality of Opportunity in Schools programme schools.
Dáil rules forbid any amendment to a motion which directly contradicts the original text.
Can't contradict directly – so contradict indirectly
This is why, when opposition parties propose a motion of no confidence in a minister (as FF did in James Reilly last September) the motion isn't replaced with one saying "The Dáil has confidence" – but rather something similar, such as "The Dáil commends James Reilly…".
There were two amendments proposed to Fianna Fáil's motion last week – each is outlined in the Dáil's Supplementary Order Paper for last Tuesday.
Sinn Féin's was tabled first, and proposed to change the entire wording of the motion (except the first three words), substituting in similar wording which agreed…
…that there  was  inadequate  provision  for the training  of staff  working in  a centralised authority  that  was  tasked  with  processing  in  the  region  of  66,000  student  grant applications to be assessed within a concentrated time frame
Then was tabled an amendment by the Minister for Education, Ruairí Quinn, which also deleted all but the first three words, and began:
notes that: the annual cost of attending college increased by over 950 per cent during Fianna Fáil's time in office, from €190 in 1996/97 to €2,000 in 2011/12, effectively bringing to an end the era of free third-level education in Ireland
…and continued to comment on FF's "disastrous economic management" before recognising that SUSI would "in time, ensure that students continue to receive payments directly to their bank accounts" in a timely way.
Which comes first?
So we have an original motion, and two amendments: the Sinn Féin one tabled first, and the Minister's one tabled second.
As it happens, however, the order in which the amendments are submitted is irrelevant: wherever there are two overlapping and competing amendments proposed, as is the case here, the Dáil's rules (its 'standing orders') dictate that the government's one is taken first.
The logic behind this is relatively simple: there is no point in making TDs vote on a motion from an opposition party, because it will almost certainly be defeated.
Even if SF's motion was passed – which would need the support of government parties to begin with – it would then be replaced almost immediately, because the government's version would command the support of a majority of TDs and would then supersede the original changes.
#Open journalism No news is bad news Support The Journal

Your contributions will help us continue to deliver the stories that are important to you

Support us now
Either way, an amendment is always considered before the original motion itself – which is standard practice in any legislative or deliberative body. Just like with a law, there is no point in voting on an original, and then voting immediately to change it: you consider which changes you want to make to the draft, and when you're happy with the amended draft, you approve it.
Where procedure kicks in
Let's go back to last week's FF motion on grants.
As it happened last week, when the time came to vote, the Ceann Comhairle – as he is required to do, under the standing orders – asked TDs to vote on the government's amendment first. It was carried by 78 votes to 45 – meaning the government's amendment was passed.
Because the government had now amended the motion, and removed the words that Sinn Féin's version planned to delete, Sinn Féin's one could no longer be put – and so the Dáil proceeded to vote on the amended version, which (again) was passed by 77 votes to 45.
Similar circumstances will present themselves this week. Though the intent of Sinn Féin's motion is to try and convince government backbenchers (particularly those in Labour) to break ranks and call for immediate legislation on X, the motion will never get far.
As long as the government proposes its own amendment, TDs will only ever vote on the amended format – which will be specifically worded so that the concerns of Labour pro-choice backbenchers and their pro-life Fine Gael counterparts are both assuaged.
And so, TDs will vote on the government's amendment (in reality, a counter-motion saying 'Dail Éireann supports the government's actions') before voting on the amended version. Sinn Féin's motion, which asks TDs whether they want the government to immediately legislate for X, will never make it to a vote.