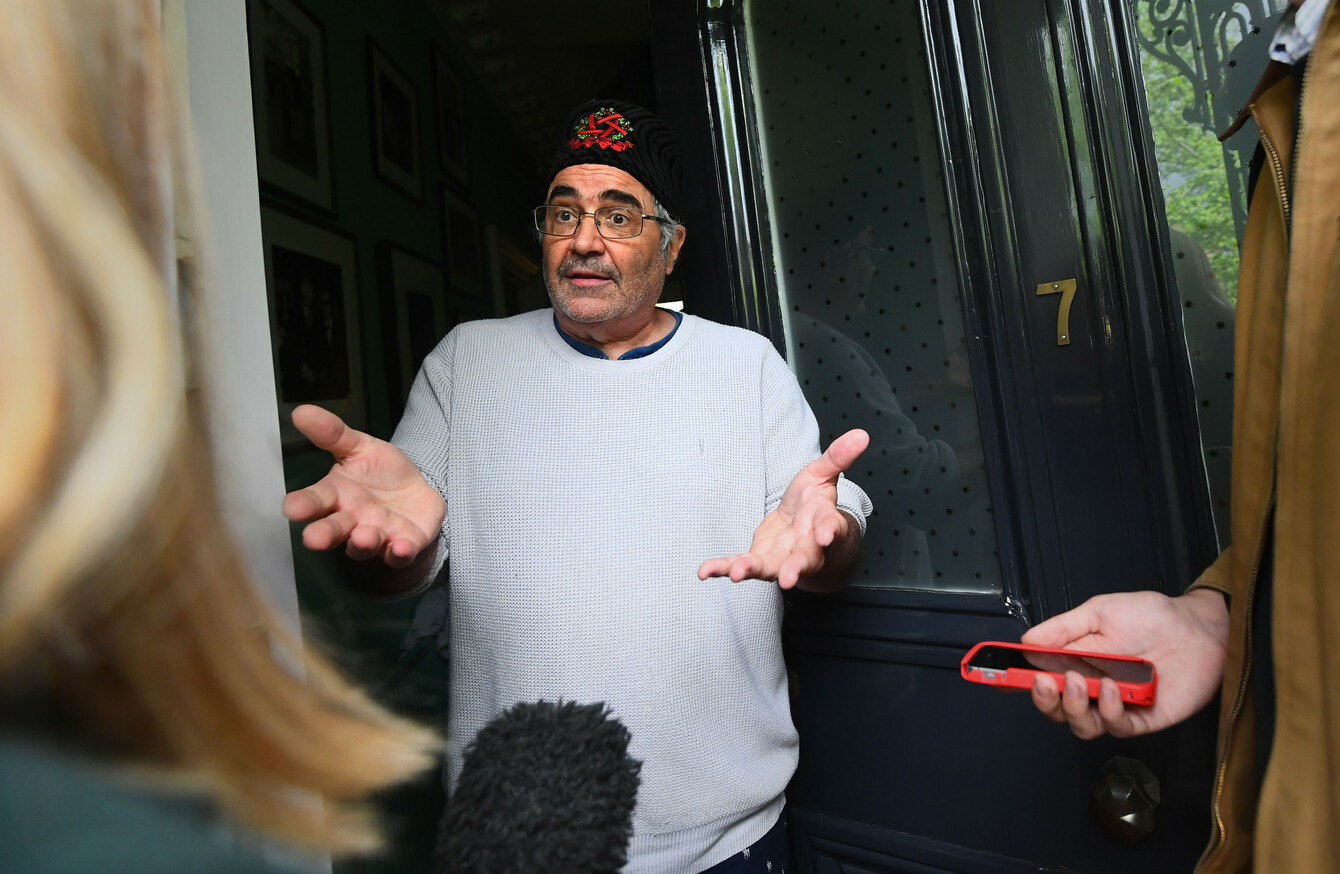 Danny Baker speaking at his London home yesterday
Image: Victoria Jones/PA Images
Danny Baker speaking at his London home yesterday
Image: Victoria Jones/PA Images
FORMER BBC PRESENTER Danny Baker has "formally" apologised for a tweet about the royal baby that saw him sacked by the broadcaster yesterday.
The 61 year-old became embroiled in controversy after tweeting an image of a couple walking down a set of steps holding the hands of a chimpanzee, and captioning it "Royal baby leaves hospital".
Critics suggested that the since-deleted tweet was a racist allusion to Duchess of Sussex Meghan Markle's mixed race heritage, and a spokesperson for BBC Radio 5 Live, the station on which Baker presented, called it a "serious error of judgment".
"Danny's a brilliant broadcaster but will no longer be presenting a weekly show with us," the spokesperson said, confirming his sacking.
Baker subsequently told Sky News that he regretted sharing the image, and apologised for the post again on social media today. 
"Following one of the worst days of my life I just want to formally apologise for the outrage I caused and explain how I got myself into this mess," he said.
"I chose the wrong photo to illustrate a joke. Disastrously so."
In a thread of tweets, he explained that he chose the image as an attempt to "lampoon privilege and the news cycle" and that the racial connotations of his choice were not intentional.
He also said those who took the tweet at face value did so "naturally", and that he understood the outrage the post had generated.
"It was a genuine, naive and catastrophic mistake," Baker said.
"There is of course little media/twitter traction in such a straight-forward explanation.
"The picture in context as presented was obviously shamefully racist. It was never intended so."
Baker also expressed gratitude to those who had offered him support during the controversy, before adding: "I am so, so sorry."
The Londoner first entered the spotlight as host of the Six O'Clock show on London Weekend Television in the 1980s, before hosting a Saturday night TV show on BBC. 
He joined BBC Radio 5 Live in 1990 and hosted other shows on Radio 1, before returning to the 5 Live in 2009, where he hosted The Danny Baker Show.
He recently embarked on a stand-up tour of the UK.