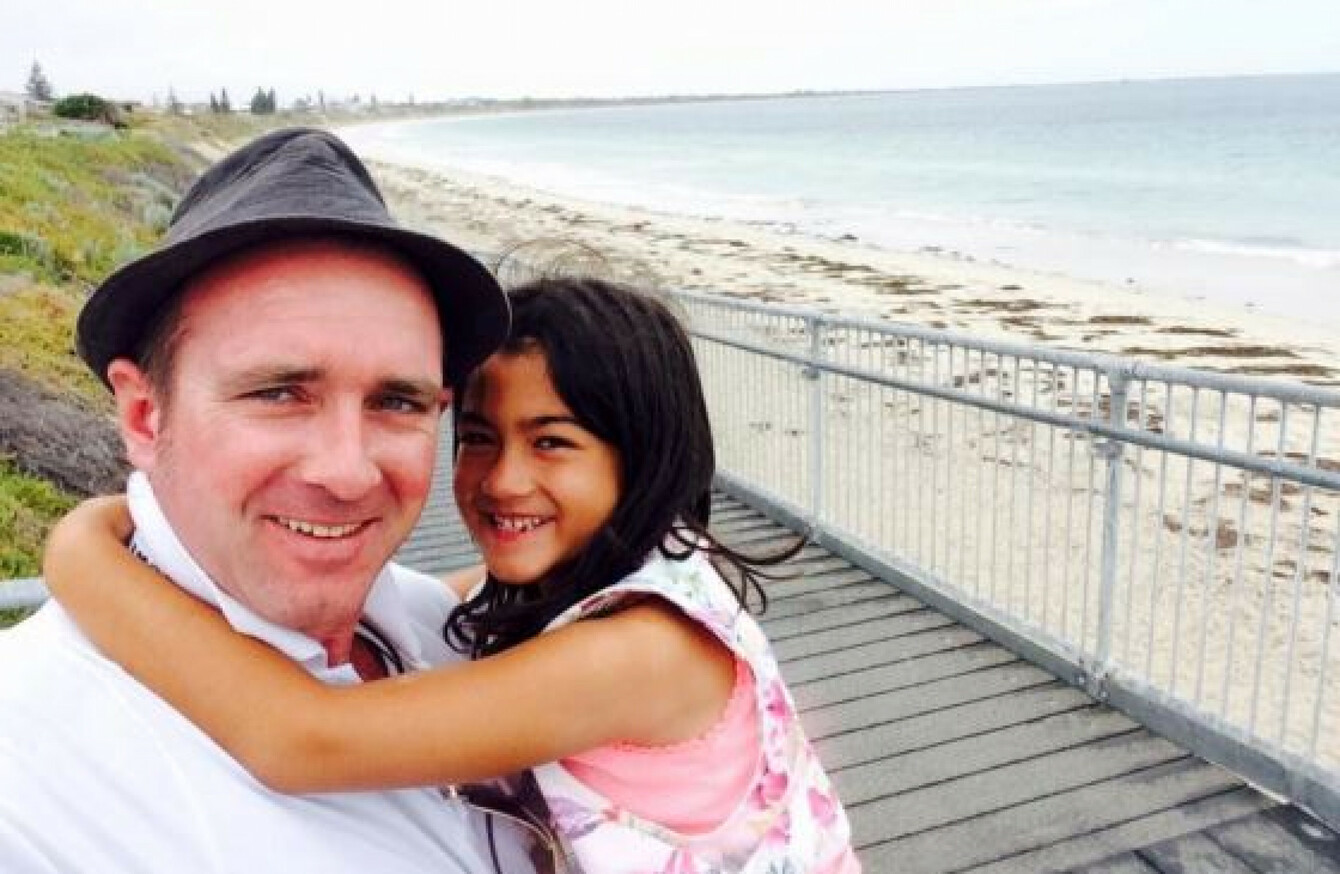 David Conway with his daughter Keisha
Image: Conway family
David Conway with his daughter Keisha
Image: Conway family
Source: tadhg ennis/YouTube
IN JULY, AN Irishman living in Australia suffered serious injuries after falling several storeys from a construction site in Brisbane.
Since then, David Conway has undergone seven surgeries, including the amputation of both of his feet.
Friends and family say he's doing well, but he has a long road to recovery ahead of him.
With these people scattered all over in Ireland, Australia and elsewhere, Conway's brother Steve and his friend Tadhg Ennis decided to put all the messages for David together in one video.
Called Dodgers Army, the video features Conway's friends and family sharing stories of him and wishing him well in his recovery.
One sends this message: "I hope you're alright… Well I know you're not alright but you will be."
Another says: "This is just a message to say I'm thinking of you. You really are Ireland's bionic man."
"We thought we were going to collect his body"
Originally from Rathcoole in Dublin, Conway emigrated to Australia in 2002. He has since settled down, and has a wife and child there.
His brother Steve told TheJournal.ie that it was a horrific shock to the entire family when they got the call.
"It was awful," he said. "I just couldn't believe it. And I didn't have a passport. I had to rush to get an emergency one."
By the time his family got the call on Monday, it was Tuesday night before they'd all sorted out flights to Australia to go see Dave.
"When we were going, we got told just before the news that he's still alive," Steve said.
We thought we may have been going over to collect his body. Who falls seven storeys and make it back alive?
In the video, there are pictures of Dave lying in a hospital bed with numerous well-wishers.
Steve said that both he, his other brother, and his parents spent a number of weeks over there with him since July.
"Mam is still there," he said. "She hasn't left his side. I haven't seen him for a few weeks now but everyone is saying he's making great progress.
He's coming around now. He's talking a little bit and he's smiling. He's seeing people he hasn't seen for 20 years.
Steve added: "He's been through the mill. In the future, there'll be lots of other considerations we'll have to make for him. But for now, we're just delighted he's doing better."
Fundraising
Steve said that Dave is an "easy-going, hard-working, family man" who always had a lot of friends.
#Open journalism No news is bad news Support The Journal

Your contributions will help us continue to deliver the stories that are important to you

Support us now
"Rathcoole can be a small enough place," he said. "Everyone knows each other. But everywhere Dave went he made friends. He's a hugely popular fella."
At the time of writing, an online fundraising page to support Dave and his family is just shy of $50,000.
And that's not all. Local businesses responded in Rathcoole, with over €10,000 raised in Muldowney's pub, a similar amount raised in a charity gold event by the Poitín Stíl, and yet more raised by other local businesses.
"The video is just another way to show our support," Steve said. "There's so many more who could have gone in there but missed out."
Another tribute that friends and family are paying to Dave is through the creation of a unique tattoo.
Steve explained that the father of his friend Tadhg Ennis looked into a symbol from 1916 that had some link to Rathcoole, but has been repurposed to say "Dodgers Army".
"We're all getting it," he said. "My father is 69 years of age, and he's getting his first tattoo this Sunday [today]. My mam is getting one too."
A long road may lie ahead, but David Conway's friends and family have pulled out all the stops to let him know they'll be there every step of the way.