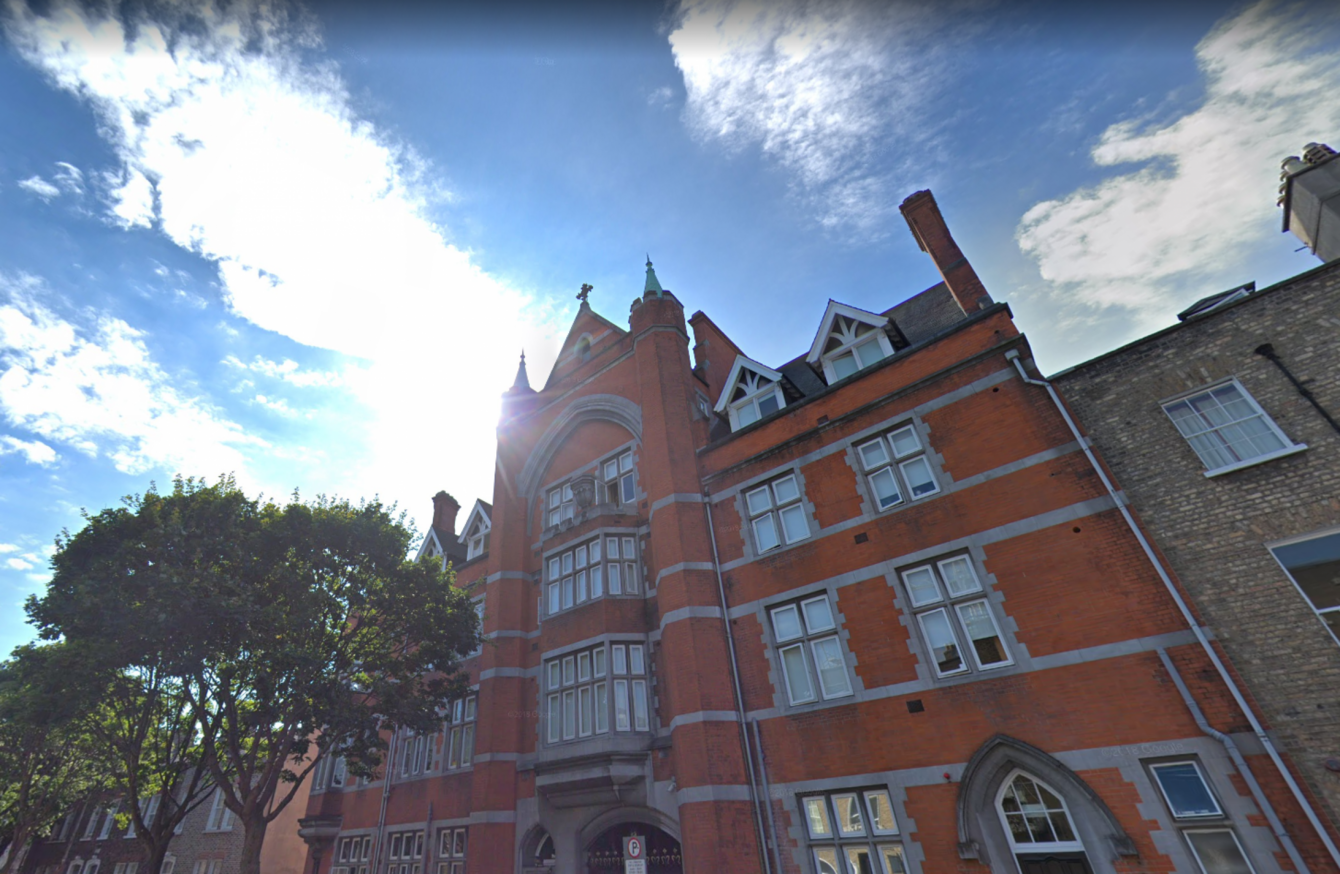 Hatch Hall Direct Provision Centre, Dublin
Image: GoogleMaps
Hatch Hall Direct Provision Centre, Dublin
Image: GoogleMaps
CRITICISM HAS BEEN levelled at the government over a lack of transparency around deaths of people residing in Direct Provision centres. 
Previously, records were released each year about the number and nature of deaths of people seeking international protection in Ireland. 
However, the Department of Justice stopped providing the details two years ago. 
The calls for less secrecy around the system come after a woman who lived in Direct Provision was buried by the State quietly without her friends being told.
Sylva Tukula died at the Great Western House Direct Provision Centre in Galway in August 2018.
The Department of Justice & Equality had made it known to gardaí that her body should be released to friends for burial but nine months later, An Garda Síochána told the coroner they had exhausted all options to find a next of kin. Sylva was then buried in a cemetery in Galway, yet nobody she knew in Ireland was able to be present.
It is understood the Coroner found that she died from natural causes and authorised her burial. 
The department today said that Minister of State for Equality, Immigration and Integration David Stanton TD will write to Sylva's friends in Galway. 
"It is clear that there was a breakdown in communication in this particular case, which the Department very much regrets."
"The Department will take all necessary steps to ensure that this outcome is never repeated."
These, the department has said, include examining "what State actors can do differently in the event of a death occurring of a Direct Provision resident without identifiable next of kin in the future". 
Following the revelations, there have been calls for clarification around how this mistake was made and criticism of a lack of clarity relating to the number of people who have died while living in state-provided accommodation in Ireland. The last known figures were published in 2017.
The Irish Refugee Council (IRC) has said that Sylva's case is example of "the need for bodies falling under the responsibility of that department to work better together".
"Given the nature of Direct Provision, it is particularly important that there is an open investigation by an independent inspectorate to identify the facts and circumstances surrounding a death and to identify any shortcomings or failings which may arise," IRC CEO Nick Henderson told TheJournal.ie.
This is something which happens routinely where there is a death in custody.
One Third
Asylum campaigner John Grayson, writing for the Institute of Race Relations, has reported a lack of information surrounding the number of deaths and suicides in Ireland's Direct Provision system. 
In July 2017, the Irish Catholic newspaper reported that the cause of one in three deaths in Direct Provision was unknown, following the release of statistics by the Reception & Integration Agency (RIA). 
RIA responded to an FOI request in 2017 on the number of asylum seekers who died in the system over the past 10 years, saying: 
"Forty four people have died in the direct provision system between 2007 and 2017, including three stillborn babies and one 'neonatal death'."
In fifteen of the cases RIA record the suspected cause of death as "unknown", or simply "died".
Among the causes of death listed as "unknown" was a 41-year-old man who was "found in room by roommate" in 2008 and a 53-year-old man who was "found dead in his bed at 9am".
The names and nationalities were not included in the released information only the causes of death.
RIA, which falls under the Department of Justice & Equality, recorded the causes of death of 15 of those listed as unknown.
The article further pointed out the causes of death that were listed were not definitive but were recorded as "suspected cause of death".
The issue of the department being unaware of the causes of death of residents within the direct provision system is one which has been raised before, with particular concerns around not being able to gather data on suicide and self harming. 
'Indignity in death'
While RIA previously collected – and published – statistics on those who had died while living in Direct Provision, it no longer does, according to the justice department. 
A Freedom of Information request from TheJournal.ie in February asking for a list of the number of international protection applicants who had died since 2003 while living in Direct Provision centres was refused. 
At the time, the department stated that RIA had "no role" in gathering statistics on asylum seekers who died while living in Direct Provision and that it did not hold records of death. 
Death records, it said at the time, are held at the General Register Office. 
Figures for those who died in Direct Provision were, however, previously released by RIA (as mentioned above) and to Sinn Féin TD Micheál Colreavy, which were published by TheJournal.ie.
#Open journalism No news is bad news Support The Journal

Your contributions will help us continue to deliver the stories that are important to you

Support us now
In a response to a Parliamentary Question in March, Minister Stanton again said RIA had "no official role" in the gathering statistics on asylum seekers who died while living in Direct Provision.
Ireland's death records are held in the General Register Office, Stanton said at the time. 
Protection applicants access health services in the same way as Irish citizens and RIA has no role in the provision of these services, the Minister said. 
"The details of a protection applicant's medical condition is a confidential matter between the patient and his or her medical practitioner."
In most cases, according to Stanton, the deaths of residents occur in hospitals. 
"Where information may be provided to centre managers by residents or friends of the deceased, it indicates that the causes of deaths ranged from cancer, heart conditions, traffic accidents to suspected cot deaths."
Such information is based on informal information and is not an official record of death, however. 
"Where a person dies while they are being provided with accommodation by RIA, RIA will work closely with the centre manager to assist the family in accessing the supports provided by the State, and to ensure that any residents affected by the death are assisted in accessing services that can support them."
'Regret'
A spokesperson for the justice department yesterday expressed regret to the friends of Ms. Tukula over the "unintended consequences" of her burial.
The department also said "it regrets the unintended obvious distress caused to Ms Tukula's friends and colleagues upon hearing of her burial after the event".
Fianna Fáil's justice spokesperson Jim O'Callaghan has said Sylva's burial "provides a very revealing account of the state's attitude to people in Direct Provision" and said that "the State needs to recognise that people in Direct Provision are the same as Irish citizens in terms of their need for human interaction and support".
Liam Thornton, a human rights lecturer at University College Dublin, has said that "given that direct provision offers no dignity for those subjected to this institution, it is not surprising that indignity would be imposed in death".
Thornton echoed calls from the Irish Council for Civil Liberties this week which said that the justice department "is not the appropriate body to cater for shelter and food needs of persons seeking international protection in Ireland". 
Established in 1999 in response to a sharp increase in the number of people seeking asylum in Ireland, Direct Provision has been repeatedly criticised by migrant rights groups due to the length of time people remain in centres while their asylum applications or appeals are processed, the conditions of centres and the psychological effects on those living in these centres.