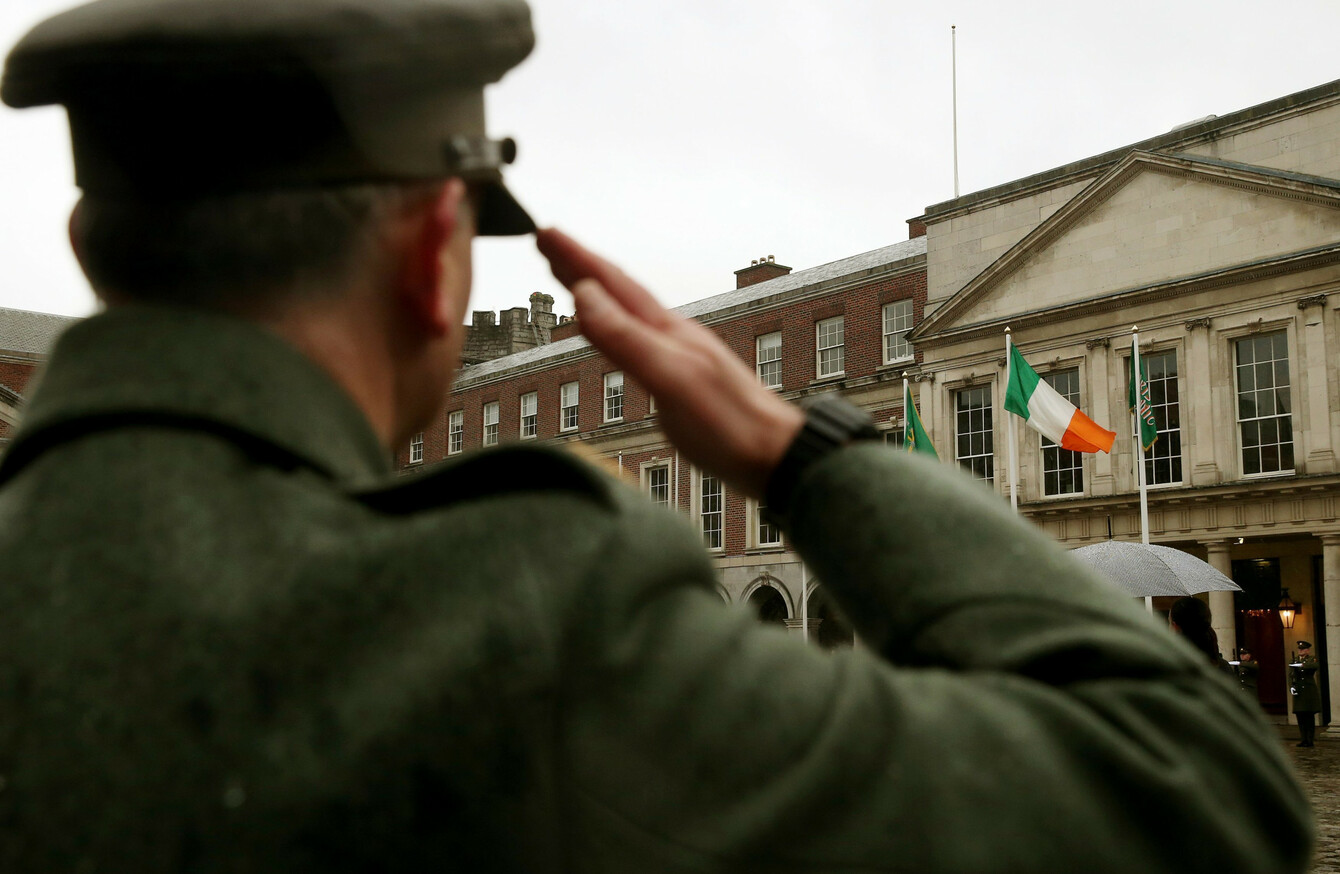 Image: Brian Lawless/PA Images
Image: Brian Lawless/PA Images
CONCERNS HAVE BEEN raised over the mental health services available to members of the Defence Forces, as a vacant position for a psychiatrist hasn't yet been filled after no one actually applied for the job.
Members who present with issues are referred to hospital emergency departments instead, and the group that represents Defence Forces personnel PDFORRA has said that to say it is disappointed with the engagement it has had with the government "is an understatement". 
The group's general secretary Gerard Guinan told TheJournal.ie that its members serve in "extremely harsh environments across the world" and can come into contact with situations and events that can undoubtedly have an effect on the mental health and wellbeing of personnel.
TheJournal.ie understands that there have been cases of suicide among members of the Defence Forces in recent times and politicians have been among those raising concerns that personnel aren't receiving adequate supports. 
'No applications'
In an answer to a parliamentary question from independent TD Mick Wallace last week, Minister of State at the Department of Defence Paul Kehoe confirmed that no full-time military psychiatrist has been recruited, after the person who previously provided such services retired earlier in the year. 
Before the recruitment process got under way, efforts were made to use the services of a locum psychiatrist. These efforts were unsuccessful, the minister said. 
Then, a direct-entrant competition for the position of military psychiatrist was launched on 26 July 2018 and closed on 30 September.
Kehoe said: "No applications were received for this competition and further options are now under consideration as to how to proceed."
The minister was pressed on this in the Dáil by Fianna Fáil mental health spokesperson James Browne, who said: "We know, since the report on the workplace climate in the Defence Forces was published last year, the level of stress that Defence Forces personnel are under.
Since then, as the numbers in the Defence Forces have declined, those stress levels can only have increased, especially as the Defence Forces have to work exceptionally long hours on top of that. I understand that there is still no psychiatrist in the Defence Forces. Perhaps the Minister of State can enlighten us on that.
Kehoe replied: "We are trying to recruit a psychiatrist and that is proving difficult. I understand that a proposal is coming to me shortly around that."
He added that the health and wellbeing of members was a high priority for him, and the supports in place are under regular review.
Currently, any member of the Defence Forces who presents with a requirement for urgent psychiatric assessment is referred to HSE emergency departments. The minister also said that primary carers within the Defence Forces have also been authorised to refer cases to private psychiatrists for outpatient treatment. 
Stresses and strains
A report published in September 2017 recommended that an attempt be made to recruit a psychiatrist to the Defence Forces.
Guinan explained: "A Lieutenant Colonel vacancy exists within the Defence Forces since 2011 for the position of Psychiatrist, which had been filled by Dr Tobin. Between 2011 and 2015 Dr Tobin attended on a part-time basis. Dr Tobin departed the Defence Forces earlier this year.
The nature of military service invariably results in the witnessing and participation in events which impact on the mental health and wellbeing of personnel. PDFORRA has long recognised the stressors imposed on our members and has actively campaigned to have put in place the necessary protections and assistance for our members.
In terms of the lack of an application for the position of psychiatrist, the poor pay and conditions facing those who work in the Defence Forces was cited a factor that could deter those qualified from applying.
The vacancy for this post would be within the Defence Forces itself, where members have long highlighted the inadequate salary offered, with more lucrative positions available elsewhere. 
Nevertheless, the impact of conditions such as post traumatic stress disorder (PTSD) can be massive although, with proper treatment and supports, recovery is possible. 
Guinan cited a statement from the European Commission's vice president Federica Mogherini earlier this year, where she stated that health care and medical support for those affected by PTSD is a "national responsibility".
"Prioritisation and standards for prevention, detection or treatment for PTSD vary between nations; collaboration between civilian and military expertise is often disconnected," she said.
During the summer, the Supreme Court halved a damages award given to former soldier Private Victor Murtagh, over the failure to diagnose and treat him for PTSD after his experiences in the Lebanon.
The PDFORRA general secretary said that it has set out its position regarding a psychologist to the Department of Defence on numerous occasions.
"Our members who give such loyal service and put themselves in harm's way deserve much better treatment than that which they are currently receiving," Guinan said.
"The tragedy of improper treatment can be seen from the Victor Murtagh case, which was compounded by years of court actions on top of the diagnosis of PTSD."
Wider context
The problem with the lack of a full-time psychiatrist comes against the backdrop of a range of concerns among the Defence Forces. 
At its annual conference last year PDFORRA said poor pay and conditions are pushing people out of the job and discouraging new recruits from joining.
The wives of members have conducted a number of protests calling for change, with WPDF founder Shelley Cotter telling the TheJournal.ie last year that "families are living in poverty". 
Prior to the visit of Pope Francis to Ireland, it was announced that members who carried out extra duties for the visit would receive just €47.59 for each 24-hour period they work.
A number of groups have hit out at the Civil Authority Allowance, saying that "morale is on the floor" because of the amount on offer.
And, speaking again on the topic of the members of the Forces' mental health, Guinan had this to say:
Penny pinching cannot be undertaken at the expense of our members' health.
With reporting from Hayley Halpin, Stephen McDermott