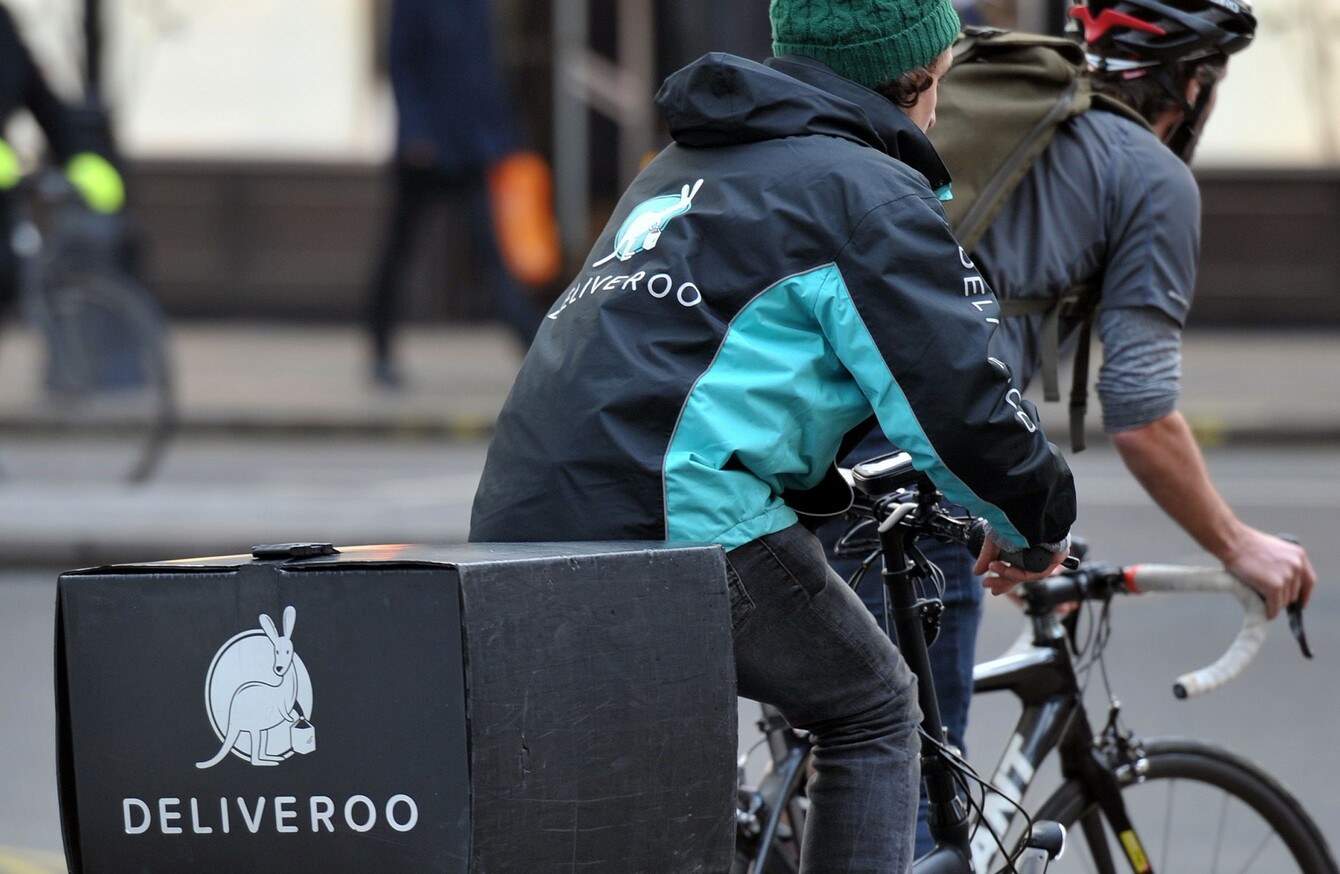 Image: Nick Ansell/PA Wire
Image: Nick Ansell/PA Wire
PAY AND CONDITIONS for Deliveroo delivery men and women are in the spotlight after a driver claimed his contract was terminated for refusing to sign up to a new agreement.
However, the contract changes at the multi-million euro start-up company that sparked this aren't limited to Ireland.
The same changes were brought in earlier this year in the United Kingdom. Deliveroo said at the time that this was a trial only taking place in one area.
A similar system was introduced in Australia, with the company highlighting that many employees did not rely on Deliveroo as their main source of income.
A Deliveroo driver called Jamal told RTÉ Radio 1's Liveline earlier this week that he was previously being paid €9 per hour and getting an extra €1 per delivery.
A new contract was introduced which the man claims resulted in significantly less pay for Deliveroo workers, in which drivers are paid no hourly rate but €4.25 per delivery on weekdays, which increases to €4.75 on weekends.
"I was logged in all day until 9 o'clock and I made no money at all. I didn't get one delivery," he told the programme.
Workers in the United Kingdom also had their hourly rate scrapped, and replaced with a £4.25 per delivery payment.
"We were told the new contract would mean we'd earn more money", an anonymous Deliveroo driver told BBC News.
https://www.facebook.com/BBCLondon/videos/1128085327233163/
It's not true, we're making less. We're really struggling.
One worker said the hourly rate he received was now just €4.25 per hour, which is below the UK's minimum wage.
Deliveroo responded to say that efficient drivers could in theory earn €12 per hour.
Drivers in Australia previously receive $16 (€10.63) per hour with an extra $2.50 (€1.66) per delivery.
However, an investigation by Fairfax Media found that some drivers received a contract with no hourly rate, and were paid $10 (€6.64) per delivery.
Deliveroo denied accusations it was employing them on 'sham contracts', and said workers enjoyed the flexibility these contracts offered.
One worker told Fairfax that they could sometimes earn just $10 per hour, meaning they are not being paid the minimum wage.
In a statement, Deliveroo said this form of contract has proved to be popular in Ireland.
Asked about the fate of the trial in the United Kingdom, the company said: "London and Dublin City Centre are extremely busy."
A fee per delivery structure means riders maximise efficiency at our busiest times – making up to four deliveries an hour – as opposed to a fixed hourly rate. It's more reflective of the way riders work with us.
This is a new model of hyper-flexible working, which we know may not be for everyone, but we've seen huge demand for in Ireland.
The Telegraph reports that an internal projection of the company's predicted revenue put the figure at £130 million (€169m), placing growth at more than 1,000%.
The delivery company – which works in a similar way to JustEat.ie, but offers food from restaurants that don't normally offer deliveries – has as many as 400 drivers on its books in Ireland, is established in five Irish cities and has its sights set on another three.
It operates in 12 countries across the world.